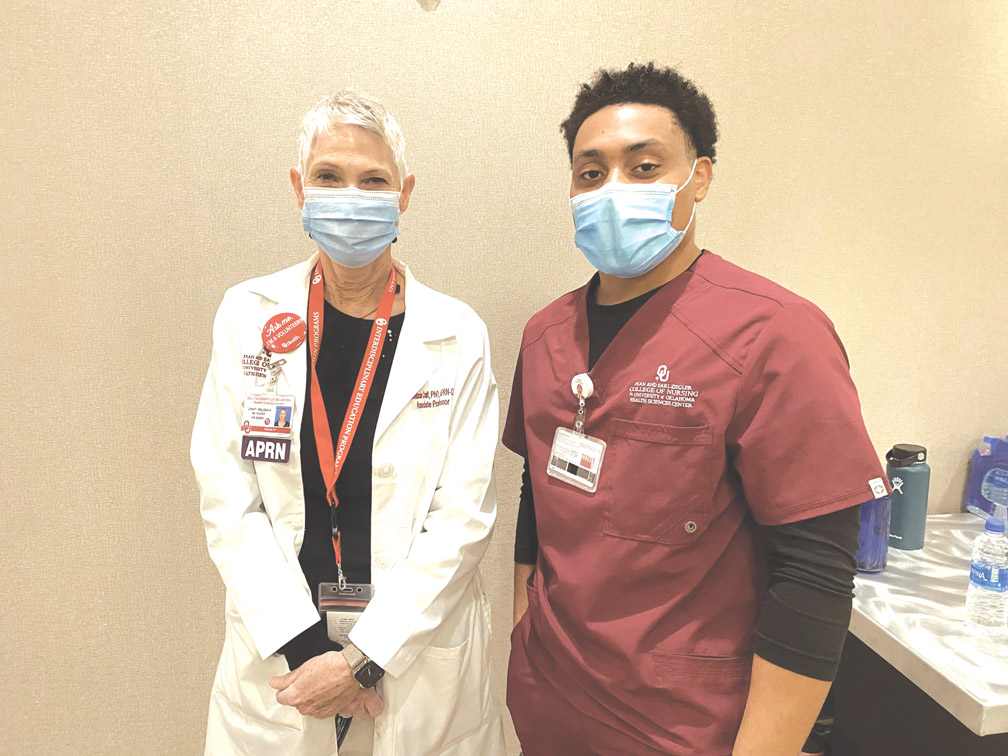 As Covid-19 threatened nursing education in 2020, the collective minds at the University of Oklahoma Fran and Earl Ziegler College of Nursing decided to use the historic event as a learning tool.
From collecting Covid-19 swabs to administering vaccinations, OU's College of Nursing found a way for students to not only learn but be a part of the solution throughout the pandemic.
"Ever since last fall I've been talking about the clinical renaissance we can be a part of in nursing," said Senior Associate Dean Melissa Craft, PhD, APRN-CNS, AOCN, FAAN. "After the last great plague in the Middle Ages, there was a renaissance. My point all along has been how best to positively use this experience for the betterment of patients and for us as nurses."  The focus has not only been on students simply emerging from the pandemic but flourishing, armed with experience and a new set of skills.
From a nursing education standpoint, the pandemic has taught a number of lessons.
"Going back to Florence Nightingale, formalized nursing was birthed because of a war and nurses' responses in stepping into that situation," said Craft. "Florence Nightingale was a scientist, she was an advocate for social justice, a leader in healthcare management, and at the core, she was dedicated to individual flourishing.
"To me (what the pandemic) has taught us as a college is what we do as nurses is infinitely needed. What the pandemic has taught everyone is the knowledge and skill of nursing as scientists, as advocates, as leaders in healthcare management, and at their core, dedicated to human flourishing is incredibly essential in our society."
The pandemic not only validated to Craft that what is currently being done to prepare nurses for their profession needs to continue, but it also allowed introspection and an opportunity to revisit if the profession is doing everything it can as a science and advocate for social justice.
The pandemic also served to further highlight the underlying disparities in our healthcare system.
"As nurses, as nursing students, and as a college we can't be blind to that," Craft said. "We really have to look at it as an opportunity. Again it's the renaissance … which was all about going back into learning, wisdom, discovery and exploration."
As in-person nursing education ground to a halt around the country, the OU College of Nursing sought out opportunities to engage students and help them learn during these unprecedented times.
One of those opportunities came out of the Swab Pods, where students staffed Covid-19 testing stations in Oklahoma City and Tulsa.
The students loved it, especially in a time where they were taken out of face-to-face classroom and the clinical learning settings.
"The core of what nurses do is they lean into situations," Craft said. "It's like firefighters run into a burning building, nurses run into taking care of people. When we started looking at (the swab pods) it was clinical, it was community and reaching out to where our community needs us. It was sort of a rethinking of what it does mean to do clinical work. It doesn't all have to happen in an acute care setting. In fact, we need to recognize that "the majority of patients' lives don't occur in an acute-care setting." Therefore we need to be where the patients are and our students need to learn where the patients are.
The university also leveraged its partnerships with OU Health as well as the Oklahoma City County Health Department and the Oklahoma City VA Health Care System to identify other student learning opportunities.
"What we've done as a college is to look at every opportunity not to continue what we've always done but…ascertain what the OU College of Nursing can do now to make a difference," she said.
For more information visit: https://nursing.ouhsc.edu/