by Vickie Jenkins – Writer/Photographer
It's not often that a husband and wife work at the same hospital, yet, at Baptist Integris Medical Center, this is where you will find Van Truong and Le Tran doing their job with the title of Nurse Practitioners. Van specializes in preoperative anesthesia risk assessments while Le Tran specialized in Nephrology.
Van Truong, MSN, APRN-CNP, optimizes the patient preoperatively, addressing comorbidities and abnormal findings, reducing surgical cancellations, which results in cost and time saving for the patient and hospital, along with seeing that the patient tolerate anesthesia without complications ins the goal.
Now, to make the article a little sweeter, introducing Van's wife, Le Tran, who is a DNP, APRN-CNP whose specialty is Nephrology. "I work mostly in the inpatient setting consulting and managing patients with end stage renal disease, acute renal failure and chronic kidney disease. I also do dialysis rounds seeing patients who are getting hemodialysis treatments," Le commented.
Asking Van what he wanted to be when he was a little boy, he replied, "I wanted to be a fireman or a racecar driver," he said with a smile. "That didn't work out for either of those professions; somewhere along the line, I became interested in nursing," he said. Le wanted to be a teacher when she was little but then changed her mind, wanting to help others, working in healthcare.
Born in Oklahoma City, OK, Van had a strong urge to work in the medical field. Starting out as a certified nursing assistant at Norman Regional in a rehab unit, Van began working as an extern at Integris in 2009. In 2010, he became an RN. "I attended the University of Oklahoma Health Science Center for nursing school, and then received my Bachelors of Science in Nursing and Masters of Science in Nursing. Now, I am a Nurse Practitioner," he said. "I like what I do and I can't image doing anything else. It's a lot of hard work but it is also very rewarding," he added.
Van became interested in anesthesia when his clinical instructor, Stacey Decker, at OUHSC took her clinical nursing student group to the preoperative unit, OR, and PACU unit which she supervised at the time. "I really liked the fast paced work environment and bedside interaction with numerous patients per day. After I attained my MSN and CNP, there was a job opening in Pre Admissions Testing. I interviewed for the job and got it."
On the other hand, Le's life was a little different. Born in Binh Dinh, Vietnam, her family immigrated to Oklahoma in May 1996. "We came to Oklahoma because there was a large Vietnamese community that was made up of other immigrants. This was also where my sponsor lived," she said.
Attending Oklahoma City University Kramer School of Nursing, Le received her Bachelor of Science in Nursing and a Doctrine of Nursing Practice. Le has been a nurse since 2012 and a nurse practitioner since 2016. Le's first job as a nurse was working at The Children's Center in Bethany, OK. From there, she moved on to work with the Kidney Specialist of Central Oklahoma. "I am credentialed and privileged at all the Integris Health Hospitals in the metro area and at Select Medical Hospital," Le said.
Van's typical day starts out with reviewing the patient's charts from the day before; making sure the laboratory results, EKG and radiology results are reviewed and finalized. Interventions made of abnormal findings, notifying patients' appropriate provider with findings, obtaining cardiac notes and pulmonary notes for review. Obtaining anesthesia focused history from the day's patients, along with answering questions regarding surgery and anesthesia aspect of the procedures.
Asking Van what his favorite part of his job was, he said, "When I see the patient doing well during the preoperative, intraoperative and postoperative period, it is always the most satisfying part of my job. My coworkers go above and beyond for the patient," Van replied. "On the other hand, the biggest challenge is the significant amount of time needed to get all the patient's providers informed of status changes and modification of care that is safe for the patient as agreed upon by all the providers," he replied. "That's when we learn how to be patient," he added.
What qualities make a good nurse and a good nurse practitioner? "A good nurse has to be willing to listen, provide individualized and personalized care; and certainly, promoting patient safety is at the utmost importance. They need to be a straight shooter, no beating around the bush. They also need to keep the patient aware of the plan and intervention in layman's terms," Van replied.
Not to be outdone by Van, I asked Le to describe herself. "I would describe myself as outgoing, enthusiastic and easy to get along with. I am a hard worker and dedicated to my job and my patients. I am a fantastic wife and take very good care of my husband," she said with a laugh. Both, Van and Le have one thing in common; caring for their patients and making sure their patients are taken care of. It is obvious their love for others is sincere and genuine.
What is Le's biggest asset? "The physicians I work for are a great group of doctors. I attain new knowledge daily through each one of them and I am very fortunate that they love teaching and sharing healthcare experiences. Also, the nursing staff that I work with is fantastic! Through them, I am reminded that I am a nurse first," she replied.
On a personal note, Van's hobbies are CARS CARS and CARS, which includes detailing, modifying and fixing them. Le's hobbies include traveling, trying out new restaurants, watching T.V. shows, going to Thunder Basketball games, shopping and finding great deals. Hmm, a little different view on their hobbies.
Asking Van what his biggest reward is with his job. "I know that we are increasing the patient's safety for surgery. That is what is important," he replied.
Yes, a COUPLE of Nurse Practitioners can be found at Baptist Integris Medical Center. Van Truong and Le Tran; An excellent couple who will do their best for their patient.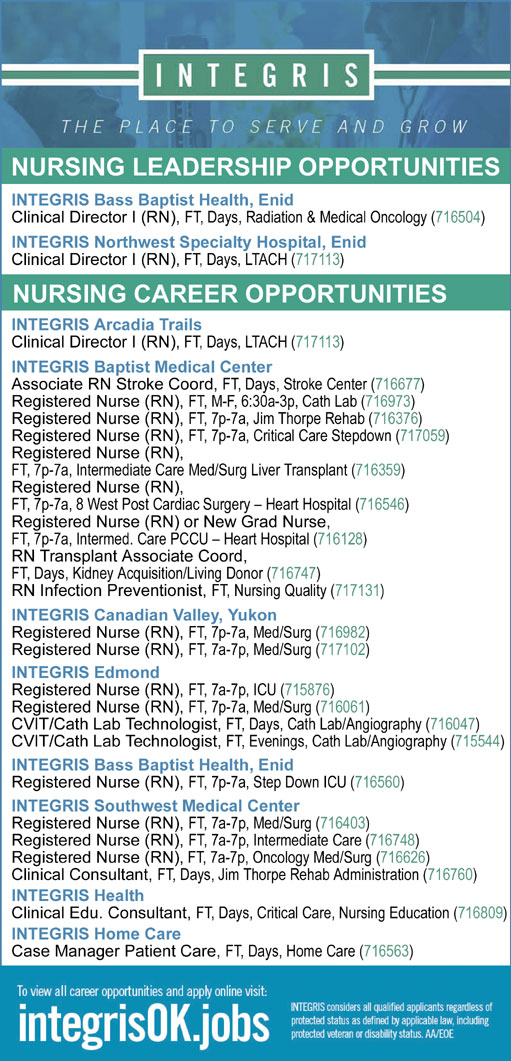 INTEGRIS
The Place to Serve and Grow
NURSING LEADERSHIP OPPORTUNITIES
INTEGRIS Bass Baptist Health, Enid
Clinical Director I (RN), FT, Days, Radiation & Medical Oncology (716504)
INTEGRIS Northwest Specialty Hospital, Enid
Clinical Director I (RN), FT, Days, LTACH (717113)
NURSING CAREER OPPORTUNITIES
INTEGRIS Arcadia Trails
Registered Nurse (RN), FT, 3p-11p or 11a-7p, Addiction Recovery (715709)
INTEGRIS Baptist Medical Center
Associate RN Stroke Coord, FT, Days, Stroke Center (716677)
Registered Nurse (RN), FT, M-F, 6:30a-3p, Cath Lab (716973)
Registered Nurse (RN), FT, 7p-7a, Jim Thorpe Rehab (716376)
Registered Nurse (RN), FT, 7p-7a, Critical Care Stepdown (717059)
Registered Nurse (RN), FT, 7p-7a, Intermediate Care Med/Surg Liver Transplant (716359)
Registered Nurse (RN), FT, 7p-7a, 8 West Post Cardiac Surgery – Heart Hospital (716546)
Registered Nurse (RN) or New Grad Nurse, FT, 7p-7a, Intermed. Care PCCU – Heart Hospital (716128)
RN Transplant Associate Coord, FT, Days, Kidney Acquisition/Living Donor (716747)
RN Infection Preventionist, FT, Nursing Quality (717131)
INTEGRIS Canadian Valley, Yukon
Registered Nurse (RN), FT, 7p-7a, Med/Surg (716982)
Registered Nurse (RN), FT, 7a-7p, Med/Surg (717102)
INTEGRIS Edmond
Registered Nurse (RN), FT, 7a-7p, ICU (715876)
Registered Nurse (RN), FT, 7p-7a, Med/Surg (716061)
CVIT/Cath Lab Technologist, FT, Days, Cath Lab/Angiography (716047)
CVIT/Cath Lab Technologist, FT, Evenings, Cath Lab/Angiography (715544)
INTEGRIS Bass Baptist Health, Enid
Registered Nurse (RN), FT, 7p-7a, Step Down ICU (716560)
INTEGRIS Southwest Medical Center
Registered Nurse (RN), FT, 7a-7p, Med/Surg (716403)
Registered Nurse (RN), FT, 7a-7p, Intermediate Care (716748)
Registered Nurse (RN), FT, 7a-7p, Oncology Med/Surg (716626)
Clinical Consultant, FT, Days, Jim Thorpe Rehab Administration (716760)
INTEGRIS Health
Clinical Education Consultant, FT, Days, Critical Care, Nursing Education (716809)
INTEGRIS Home Care
Case Manager Patient Care, FT, Days, Home Care (716563)
To view all career opportunities and apply online, visit:
IntegrisOK.jobs
INTEGRIS considers all qualified applicants regardless of protected status as defined by applicable law,
including protected veteran or disability status. AA/EOE