PASSION IN NURSING: CHANGE FOR THE BETTER – EMERALD SQUARE ASSISTED LIVING
by Bobby Anderson, RN, Staff Writer
There's a buzz going on right now at Emerald Square Assisted Living Center in Oklahoma City.
Planned renovations, expansion of services and new ownership have the entire community talking.
And at the center of it all is Pepe Sanchez, RN, C-AL.
The certified assisted living registered nurse is helping put in place processes that residents are beginning to love.
Sanchez is excited to be coming in to Emerald Square right now.
Executive Director Polly Milligan hand-picked her staff when she came to Emerald Square as part of new ownership Heart Living Centers.
With two decades spent in senior living, Milligan was comfortable right where she was at, leading a local residence owned by a nationwide company.
That was before the owners of Heart Living Centers called.
"I'm not one for small corporations much but there's just something about this husband and wife that started this that I just knew was right," Milligan said of the Colorado-based Heart Living Centers.
Sanchez was one of the first people she called.
"He's amazing," she said. "Ever again if I have to move – he's mine."
Milligan raves about Sanchez. He's been her nursing security blanket for more than two years.
Sanchez loves the fact Milligan always has his back.
"She's actually willing to take care of things instead of just leaving it and saying 'Oh, that's clinical. You need to take care of it.' She's more hands-on," Sanchez said.
Sanchez doesn't just work in the assisted living arena he's certified in it.
While working on his bachelor's in nursing, his professors stressed being specialized in whatever area he works.
"After working in this field for three years I decided just to go ahead and get that done," said Sanchez, a 2011 graduate of Oklahoma City Community College's traditional nursing program.
Sanchez remembers taking care of his grandmother when he was young. That spurred him to go get his Certified Nursing Assistant license while he was still in high school.
He started that job as soon as he graduated high school.
He spent eight years in hospice as a home health aide along the way.
He worked flex pool CNA several years for St. Anthony while going through nursing school.
Once he graduated he started working medical-surgical with renal and pediatric patients.
The move to assisted living fit.
"It gave me everything I enjoyed doing without having to travel so much and having to go into different homes all the time," said Sanchez. "Not having to do all the on-call stuff was much easier to come to one place. I knew if I had to come in at 2 a.m. I could bring my kid with me."
Smaller company, more opportunity, greater independence – everything that went along with that was what drew Milligan and Sanchez to Heart Living Centers.
"She convinced me to come," Sanchez said.
Less than a month on the job, Sanchez has a list of things to do. That first day in a new building was a lot.
"Overwhelmed," he said. "I'm OCD so t

hat does not go well with me just walking (into a new) building."
Walking through and putting pen to paper, Sanchez had so many things he wanted to accomplish for Emerald Square residents.
There were processes he wanted to implement, things he wanted to change and an overall level of excellence he wanted staff to aspire to.
"There were lots but just the overall organization for residents," Sanchez said of his planned process improvements. "There was no support at that point. What I really wanted do was make sure the staff was taken care of. If the staff are happy the residents are usually happy."
Sanchez directs a staff of 15 under him.
"We have state survey coming in October and I would like to see zero deficiencies because that's what I'm used to. I need clinical to be where it needs to be and that's kind of my goal."
So there will be a few longer days than normal up ahead.
"I think it's hectic right now but I know what it's going to be which will be calm and fun coming to work," Sanchez said. "That's what Polly and I are used to. We see smiles. We usually don't see grumpy faces and dreading to come to work."
"(The residents) have been positive. I had a resident just the other day start crying because she was happy to see things changing."
And Sanchez is right in the middle of it all.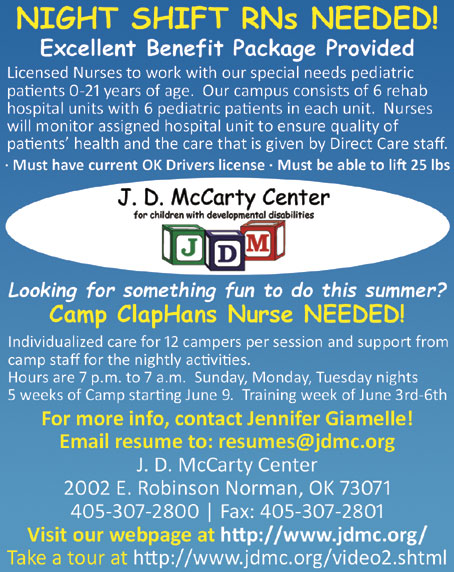 NIGHT SHIFT RNs NEEDED!
Excellent Benefit Package Provided
Licensed Nurses to work with our special needs pediatric patients 0-21 years of age. Our campus consists of 6 rehab hospital units with 6 pediatric patients in each unit. Nurses will monitor assigned hospital unit to ensure quality of patients' health and the care that is given by Direct Care staff.
· Must have current OK Drivers license · Must be able to lift 25 lbs
Looking for something fun to do this summer?
Camp ClapHans Nurse NEEDED!
Individualized care for 12 campers per session and support from camp staff for the nightly activities.
Hours are 7 p.m. to 7 a.m. Sunday, Monday, Tuesday nights
5 weeks of Camp starting June 9. Training week of June 3rd-6th
For more info, contact Jennifer Giamelle!
Email resume to: resumes@jdmc.org
J. D. McCarty Center
2002 E. Robinson Norman, OK 73071
405-307-2800 | Fax: 405-307-2801
Visit our webpage at http://www.jdmc.org/
Take a tour at http://www.jdmc.org/video2.shtml