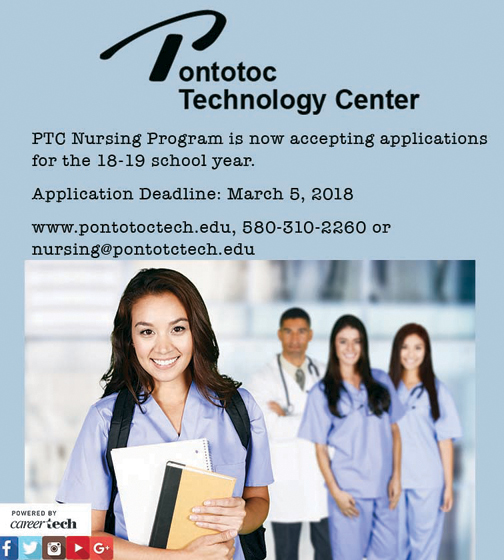 "Training to Succeed"
Pontotoc Technology Center (PTC) has a diverse economy with a large health community including Mercy Hospital Ada, Chickasaw Nation Health System and Rolling Hills Psychiatric Hospital.
Pontotoc also has a large mining sector with Holcim, US Silica, and Fairmount Minerals, a large manufacturing sector with Flex-N-Gate, Ram Jack, Leachco, GAMI and Dart Containers  and a large service industry with Chickasaw Nation, Legal Shield and IQOR. These diverse sectors are served in a rural setting.
PTC partners with the community to offer a variety of services to area employers. As a result of Ada's efforts to create a law enforcement/public service industry, PTC has extended the school's public service offerings to include fire service training using the state of the art Fire Training Center.
PTC's Business Incubator has been very successful in starting new businesses such as Cammond Industry, Jobri Inc., and McGov.Com. Jobri Inc. was the International Incubator Client of the Year. Currently housed in our incubator are Lovera's Cheeses.
PTC is also involved with the WorkKeys/Work Readiness Certificate program. This unique assessment will help students be prepared for available jobs and will help area employers select the best workforce available. PTC is the key to economic development and workforce development in the Pontotoc county area.
Secondary students living in the technology center district who attend a public, private, parochial, charter, or home school are eligible to attend tuition free.
District Population and Partner Schools
District population is 40,638 based on 2010 census data. School districts served include Ada, *Allen, Byng, Latta, Roff, Sasakwa, *Stonewall, Tupelo and Vanoss.
*Only portions of these school districts are members of the technology center district.
For Enrollment Information Please Contact:
Pontotoc Technology Center
601 W. 33rd, Ada, OK 74820
(580) 310-2260 — FAX (580) 310-2286
www.pontotoctech.edu
visit: https://pontotoctech.edu/ for more information.