Primary care providers to offer family medicine and urgent care services
SSM Health St. Anthony is pleased to welcome Robert DiCintio, PA-C, Alex Rasmussen, PA-C and Alina Quy, APRN-CNP to SSM Health Medical Group in El Reno. Already established for several years caring for patients in El Reno, Okla. and surrounding areas, DiCintio and Rasmussen will continue to serve as primary and urgent care providers in a new clinic location at 2315 Parkview Drive. Quy will join the existing practice at the same location.
DiCintio graduated from the University of Oklahoma Health Sciences Center family medicine physician assistant program in 1990 and has served patients in the El Reno area for nearly three decades. In addition to primary and urgent care, he has an interest in pediatrics. It's important to him to develop relationships with his patients, many of whom call him by his first name.
Rasmussen graduated with a bachelor's degree in health sciences from Brigham Young University-Idaho in 2005, followed by his master of health sciences from the University of Oklahoma in 2008, the same year he completed his physician assistant education. Rasmussen speaks both English and Spanish.
Quy, a certified nurse practitioner, has more than a decade of experience in primary and urgent care, as well as a background in emergency care. She graduated with a bachelor's degree in business from Kansas Wesleyan University in 2000, a bachelor of science in nursing from Oklahoma City University in 2009 and earned her master family nurse practitioner degree from the University of Cincinnati in 2011. In addition to comprehensive family medicine services, Quy also has a focus on well woman and well child exams.
DiCintio, Rasmussen and Quy will see patients in their new location next to the SSM Health St. Anthony El Reno Emergency Room while SSM Health constructs a new medical building that will be adjacent to the $9 million facility being built by the City of El Reno at I-40 and Highway 81.
For more information about SSM Health providers and urgent care service, please call 405-231-8866.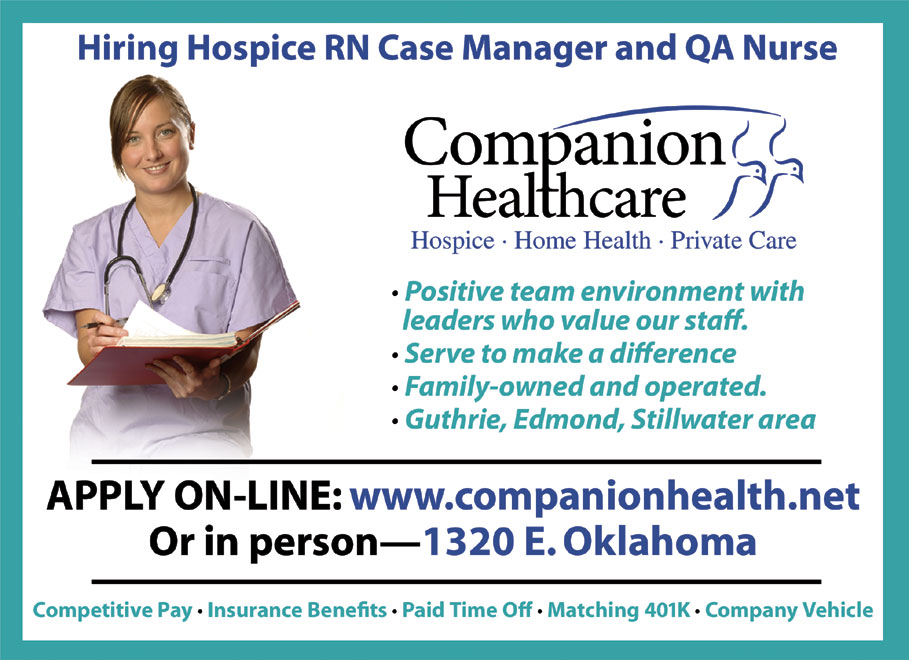 Companion Healthcare Hiring Hospice RN Case Manager and QA Nurse
· Positive team environment with leaders who value our staff. · Serve to make a difference · Family-owned and operated. · Guthrie, Edmond, Stillwater area
APPLY ONLINE: www.companionhealth.net
Or in person—1320 E. Oklahoma
Competitive Pay · Insurance Benefits · Paid Time Off · Matching 401K · Company Vehicle