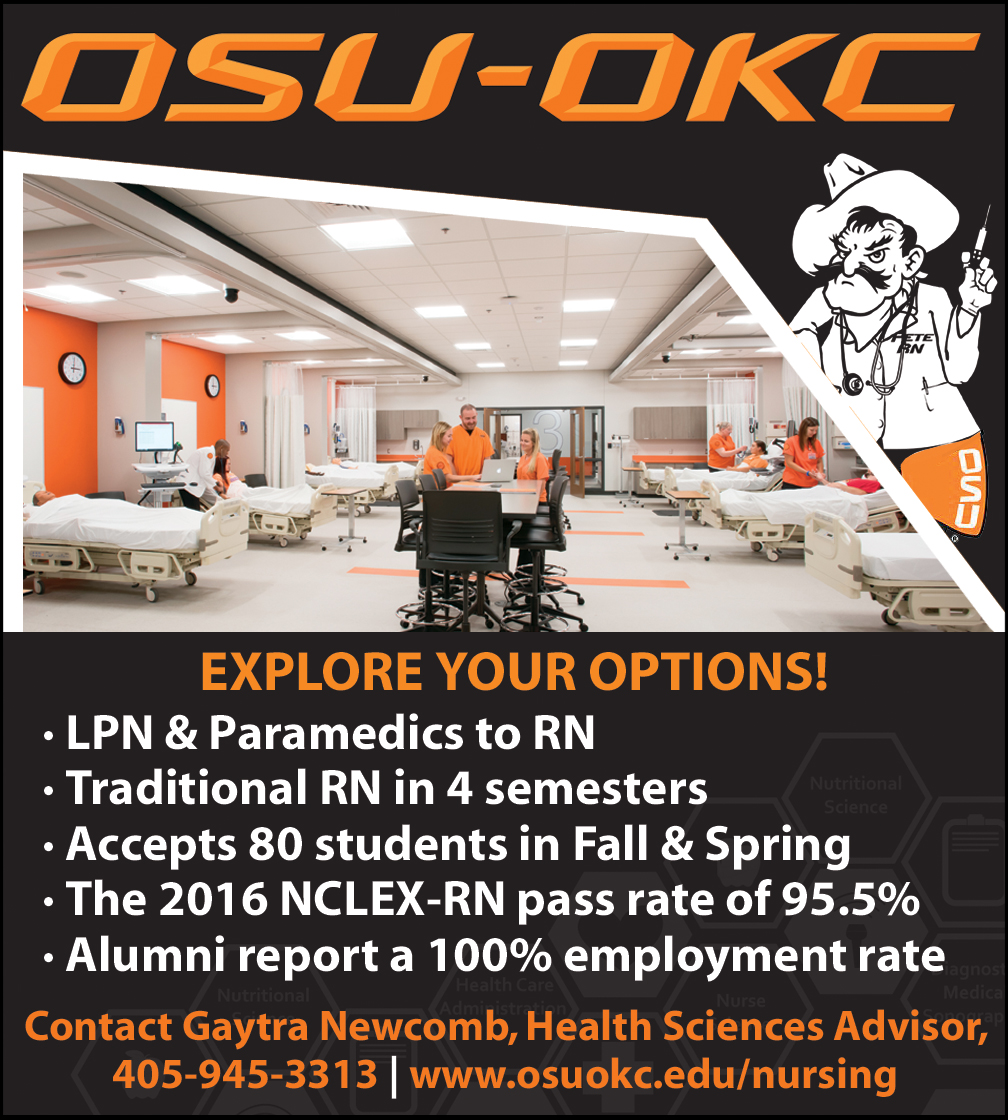 For more than 50 years now, Oklahoma State University – Oklahoma City has produced some of the most sought-after nurses in the state.
That legacy continues with the school's new RN to BSN program. OSU-OKC nursing students are even granted provisional acceptance to the program and receive full admission.
"One of the philosophies for the associate degree nursing program is to provide means for students to continue their education," said Anna Nguyen, PhD, RN, department head of the OSU-OKC nurse science program. "Many of the hospitals now are seeking Magnet status which prefers bachelor's graduates.
"Our program started in 1969 so we have a very solid and well established program. I believe we have a very solid program and on top of that OSU-OKC has a very positive reputation in the community for producing well-prepared graduates.
OSU-OKC is a community and technical college located in central Oklahoma City.  Each year, nearly 10,000 students attend OSU-OKC, seeking education as a pathway to a better life.
It is an urban campus, with a diverse student population. About half of the students are pursuing terminal degrees in a desire to move quickly into the workforce in technical positions, while the remainder are working on their basic coursework and will transfer to a four-year school in pursuit of a bachelor's degree.
REPUTATION COUNTS
OSU-OKC's Nurse Science program is considered one of the pre-eminent programs at the university, and in the Oklahoma City metropolitan area, with hundreds of students competing for admission into the program.
Of the students who successfully complete the program and the licensure exam, 100% find employment within six to nine months of graduating.
Nguyen says this high level of placement indicates the strong demand for healthcare jobs in this area, the quality and reputation of the institution's nursing program, and that students in this field can quickly transition into a career when they complete their education.
The U.S. is projected to experience a shortage of registered nurses that is expected to intensify as Baby Boomers age and the need for health care grows.
According to the Bureau of Labor Statistics' Employment Projections 2014-2024, Registered Nursing is listed among the top occupations in terms of job growth through 2024.
The Workforce Oklahoma Occupational Outlook 2018 report lists registered nurses as one of Oklahoma's top five demand occupations with 1,260 average annual openings per year.
OSU-OKC's Nurse Science graduates scored a 95.54% pass rate on the National Council Licensure Examination for Registered Nurses (NCLEX-RN) in 2016.
The national average is 84.56% and the Oklahoma average is 83.78% during the same year.
CONTINUED GROWTH
The OSU-OKC Allied Health program is now positioned to support tremendous increases in both student enrollment numbers and graduation rates beginning with the next academic year.  Construction of the campus's new, 45,000-square-foot Allied Health building is complete, and the facility contains state-of-the-art technologies that rival the best that Oklahoma educational institutions offer.
This unique facility, opened in 2016, established a best-in-industry Simulation Center which enhances educational opportunities for both new health profession students and experienced healthcare workers employed by local hospitals and clinics.
The new facility and Simulation Center are significantly larger in size with more manikins which are considered state-of-the-art technology.  The facility includes:
Five simulation suites that emulate clinical situations

Three medical/surgical suites

A labor and delivery suite

An emergency room/intensive care suite

Two patient exam rooms

Three debriefing rooms

A ten-bed skills practice lab for Nurse Science

An expanded ten-bed skills lab for Diagnostic Medical Sonography

Virtual IV and phlebotomy skills lab

Life-size "manikins" that can be programmed to provide a realistic replication of a clinical/emergency situation (and which the Hearst grant helped to purchase)

Multidimensional, flexible and adaptable space allowing for creative instructional deliveries

A 200-seat Auditorium

Space to facilitate the educational needs of the community for conferences and continuing medical education

Nutrition Science lab/classroom

State-of-the-art computerized technology and audio-visual capabilities throughout the building
The new facility has also facilitated a partnership with Variety Care, a Federally Qualified Health Center (FQHC) that strives to make healthcare affordable and accessible for all patients.
This partnership provides outstanding educational opportunities for the students as well as support to the surrounding communities.
It has also resulted in the establishment of a Variety Care community health clinic on the first floor of the new facility. The clinic offers services to those who otherwise could not afford it and the families of the underrepresented students attending OSU-OKC.
As an added benefit, students are able to expand upon what they have learned at the Simulation Center by then participating directly in clinical learning and onsite service learning — a unique arrangement for both the student and nonprofit clinic.
visit: www.osuokc.edu/nursing for more information.