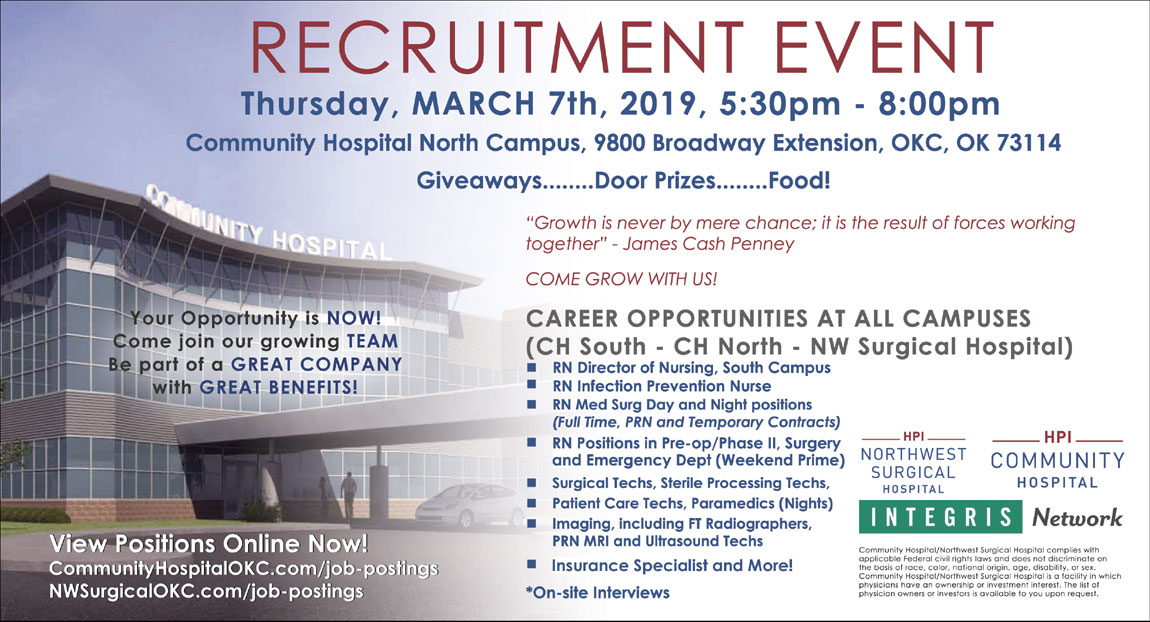 RECRUITMENT EVENT
Thursday, March 7, 2019, 5:30pm – 8pm
Community Hospital North Campus, 9800 Broadway Extension, OKC, OK 73114
Giveaways……….Door Prizes……….Food!
"Growth is never by mere chance; it is the result of forces working together" – James Cash Penney
COME GROW WITH US!
CAREER OPPORTUNITIES AT ALL CAMPUSES
(CH South – CH North – NW Surgical Hospital)
· RN Director of Nursing, South Campus
· RN Infection Prevention Nurse
· RN Med Surg Day and Night Positions (Full Time, PRN and Temporary Contracts)
· RN Positions in Pre-op/Phase 2, Surgery and Emergency Dept (Weekend Prime)
· Surgical Techs, Sterile Processing Techs,
· Patient Care Techs, Paramedics (Nights)
·  Imaging, including FT Radiographers, PRN MRI and Ultrasound Techs
· Insurance Specialist and More!
*On-site Interviews
View Positions Online Now!
CommunityHospitalOKC.com/job-postings
NWSurgicalOKC.com/job-postings
Your Opportunity is NOW!
Come join our growing TEAM
Be part of a GREAT COMPANY
with GREAT BENEFITS!
COMMUNITY HOSPITAL
NORTHWEST SURGICAL HOSPITAL
Integris Network
Community Hospital/Northwest Surgical Hospital complies with applicable Federal civil rights laws and does not discriminate on the basis of race, color, national origin, age, disability, or sex.
Community Hospital/Northwest Surgical Hospital is a facility in which physicians have an ownership or investment interest.
The list of physician owners or investors is available to you upon request.