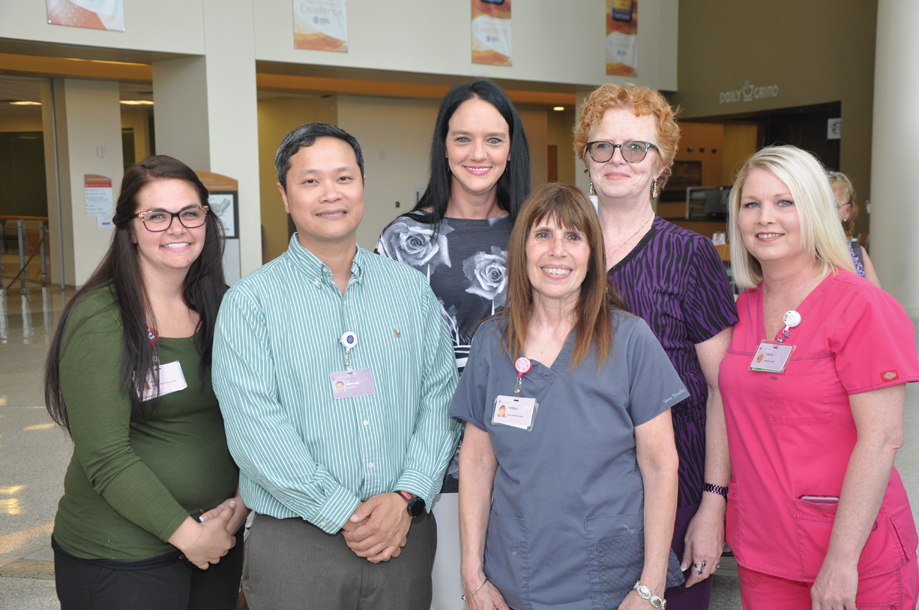 by Bobby Anderson, RN, Staff Writer
It was like any other day at work for Lisa Marti on May 9, except it would be one that would change her life.
Marti, 39, a medical assistant at Norman Regional's Endocrinology Associates, was found slumped over in her chair at the nurse's station by two coworkers.
After finding her unconscious, Kayla Masters, medical assistant, and Sherry Potter, LPN, transported Marti to a treatment room. They quickly realized Marti had no pulse and wasn't breathing.
Marti had gone into cardiac arrest, with no previously known heart conditions. They immediately began CPR and called 911. Before first responders arrived, other members of the endocrinology team, including Dr. Lubna Mirza, Michelle Jackson, Estelle Cappony and Alicia Glenn stepped in to help any way they could, and brought in cardiologist Dr. Michael Villano and his staff from the clinic next door.
"It was a nightmare—I don't even know how to describe it," Masters said. "It was pretty devastating to see her like that. A lot of us didn't know if she was going to make it. It was the worst thing I've ever dealt with in a work setting, but I think we handled it very professionally. We acted promptly and did the best we could."
Potter, who previously worked on a cardiology floor in a hospital, said trying to revive someone she knew was different from anything she has ever experienced with a patient.
"It was more intense. It's always in the back of my mind—wondering if (Marti) is okay and thinking about all the 'what ifs,'" Potter said. "Things happen for a reason. (Marti) asked to go home earlier that day because she didn't feel well, but we didn't send her home—I guess that was so we could save her life."
Judy and Henry Lantz, Marti's parents, were two of multiple family members to receive a call from the endocrinology staff. They immediately rushed to the hospital, as did Marti's daughter Kaitlynn and her son Tyler.
"It was the most terrifying day of our lives," Lantz said.
When Marti's parents arrived to the Emergency Department, Marti was continuing to slip in and out of consciousness. She was shortly moved to the Cardiovascular Intensive Care Unit (CVICU).
"There were some good moments and a lot of bad ones," Judy said. "It would seem like she was getting better then she would code again. It's not easy to be holding your daughter's head when she dies, especially over and over again."
Marti coded about 10 times in total before cardiologist Dr. Muhammad Salim put in a permanent pacemaker for Marti, which stabilized her and her heart function.
Although Marti doesn't remember much of what happened, she said it's "very scary" to hear about it all, but she received a ton of support from family, friends, coworkers, and her care team that helped get her by.
"I didn't have anybody who disappointed me in my care here. They offered all of the support and answers I needed," she said.
Marti has two children and two grandchildren to live for. She was able to return to work on Monday, June 18.
"I'm just happy to be alive and to have this second chance at life," she said.
Nephrologist Dr. David Williams is working with Marti on her follow-up care to determine the cause of her event. She said she is very grateful for his kindness and care.
"Hopefully we'll have answers soon," Marti said.