by Vickie Jenkins, Staff Writer
Katie Croy, LPN works for the School to Work Program for the Chickasaw Nation in partnership with the Oklahoma City Indian Clinic. The School to Work Program gives Chickasaw citizens the opportunity to pursue higher educational goals while receiving full-time pay benefits. During the program, the participants fulfill all requirements and responsibilities of their on-the-job-training.
Greeted with a bright smile, Katie explains why she is a nurse and why she works at the Oklahoma City Indian Clinic. "The one reason that I am a nurse is because when I was growing up, life was a little rough. I had a parent that was sick the majority of my life. Even at a young age, I had a desire to take care of others; learning what I would need to do. That is the reason that I sought out the medical field and became a nurse; to help others and to serve the community," Katie said.
"Working here at Oklahoma City Indian Clinic, there is a partnership with the Chickasaw work program which serves all of the Native American groups. I am thankful for the on-the-job training that is provided for me. Each job is given with specific types of employment opportunities related to a specific course of study. While I work in the medical area of nursing, I receive superior instruction and invaluable work experience. It gives me a great opportunity to establish more skills. One of my favorite things about my job here is recognizing the problem and helping serve all of the Native American tribes," Katie added.
"I went to Metro Tech for my LPN and I am currently attending OCCC for my RN and will be graduating in the spring of 2020. I would like to continue working here; continuing to serve the patients, making sure everyone is healthy and educated about what is going on. It is a nice place to work. A big portion of the Native Americans are less fortunate than others and some don't have insurance. When they come here, they are taken care. It is nice to be able to serve the Native American community." Katie commented.
Asking Katie what advice she would give to someone if they were thinking of going into the medical field, she replied, "I would tell them that nursing is such a great area to go into. There are so many different opportunities that a person can choose. They have to have a real desire to be a nurse, feeling the compassion and drive to help others."
Katie was raised in Oklahoma City, OK. "I was born at Carl Albert Hospital, which is the original tribal hospital in Ada, OK. I feel a certain pride working here since I am Chickasaw. Working here at the OKCIC has given me a chance to expand my medical knowledge and believes, hopefully, passing some of those thoughts on to the patients. This is a great work environment and I couldn't ask for better peers."
Katie's biggest motivator is disease prevention and health promotion; trying to educate the patients to the best of her ability. "It is sad to see so many people come in with medical problems. Of course, we are a non-profit organization yet, we are able to serve the Chickasaw citizens."
When Katie is not working or going to school, she enjoys dancing. "I like hip hop, jazz and country western. I also like to paint. I'm not that great at painting but it's a lot of fun and that's what counts," she said.
Asking Katie to describe herself. "Well, I am a hard worker and want to show respect and integrity in everything I do. When I was a little girl, I had a dream of being a national news broadcaster, she said with laugh. "I'm not sure why but I am glad that I chose nursing as my career. I always try to think positive and I know there is always room for learning. I work with the most awesome people! There is one special person that I would like to recognize and she has been such a mentor to me; Whitney Mosley, RN, Breast Care Case Manager. She is amazing! I currently work with her and I am so thankful that she has helped me in big ways," Katie said. "I am thankful that I have the opportunity to work with the School to Work Program in conjunction with the Oklahoma City Indian Clinic," she added.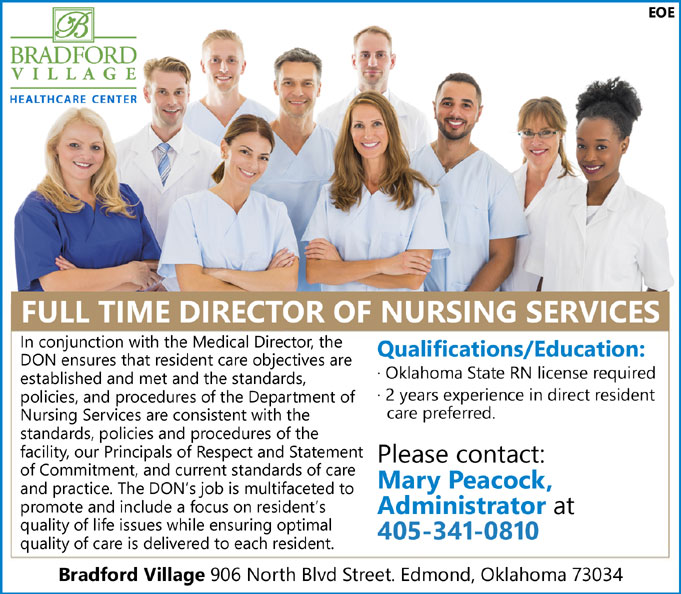 BRADFORD VILLAGE HEALTHCARE CENTER
FULL TIME DIRECTOR OF NURSING SERVICES
In conjunction with the Medical Director, the DON ensures that resident care objectives are established and
met and the standards, policies, and procedures of the Department of Nursing Services are consistent with the standards,
policies and procedures of the facility, our Principals of Respect and Statement of Commitment, and current standards of care and practice.
The DON's job is multifaceted to promote and include a focus on resident's quality of life issues while ensuring optimal quality of care is delivered to each resident.
Qualifications/Education:
· Oklahoma State RN license required
· 2 years experience in direct resident care preferred.
Please contact: Mary Peacock, Administrator at 405-341-0810
Bradford Village 906 North Blvd Street. Edmond, Oklahoma 73034