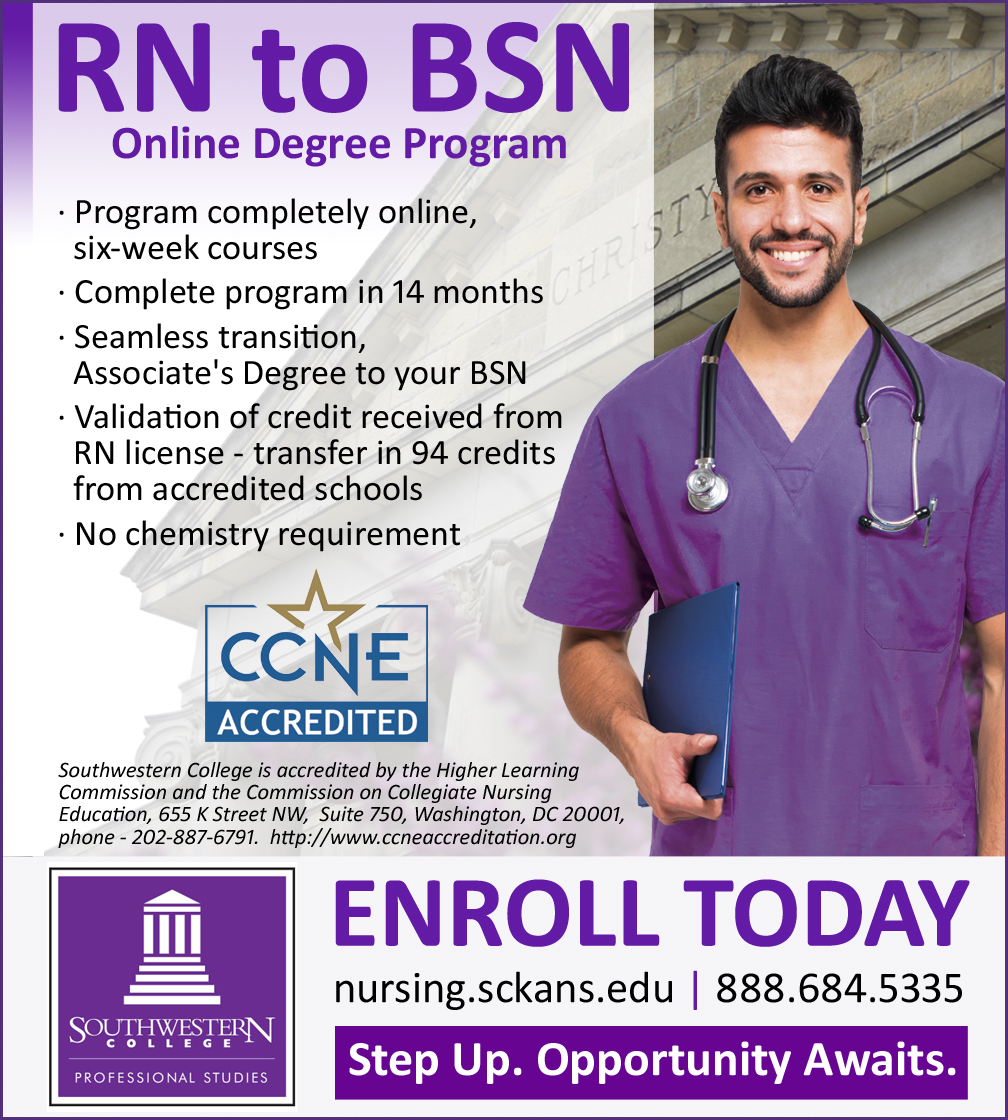 The flexibility of nurses can be one of their greatest assets, so why not choose a program to advance your career that is as flexible as you are?
Abbey Elliott, DNP, MHA, RN, CEN, CHSE, is the director of nursing at Southwestern College in Kansas and has been in charge of growing the online program for more than a year now with one thing in mind.
"I think what we do really well is we are very student-centered in our approach," she said.
Established in 1885, the Methodist-affiliated college is open to students of all backgrounds and faiths looking to pursue their nursing education.
More than a decade ago, Southwestern College became one of the first schools to offer a 100% online RN-BSN program, attracting students from across the nation. Registered nurses with a diploma or an associate degree in nursing may earn a Bachelor of Science degree from Southwestern College Professional Studies.
The RN to BSN program builds on previous nursing education and experience and is designed to position graduates for leadership roles and career advancement in a variety of healthcare settings.
In recognition that nurses are broadly educated and have transferable knowledge and skills, the Southwestern College RN to BSN program provides the opportunity for further study in nursing professional practice including leadership, community health and evidence-based practice.
Elliott says incoming students are paired with an individual advisor that works with them through every aspect of their education from scholarships they want to attain all the way through registration and eventually graduation. It's one of the many more personal benefits of working with a smaller college.
"We also have a small group of faculty members in the nursing program that work closely with the students and guide them if they are struggling," said Elliott.
Southwestern has also long been a higher-education hub for students from nearby McConnell Air Force Base in Wichita. The school prides itself on its flexibility with military learners and carried that knowledge over to its online RN to BSN program.
"We're not a large program, but we're not the smallest," Elliott said. "We are able, with smaller class sizes, to provide more of an intimate setting or working with them and helping the students through."
And attending class online means no out-of-state tuition at the Wichita, Kansas institution.
"Students never feel like they're alone in the process of going to college whether it's been a year or 20 years," Elliott says. "It's not as scary going through Southwestern because we are so student friendly."
Learners coming back to school after a layoff find a welcoming entry point. Elliott says students also are pleased to find that Chemistry isn't a required course.
"That's a big seller for our learners," Elliott explained. "When they finish their ADN, we accept those credits. There's not a lot of general education they have to complete before entering our program, so we waive that."
The depth of faculty experience is also a big draw at Southwestern. With an online program, that means Elliott is able to draw faculty from around the nation whether it be in Florida or Las Vegas. From backgrounds in the medical surgical floor to the ICU, faculty are well-rounded and bring that real-life working experience to students.
"What's nice is students get a different perspective of what nursing is like," Elliott said. "This provides different ideas and thoughts about what nursing is like not just in Kansas, Oklahoma or the Midwest, but in other parts of the country."
Still, working in the field allows instructors to better relate, especially when it comes to evidence-based practice instruction.
"Our faculty work in different fields of nurses and are academically prepared from different universities," Elliott says. "They bring all these different parts they've learned at different universities to how they teach. All of our faculty are at least master's prepared and I think that brings in some different pieces, too, and some helpful thoughts of those thinking they may go on to a graduate degree."
visit: nursing.sckans.edu for more information.