Jerry Turner draws from family history to voice Oklahoma Territory-era constable
by Brandon Frye – Chickasaw Nation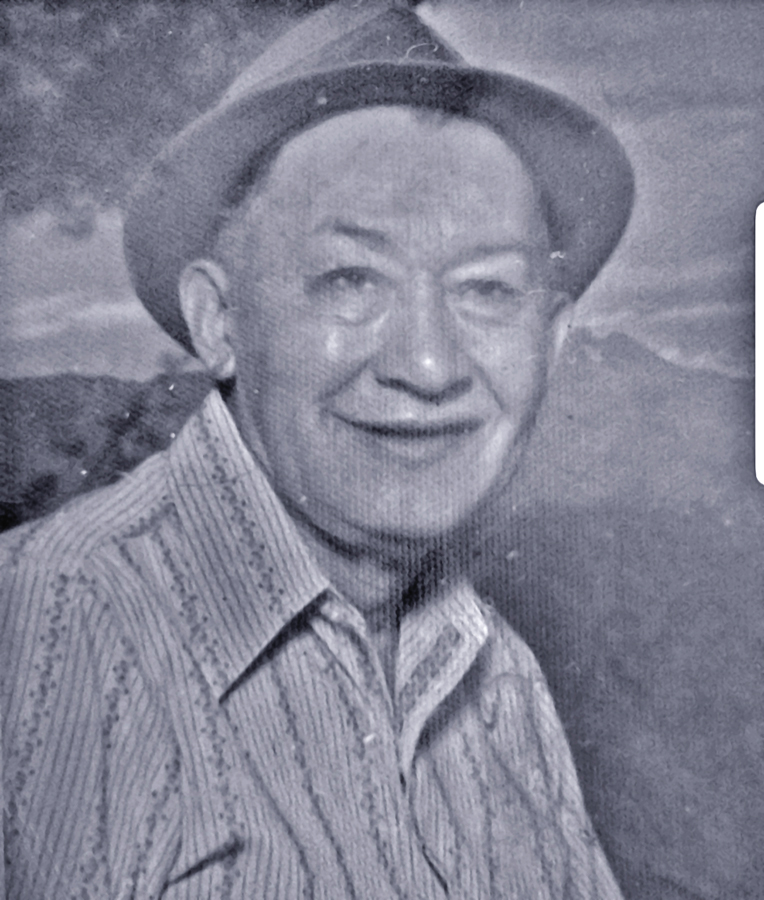 A Chickasaw constable from the days of Indian Territory is the newest addition to a roster of walking partners available within the AYA walking app – an interactive step-counting experience which gives users a way to explore Chickasaw history and culture while pursuing better health. "Chokma, I'm Silas. I live in Tishomingo, the capital city of the Chickasaw Nation, deep in the heart of Indian Territory. I'm a constable. Friends call me Si, but outlaws call me trouble. I was not born in Tishomingo, but in our original Homeland near Tockshish, Mississippi, in 1827," the character greets users. "I'm not much on books, but if you'll take a walk with me, I bet you can learn something. I have plenty to say on the cattle industry, life on the wild frontier and all the adventures of a country boy turned constable."
(STORY CONTINUES BELOW)
Jerry Turner, a Chickasaw health care worker born in Pauls Valley, reared in Edmond and now serving as a registered nurse in Oklahoma City, lends his voice to the character. His voice work for AYA is complete, but he has more to say.
"I voiced Silas with the memory of how my grandpa Ira Kilcrease spoke, with a steady structured even note placing inflection on certain syllables or when important words were stated," Turner explained. "In my mind I became a Silas from the late 1800s who had learned English as a second language."
He imagined what it was like in the time period being a Chickasaw constable and found he could identify with Silas on multiple levels. They are both multilingual, they shared morals and values, and both had a drive to help others.
He said while voicing Silas he mimicked his grandfather Ira's voice structure, paying attention to syllable pronunciation with an emphasis on vowels. He sounded like his grandfather, and having learned four languages, had an ear for it. When stepping into the recording booth for the first time, he was told he was a natural.
In particular, Turner said he loved speaking the Chickasaw words. When they popped up in the script they brought a smile to his face. "Our ancestors live in those words and each time we speak the words we are bringing them to life and bringing honor," Turner said.
"Listening to my relatives speak Chickasaw as well as listening to my grandpa Kilcrease speak and tell stories in Chickasaw made me proud to be American Indian," he said. "Being a Chickasaw has instilled a pride and belonging in me."
His heritage and family (which includes Chickasaw, Choctaw and Creek ancestry) also instilled in him a desire to help others, he said. His mother Jo Ann Kilcrease, Chickasaw, always taught her five children how to love and care. He credits her as being the main inspiration for his professional path.
"I believe almost all Chickasaw people are caring individuals and would help anyone in any way they could. I take this attitude to work in the emergency room with me each day," Turner said.
He has 20 years of experience working in emergency and critical care. He is currently stationed at the Sisters of Saint Mary (SSM) Saint Anthony Hospital emergency department in Oklahoma City. His previous posts have included flight nurse, trauma surgery nurse and robotic surgery nurse. He was recently named a top finalist for Oklahoma's nurse of the year.
In addition to bringing Chickasaw history to life with the character Silas, Turner's voice also plays an important role in his efforts to care for patients.
"Being a registered nurse in the emergency department, I saw a need to be able to communicate with the many Spanish speaking patients I encountered," he said. "I enlisted Spanish speaking co-workers to teach me Spanish."
Now English, Chickasaw, German and Spanish make up his linguistic repertoire. Clearly, Turner does not shy away from a learning opportunity.
He said he is a firm believer in education, and his past studies prove it. After graduating from Edmond Memorial High School, he went on to earn a biology degree and a nursing degree from the University of Central Oklahoma. With a few classes left, Turner is about to complete his master's degree in science with distinction.
He said he appreciates how the AYA app serves several wonderful purposes.
"Aside from being full of great information about our people, teaching Chickasaw words and prayers, the app urges the individuals to stay active in order to learn more," Turner said.
From his secluded home outside of Norman, close to nature by a lake often visited by coyotes, foxes and deer, Turner finds ways to stay active.
Hunting and fishing, as Turner has been doing since age 10, are guaranteed to keep you active. They are also ways to spend time with family and connect with ancestors, he said.
"My cousin and I had elder uncles and cousins teach us the ways. We hunted to provide meat or fished for it. I was taught to respect nature and only killed what I was going to eat. My cousin and I became expert marksmen and routinely practice hitting targets out to 600 yards with rifles and can consistently place arrows in a bull's-eye at 30 yards. We jokingly but proudly state it is the Chickasaw blood that makes us great hunters," Turner said.
AYA's Cattlemen Series
With its latest update designed to keep users moving while learning about Chickasaw history and culture, the AYA walking app kicked off a whole new series now available to download on iPhone and Android smartphones. Turner's Silas is the first new character from AYA's "Cattlemen" series, which will set users down new paths full of fresh points of interest.
"Silas introduces the walker to what life was like during our pre-statehood days when Oklahoma was Indian Territory, what it was like for Chickasaws during this part of our journey. Though this time period was just a little more than 100 years ago, life has changed drastically," said Dr. Judy Goforth Parker, commissioner of health policy for all of the Chickasaw Nation.
Dr. Parker is one of the original minds behind the app and still works with a team guiding its development. She said one of the goals for AYA is to encourage Chickasaws to improve their health. Over time, it also became apparent how effective the app is at introducing people to Chickasaw culture, language and history.
The Chickasaw word "AYA" means "to go" or "to journey." Using step-tracking technology, the interactive mobile walking app rewards users as they move throughout their day.
Voice actors tell a historical story through walking partners, fictional Chickasaw characters living during important periods in Chickasaw history. Their stories unfold as users unlock new chapters with their steps.
"AYA uses prompts such as language, prayers, history and the Chickasaw story to encourage the reader to continue walking," Dr. Parker said, signaling how important both learning and moving are for the app.
With the "Cattlemen" series, paths are plotted out in Indian Territory, before Oklahoma statehood. It was a more rugged time filled with settlers, cowboys, bandits and fur traders. The "Cattlemen" series lets users take a step back in time and explore.
With the original roster of walking companions, users and characters walked along the same route Chickasaw ancestors walked during Removal to Indian Territory, a path that is now reversed on the app from Oklahoma to Mississippi. Along the way, users continue to get acquainted with historical sites and landmarks. The original experiences are still available in the app.
Motivation to maintain momentum appears as unlockable educational content, such as traditional prayers, hymns, locations and Chickasaw words. Silas bolsters what users can find in the app and comes with his own path, story and unlockable items.
Other new features include a healthy tips section, updated and improved group challenges, deeper notification settings, new items to discover, as well as performance and stability improvements.
The app is available for download in the Apple App Store and Google Play, with more than 38,000 app downloads made so far. Thousands of users are currently unlocking cultural and historical insight in the app. AYA syncs to step counters in Fitbit devices or directly to phones with Apple Health kit.
AYA also syncs to an Apple Watch or other step-tracking devices connected to Apple Health or Google Fit.
For more information and updates, visit: AYAWalk.com, Facebook.com/AYAWalkApp, Twitter.com/AYAWalkApp or Instagram.com/AYAWalkApp.