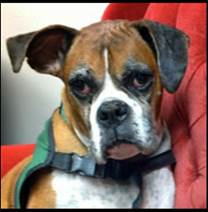 On Wed., Jan. 10, Spike, a longtime pet therapy dog at INTEGRIS Southwest Medical Center, will make his last rounds. He has been a fixture at the hospital for eight years, coming to visit patients almost every single day.
Dr. Phillip Mosca is his owner. He says Spike has anterior spinal dystrophy and is losing the use of his legs. He now uses a wagon to move around.
The media is invited to attend Spike's Farewell Wagon Tour starting at 7:30 a.m. tomorrow. He will tour the hospital at 4401 S. Western Avenue until 9 a.m. before wheeling off into retirement.
There is no way to know the number of patients he has visited over the years but one thing is for sure, Spike is no doubt responsible for countless smiles. He is beloved by many at the hospital and will be greatly missed.
Media interested in covering this event should call INTEGRIS Media Representative Pam Hayes at 405-213-8605.