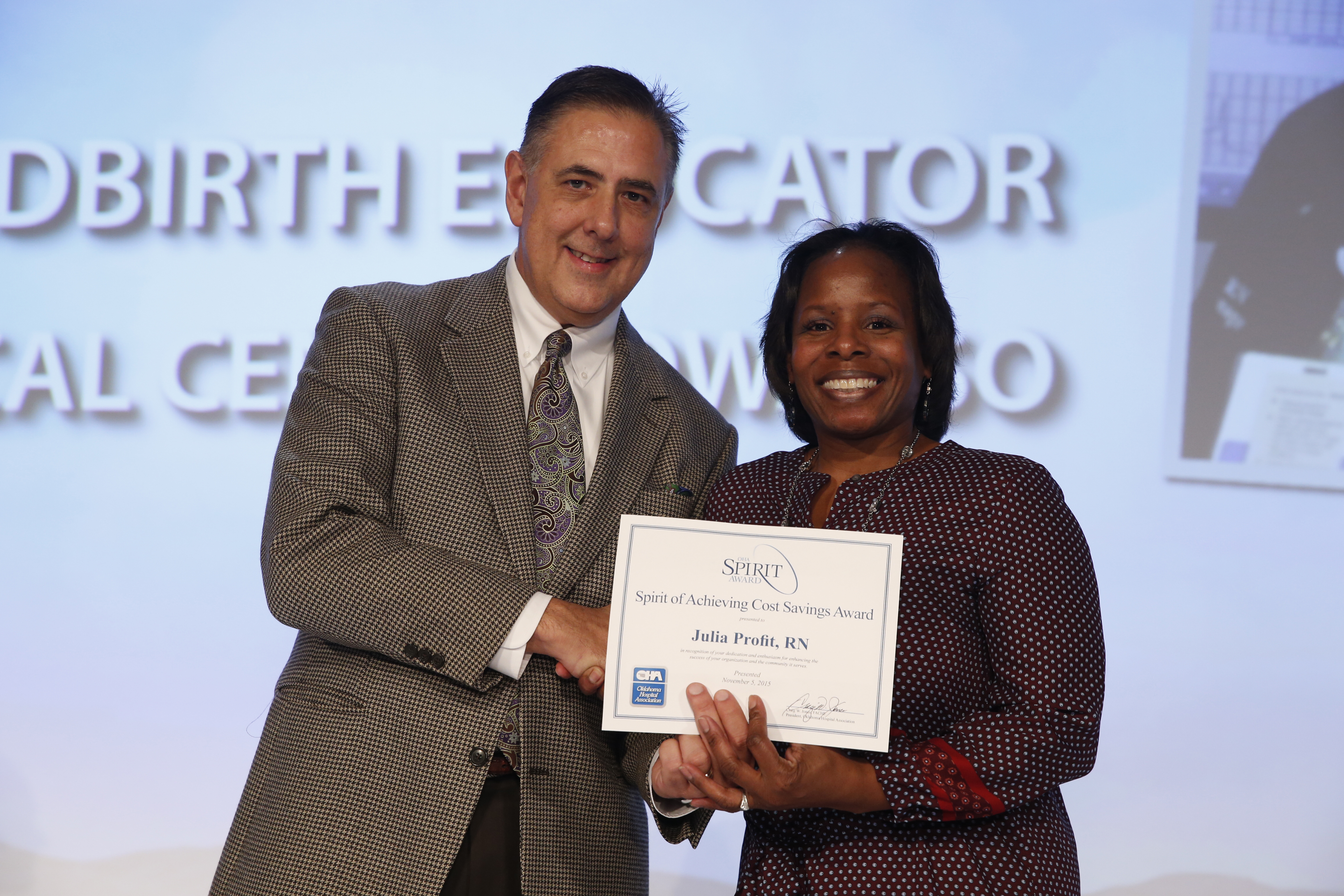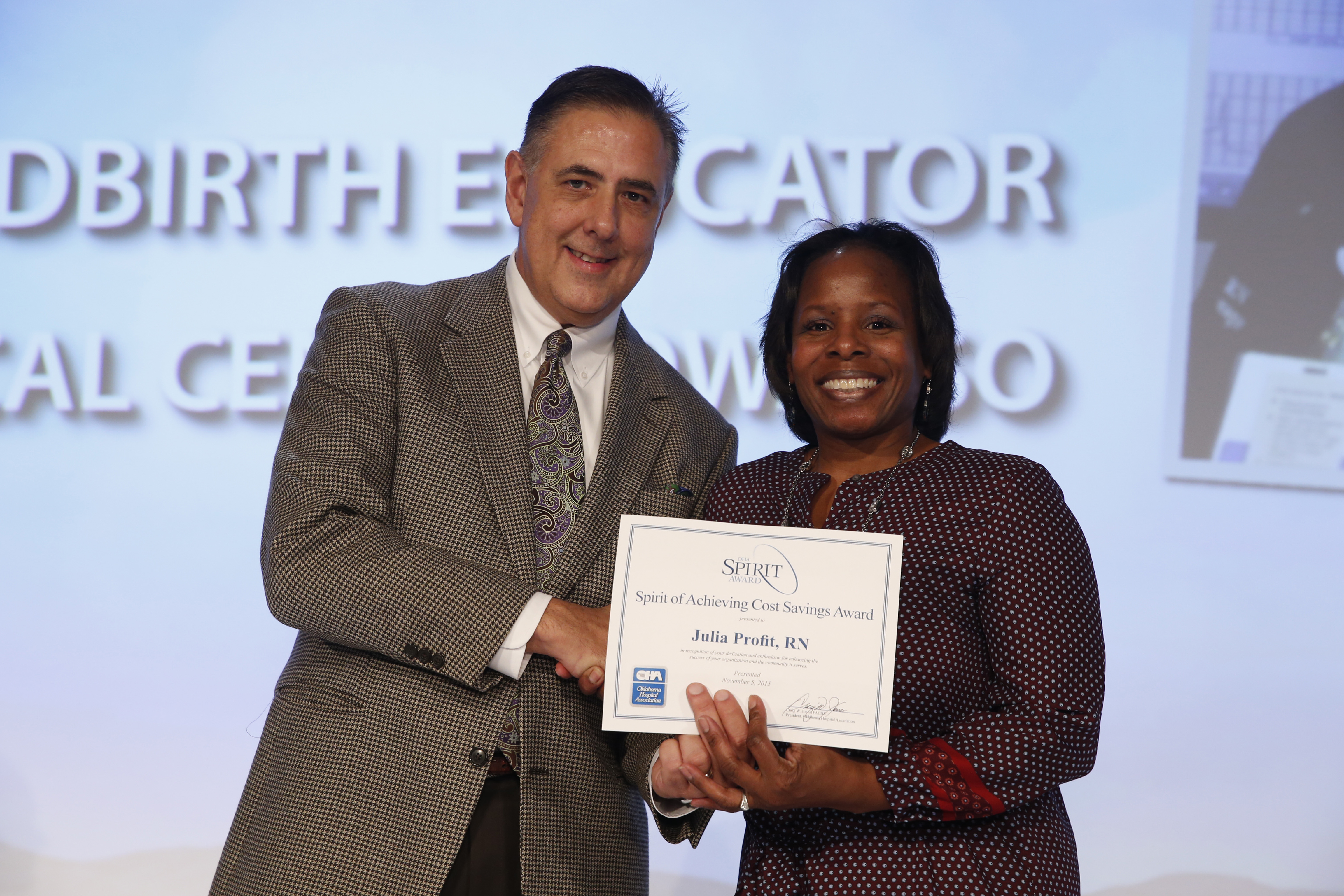 Fifty-two hospital team members statewide received an Oklahoma Hospital Association (OHA) Spirit of Achieving Cost Savings Award during the 2015 OHA Annual Convention Nov. 5. The 52 front-line, behind-the-scenes and administrative employees received the award because, through their insightful knowledge, innovative thinking and determination, they have helped their departments and the overall organization achieve substantial savings in operational costs.
Award recipients were chosen by their hospitals for exemplifying the Spirit of Achieving Cost Savings by: exemplifying a willing, courageous and dedicated attitude in tackling the historical "way things have been done" within day-to-day operations; carefully evaluating current operating practices to discern where greater efficiencies could be realized; undertaking the challenge of identifying alternative methods and resources for carrying out daily functions; assembling other individuals and/or a team to elicit the best experience and knowledge to study cost-saving ideas; or documenting and presenting to management the direct annual savings that could be achieved by implementing proposed changes in operational practices.
"We are pleased to honor these special hospital employees who have dedicated time, talent or expertise to improve their organizations and their communities," said Craig W. Jones, president, Oklahoma Hospital Association. "These are the type of team members who, when they see problems, consistently work to solve them."
Award winners are: AllianceHealth Blackwell, Miranda Ramhorst, drug room manager. AllianceHealth Deaconess, Oklahoma City, Lee Rhoades, directory of laboratory. AllianceHealth Durant, Nelson Edgeman, director of pharmacy. AllianceHealth Midwest, Midwest City, LuAnn Young, director of pharmacy. AllianceHealth Ponca City, Rick McCumber, DPh, MBA, director of pharmacy. Arbuckle Memorial Hospital, Sulphur, Denise Welch, chief financial officer. Bailey Medical Center, Owasso, Julia Profit, RN, OB manager/childbirth educator. Comanche County Memorial Hospital, Lawton, Becky Holland, director of accounting. Creek Nation Community Hospital, Okemah, LCDR Joe Landers, director of pharmacy services. Duncan Regional Hospital, Terry Crissman, director of pharmacy. Grady Memorial Hospital, Chickasha, Cathy Groseclose, vice president of patient care services. Great Plains Regional Medical Center, Elk City, Theresa Garner, director of pharmacy. Hillcrest Hospital Claremore, Teresa Walkingstick, materials manager. Hillcrest Hospital Cushing, Allan Hale, pharmacy manager. Hillcrest Hospital South, Tulsa, Wendy Haskins, director of radiology. Holdenville General Hospital, Amy Riley, drug room nurse. INTEGRIS Baptist Medical Center, Oklahoma City, Micah J. Parker, asst. VP, system supply chain. INTEGRIS Baptist Regional Health Center, Miami, Clint Epperson, director of EMS. INTEGRIS Bass Baptist Health Ctr, Enid, Pam Forducey, PhD, ABPP, system director, INTEGRIS eHealth. INTEGRIS Canadian Valley Hospital, Yukon, John Robbins, director, facilities services. INTEGRIS Grove Hospital, Clint Smith, director of cardiopulmonary services. INTEGRIS Health Edmond, Daniel Smith, BSN, RN, clinical director. INTEGRIS Southwest Medical Center, Oklahoma City, Dave Perry, senior facility planning and construction manager. Jane Phillips Medical Center, Bartlesville, Kevin Hieb, RN, clinical supervisor, cardiology. Lawton Indian Hospital, LCDR Matthew Miller, pharmacist. Lindsay Municipal Hospital, Malea Ince, head of purchasing. McAlester Regional Health Center, Julie Powell, director, education & quality, infection preventionist. McBride Orthopedic Hospital, Oklahoma City, Jena Allen, LPN. Mercy Hospital Ada, Michael Roe, purchasing agent. Mercy Hospital Ardmore, Patricia Long, director of clinic operations. Mercy Hospital Oklahoma City, Lynn Sandoval, executive director perioperative services. Midwest City Specialty Hospital, Rachael Lee, house supervisor. Muscogee (Creek) Nation Medical Center, Okmulgee, Tonya Hargis, procurement supervisor. Norman Regional Health System, Mari Newcomer, RN, manager, women's and children's health services. Northeastern Health System, Tahlequah, Jennifer Palmer, assistant vice president of reimbursement, patient financial services. Okeene Municipal Hospital, Shirley Koehn, laundry. Purcell Municipal Hospital, Karen Huckaby, RT manager, cardiopulmonary. Select Specialty Hospital – Oklahoma City, Michelle Belote, materials manager. Share Medical Center, Alva, Kevin O'Brien, chief financial officer. St. Anthony Hospital, Oklahoma City, Erin A. Schreiber, CPM, administrative director, supply chain operation. St. Anthony Shawnee Hospital, Jimmy Larson, director, facilities management. St. John Broken Arrow, Lisa Moran, secretary III (statistical). St. John Owasso, Jory Bushyhead, regional pulmonary supervisor. St. John Medical Center, Tulsa, Kristin Cator, program manager. St. John Sapulpa, Brian Howard, facility manager. St. Mary's Regional Medical Center, Enid, Tracy Andersen, director, information systems. Stillwater Medical Center, Jacob Easson, assistant administrator, revenue cycle services. The Children's Center Rehabilitation Hospital, Bethany, Jason McClure, director of purchasing. Tulsa Spine & Specialty Hospital, Beau Carney, business office director. Valir Rehabilitation Hospital, Oklahoma City, Ginger Castleberry, quality assurance and risk management. Wagoner Community Hospital, Rhonda Daniels, manager, data operations. Weatherford Regional Hospital, Joe Robinson, director of radiology.
Established in 1919, the Oklahoma Hospital Association represents more than 138 hospitals and health care entities across the state of Oklahoma. OHA's primary objective is to promote the welfare of the public by leading and assisting its members in the provision of better health care and services for all people.