Siji Jose, RN recognized for exceptional patient care
SSM Health St. Anthony Hospital is pleased to announce that Siji Jose, Staff RN, is the hospital's most recent recipient of the DAISY Award. The DAISY Award for Extraordinary Nurses is part of the DAISY Foundation's program to recognize nurses who go the extra mile for their patients, families and team members.
Jose graduated with a nursing degree from Oklahoma State University-Oklahoma City in 2018. He was nominated by a patient who felt positively impacted by the compassion, respect and excellence with which he approaches patient care relationships.
"At SSM Health, our nurses exemplify our Mission – Through our exceptional health care services, we reveal the healing presence of God," said Elain Richardson, chief nursing officer and vice president of nursing, St. Anthony Hospital. "Siji is a light for his patients and coworkers, going above and beyond in a manner worthy of the DAISY Award."
The not-for-profit DAISY Foundation is based in Glen Ellen, Calif. and was established by family members in memory of J. Patrick Barnes, who died in 1999 from complications due to autoimmune disease. The care Barnes and his family received from nurses while he was ill inspired this unique means of thanking nurses for making a profound difference in the lives of their patients and patient families.
Nurses may be nominated by patients, families and colleagues, and they are chosen by a committee of nurses at SSM Health St. Anthony Hospital to receive The DAISY Award. Awards are given throughout the year at presentations given in front of the nurse's colleagues, physicians, patients and visitors. Each honoree receives a certificate and a sculpture called A Healer's Touch, hand-carved by artists of the Shona Tribe in Africa, as a reminder of his accomplishment.
The DAISY Award has been awarded to SSM Health St. Anthony nurses since February 2018.
SSM Health in Oklahoma includes SSM Health St. Anthony Hospital (Oklahoma City); Bone & Joint Hospital at St. Anthony (Oklahoma City); St. Anthony South (Oklahoma City), SSM Health Outpatient Center (Oklahoma City) and St. Anthony Hospital – Shawnee (Shawnee, Okla.). The SSM Health network in Oklahoma also includes four SSM Health St. Anthony Healthplex campuses, a community freestanding ER (El Reno, Okla.), 16 affiliated hospitals, and SSM Health Medical Group with more than 250 physicians and providers.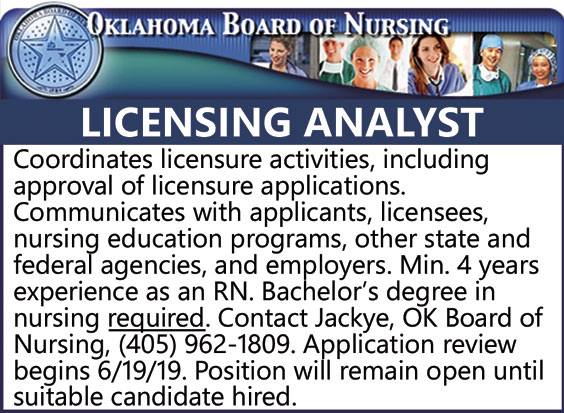 LICENSING ANALYST
Coordinates licensure activities, including approval of licensure applications. Communicates with applicants, licensees, nursing education programs, other state and federal agencies, and employers. Min. 4 years experience as an RN. Bachelor's degree in nursing required. Contact Jackye, OK Board of Nursing, (405) 962-1809.
Application review begins 6/19/19. Position will remain open until suitable candidate hired.