by Vickie Jenkins, Staff Writer
You will find a staff of professionals at Southern Nazarene University, School of Nursing. One of the many encouraging individuals is Brittany Cummings, DNP, APRN, and FNP-C. Not only is she an RN but also an Assistant Professor.
Growing up in Yukon, OK, Brittany has always been interested in taking care of others. "I remember playing nurse when I was little; taking care of all my dolls and stuffed animals when they weren't feeling well. I had the little nurses' outfit, the plastic red stethoscope, the pretend syringes, the tiny box marked medicine, all fitting nice and neat inside the doctor's kit; I had it all! It must have been how I nursed all of those dolls and stuffed animals back to health," she said with a laugh. "Actually, at a young age, I felt God calling me to go into missions. What better way to go into a career such as nursing?" she asked.
"I like being a nurse and also I like teaching in the nursing program, because I love helping people. I like teaching because it allows me to share my knowledge about nursing and my Christian values with others; physically and emotionally," Brittany commented. "Some of my favorite moments are when I begin each class with a quote or devotional. It is obvious that the students love it, plus they are learning at the same time. Teaching here is very special; knowing that these students may soon be professors themselves and may be teaching all over the world," she added. "One thing that always makes me feel good is when I have a room full of students and after a while, they finally understand everything going on and it's like a light bulb comes on and it's amazing! The room seems to light up!"
I asked Brittany to describe herself. "It's a little hard to talk about myself," she said with a smile. "I am pretty low key and I love what I do. I am motivated by my students, faculty and the many nurses that I have worked with. When I was in nursing school, here at SNU, there was one particular nurse that I considered my mentor; that was Diane Gaston, who seemed to take a specific interest in me and would send words of encouragement that would come my way. Another special mentor at that time and presently is Professor Susan Barnes. She has definitely been there for me. I began to grow as a nurse and now, I continue to blossom wherever I go," she replied. "I admire Professor Barnes and I feel honored to work with such a fine and respectable person," "Brittany said.
Brittany is a very positive person as I could see from her office as I noticed all of her wall hangings were positive quotes and sayings. Each one had the word 'good' in it.
She quoted her favorite saying:
"This is the beginning of a new day. You have been given this day to use as you will. You can waste it or use it for good. What you do today is important because you are exchanging a day of your life for it. When tomorrow comes, this day will be gone forever; in its place is something that you have left behind. Let it be something good."
Is there anyone in your family in the medical field? "No, I am the only one that decided to be a nurse. I have a twin sister, Bethany. We both pretended to be nurses and teachers when we were little. It's funny how things worked out; I am a nurse and she is a teacher. I always accused her of being the bossier twin," Brittany replied with a laugh. "When we were little, I'm sure my sisters (younger sister Brianna) and I wanted to be ballerinas. What little girl doesn't?"
Asking Brittany what advice she would give to someone going into the medical field, she replied, "They would need to have a genuine compassion for others, have plenty of patience and enjoy taking care of others, no matter what the situation. The medical field has such a variety of opportunities to choose from and whatever job they decide on, be the best they can be. Being a nurse will be plenty of hard work, yet it will be the most rewarding job they will ever have."
How would Brittany sum up her life in one word? "That is easy," she said. "It would be BLESSED."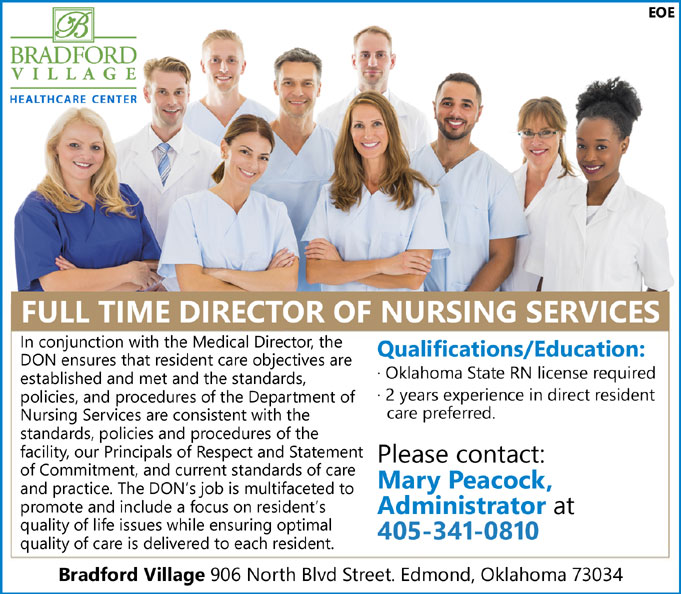 BRADFORD VILLAGE HEALTHCARE CENTER
FULL TIME DIRECTOR OF NURSING SERVICES
In conjunction with the Medical Director, the DON ensures that resident care objectives are established and met and the standards, policies, and procedures of the Department of Nursing Services are consistent with the standards, policies and procedures of the facility, our Principals of Respect and Statement of Commitment, and current standards of care and practice.
The DON's job is multifaceted to promote and include a focus on resident's quality of life issues while ensuring optimal quality of care is delivered to each resident.
Qualifications/Education:
· Oklahoma State RN license required
· 2 years experience in direct resident care preferred.
Please contact: Mary Peacock, Administrator at 405-341-0810
Bradford Village 906 North Blvd Street. Edmond, Oklahoma 73034