Dr. Jerome Adams, the 20th Surgeon General of the United States, visited with physicians, students and staff at the University of Oklahoma Health Sciences Center recently, sharing his insights on the state of healthcare in Oklahoma and the nation.
As Surgeon General, Dr. Adams holds the rank of Vice Admiral in the U.S. Public Health Service Commissioned Corps. In this capacity, he oversees the operations of approximately 6,500 uniformed health officers who serve in nearly 800 locations around the world, promoting, protecting and advancing the health and safety of our nation.
During his tenure as Surgeon General, Dr. Adams has created several initiatives to tackle our nation's most pressing health issues, including: the opioid epidemic, oral health, and the links between community health and both economic prosperity and national security. Additionally, Dr. Adams is focused on building a culture of health and prevention in all sectors. He addressed some of these issues.
Dr. Adams received bachelor's degrees in both biochemistry and psychology from the University of Maryland, Baltimore County, a master of public health degree from the University of California at Berkeley, and a medical degree from Indiana University School of Medicine.
He has been a leader in numerous professional organizations, including the American Medical Association, the Indiana State Medical Association and the Indiana Society of Anesthesiologists. Dr. Adams is also the former Health Commissioner of Indiana, where he led the State's responses to Ebola, Zika, and to the largest ever HIV outbreak in the United States related to injection drug use.
Following Dr. Adams' presentation, the audience was invited to participate in a brief question and answer period. Jennifer Schultz, senior vice president of marketing and communications for OU Medicine, moderated that session.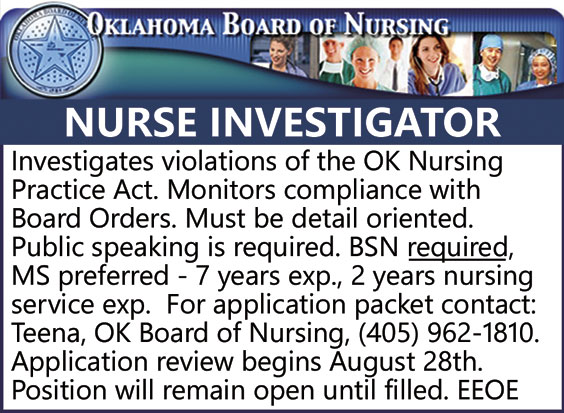 NURSE INVESTIGATOR
Investigates violations of the OK Nursing Practice Act. Monitors compliance with Board Orders. Must be detail oriented. Public speaking is required. BSN required, MS preferred – 7 years exp., 2 years nursing service exp. For application packet contact: Teena, OK Board of Nursing, (405) 962-1810. Application review begins August 28th. Position will remain open until filled. EEOE