by Vickie Jenkins, Staff Writer
At Carter Healthcare, you will find caring nurses with a desire to care for others. One extraordinary nurse is Pam Byrd, RN/DON. Pam has been a nurse for fourteen years and says that being a nurse was a real calling for her. "I wanted to do something with my life that would be interesting, challenging and make a difference in someone's life. I also wanted the opportunity for growth that nursing provides through the different nursing avenues that can be pursued," Pam explained. (story continues below)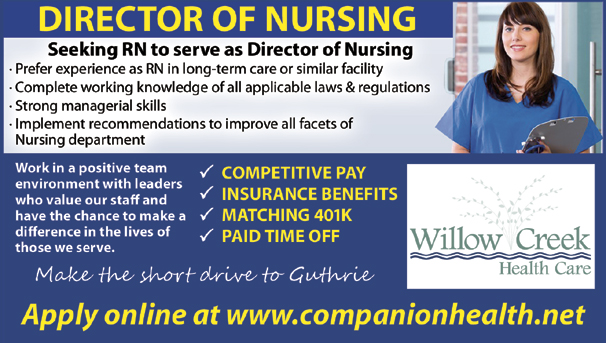 "I grew up in Edmond, OK when it was a much smaller town. When I was little, I had a dream of being everything from a teacher, actress to a professional dancer. It took some growing up for me to realize that I was being called to be a nurse. I attended Rose State College for my nursing," Pam said. "Even though my mom was a nurse, I never imagined being a nurse myself, following in her footsteps. That was the farthest thing from my mind. Yet, here I am," she said with a smile. "Now, I have a daughter who is an RT and another daughter in college for nursing."
"While I was in nursing school, I had various professors that were excellent mentors and I am still in contact with today. I think they played a big part in allowing me to realize some of the qualities that make a good nurse, such as compassion, empathy, patience and critical thinking skills," Pam said. "I also think that anyone that is interested in pursuing a nursing career should enjoy people and have a desire to help others."
A typical day for Pam includes many duties such as meetings, reading and responding to an enormous amount of emails, answering phone calls and helping resolve problems and issues. Pam also can be found analyzing different reports to make sure Carter Healthcare is providing the best care to their patients.
"My first job in nursing was on a pediatric surgical and cardiac unit at Children's Hospital. It was a challenging position. Not only did I have to develop a relationship with the patients but also with their families," she added.
"Being a nurse is a very rewarding job, knowing that I am making a difference in a patient's life. As a nurse manager, it includes knowing that I have provided great support and education to my team members. On the other hand, being a nurse has some challenges too; making sure team members are adequately trained and have the knowledge they need to give good patient care in the home health setting. Rules and regulations change frequently and these changes need to be implemented into practice as soon as possible."
Pam considers herself somewhat of a leader and a follower. "I believe that there are times that I need to follow and a time to lead, depending on the circumstances." Have you received any awards or recognitions in the past? Pam replied, "Yes, I received Manager of the Month for Carter Healthcare in February 2019. I also graduated top of my class in nursing school."
When I asked Pam to describe herself, she replied. "I have been a nurse manager in the home health setting for ten years. I enjoy home health and can't image doing any other type of nursing. It is rewarding for me to go into a patient's home and educate them on their disease process. I also enjoy working with various team members and empowering them to be the best home health nurses they can be. Outside of work, I enjoy spending time with my family. We like to do fun things like family game night, take day trips to local various sights and of course, the girls in the family love to go shopping together."
Asking Pam how the Coronavirus has changed her life, she replied, "The Coronavirus has definitely impacted my life, like many others, by limiting time spent with family and friends. We tend to spend more time at home and not doing the things we enjoy doing like traveling, eating out, going to movies, etc. As a nurse I focus on making sure my team members are taking the precautions they need to provide patient care. Making sure they have the appropriate PPE and taking all necessary precautions is my top priority."
I asked Pam to sum up her life in three words. "God, Family and Fun," she answered.