The Children's Center Rehabilitation Hospital has launched its new 1898 Club, with the help of honorary board members Caitlin and Lincoln Riley, Darci Lynne, Kelli O'Hara, J.T. Realmuto and Jordy Mercer.
The 1898 Club is designed to support the patients at The Children's Center Rehabilitation Hospital located in Bethany. The Hospital chose 1898 as the club name, as the historical roots of the hospital can be traced to the year 1898 when the founder Mattie Mallory began the ministry of caring for children.
Those who join the club donate a monthly gift of $18.98 for 12 months for a total donation of $227.76. Funds raised from the 1898 Club will be used to meet a variety of patient needs, such as purchasing diapers, formula, medical and respiratory supplies, educational supplies, and providing field trips for the patients and their families.
"We're really excited to offer this new opportunity for friends to celebrate our hospital's rich history and the legacy of founder Mattie Mallory," said Melissa Richey, director of communications and marketing. "This annual donation of $227.76 will help us as we continue to provide excellent medical care and innovative therapy to children with special health needs."
The Children's Center Rehabilitation Hospital is Oklahoma's only rehabilitation hospital for children and teenagers with complex medical conditions or traumatic injuries. Patients range in age from birth to 20 and come from all 77 counties in Oklahoma, as well as surrounding states.
Anyone can join the 1898 Club and there are several ways to make a donation, including the following:
Online at:
www.miracleshappenhere.org/waystogive
Check, Credit card or Electronic transfer. For more information or to set up a payment plan, please contact Jennifer Schmidt at jschmidt@tccokc.org or (405) 470-2309.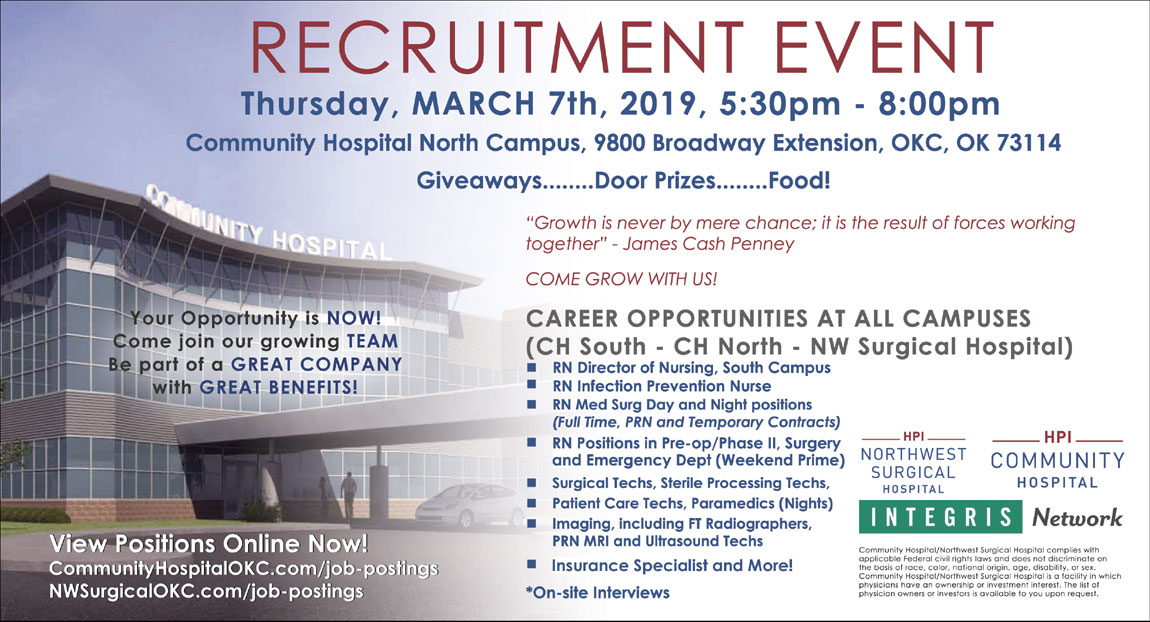 RECRUITMENT EVENT
Thursday, March 7, 2019, 5:30pm – 8pm
Community Hospital North Campus, 9800 Broadway Extension, OKC, OK 73114
Giveaways……….Door Prizes……….Food!
"Growth is never by mere chance; it is the result of forces working together" – James Cash Penney
COME GROW WITH US!
CAREER OPPORTUNITIES AT ALL CAMPUSES
(CH South – CH North – NW Surgical Hospital)
· RN Director of Nursing, South Campus
· RN Infection Prevention Nurse
· RN Med Surg Day and Night Positions (Full Time, PRN and Temporary Contracts)
· RN Positions in Pre-op/Phase 2, Surgery and Emergency Dept (Weekend Prime)
· Surgical Techs, Sterile Processing Techs,
· Patient Care Techs, Paramedics (Nights)
·  Imaging, including FT Radiographers, PRN MRI and Ultrasound Techs
· Insurance Specialist and More!
*On-site Interviews
View Positions Online Now!
CommunityHospitalOKC.com/job-postings
NWSurgicalOKC.com/job-postings
Your Opportunity is NOW!
Come join our growing TEAM
Be part of a GREAT COMPANY
with GREAT BENEFITS!
COMMUNITY HOSPITAL
NORTHWEST SURGICAL HOSPITAL
Integris Network
Community Hospital/Northwest Surgical Hospital complies with applicable Federal civil rights laws and does not discriminate on the basis of race, color, national origin, age, disability, or sex.
Community Hospital/Northwest Surgical Hospital is a facility in which physicians have an ownership or investment interest.
The list of physician owners or investors is available to you upon request.