by Vickie Jenkins, Staff Writer
Touchmark is the premier retirement community in north Edmond where they offer elegant independent and assisted living plus memory care. Their mission is to enrich people's lives.
This is where you will meet Debi K. Sims, RN, BSN, BF-CMT, and Touchmark's Memory Care Manager where she has been working for the last four years. Debi has been a nurse for a total of 23 years and loves every minute of it. "I can't imagine doing anything else," she said.
Growing up in the bay area of California, she moved here with her parents in the mid 60's and has lived here ever since. Attending nursing school, she received her BSN at East Central University in Ada, Oklahoma. "My first job as a nurse was at Rolling Hills Psychiatric center in Ada, OK. I worked with adolescent boys. I still have a lot of friends from those days and it remains one of my favorite jobs. I never would have seen myself as a nurse manager if Brian McCoun hadn't pushed me in that direction. Now, I can't image doing anything else," she commented. Unless, I had followed my childhood dream of being an artist," she said with a laugh. "Doesn't everyone want to grow up and be an artist?" she asked.
There are several special people from Debi's life that influenced her to be a nurse. "That would be my mother, Patsy Marie Penrod, and her patient-my sister, Kellie Marie and my friend, Tom Hunt, RN at Bellevue."
Debi explains how she became a nurse a little later in life. "My decision to be a nurse came because of a divorce. I had three children to raise and nursing was a way of life for me. I watched my mother take care of my dying sister for years. My mother is my nursing inspiration. My gifts have always been encouragement and teaching and both of those worked out well in the field of nursing," Debi commented.
Asking Debi what qualities make a good nurse, she replied, "Compassion is good, but a nurse has to be tough, gritty and stand in the gap for the patients or residents that they serve. Many times, you will be the one voice."
What is your biggest reward as a nurse? "Being a nurse is a daily blessing. I have peace knowing that my hands have worthy work to do and that my life is invested in something that makes a difference in people's lives; in the patients, families, coworkers and my immediate family," Debi replied.
What is your biggest challenge? "Protecting my time. I have to balance a demanding schedule and obligations with my chief priorities in life; God, family and career," she said.
Asking Debi if she had any mentors while she was in school, she said, "Dr. G. Black was my greatest mentor. The first day of class at 34 years old, I sat on the front row of his Zoology class and tears silently streamed down my face as I listened to him discuss the building blocks of all living things. I slowly gathered my books and walked out of the science hall and sat under a tree in absolute shock. I couldn't do this, I was in over my head, I heard a voice above and looked up and it was Dr. Black."
"Here, read this chapter that I copied from an old text book, know the material and you will be fine, he said. Then he slowly walked away. I read it and after a few weeks with a big grin on his face he let me know that I had been setting the curve in his class. Sometimes, your whole life can be traced back to one person who encouraged you."
Debi's hobbies include her first love of traveling. I also enjoy writing, poetry and scrapbooking. "I love spending time with my greatest blessings of all; my three children: Jillian, April and Hunter, and my two grandsons, Luke and John. Not to forget my faithful dog, Lexi, my long haired mini dachshund."
As far as encouraging words go, Debi has a poster in her office that has traveled with her from her DON days at Epworth Villa, "The poster is Rosie the Riveter. 'We can do it!' Cause we can! As a nurse manager, we are just a part of the team. We never lose sight of the team. No one is more important from the other."
Summing up her life in one word: "That word is: CHALLENGING.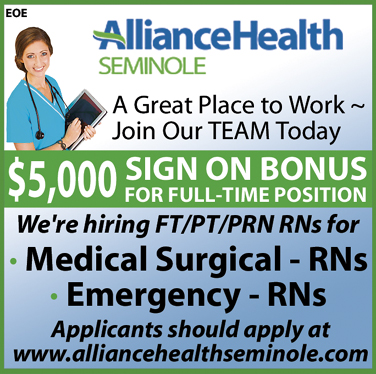 A Great Place to Work ~
Join Our TEAM Today
$5,000 SIGN ON BONUS FOR FULL-TIME POSITION
We are hiring RNs for
Medical-Surgical – RNs
Emergency – RNs
Applicants should apply at
www.alliancehealthseminole.com