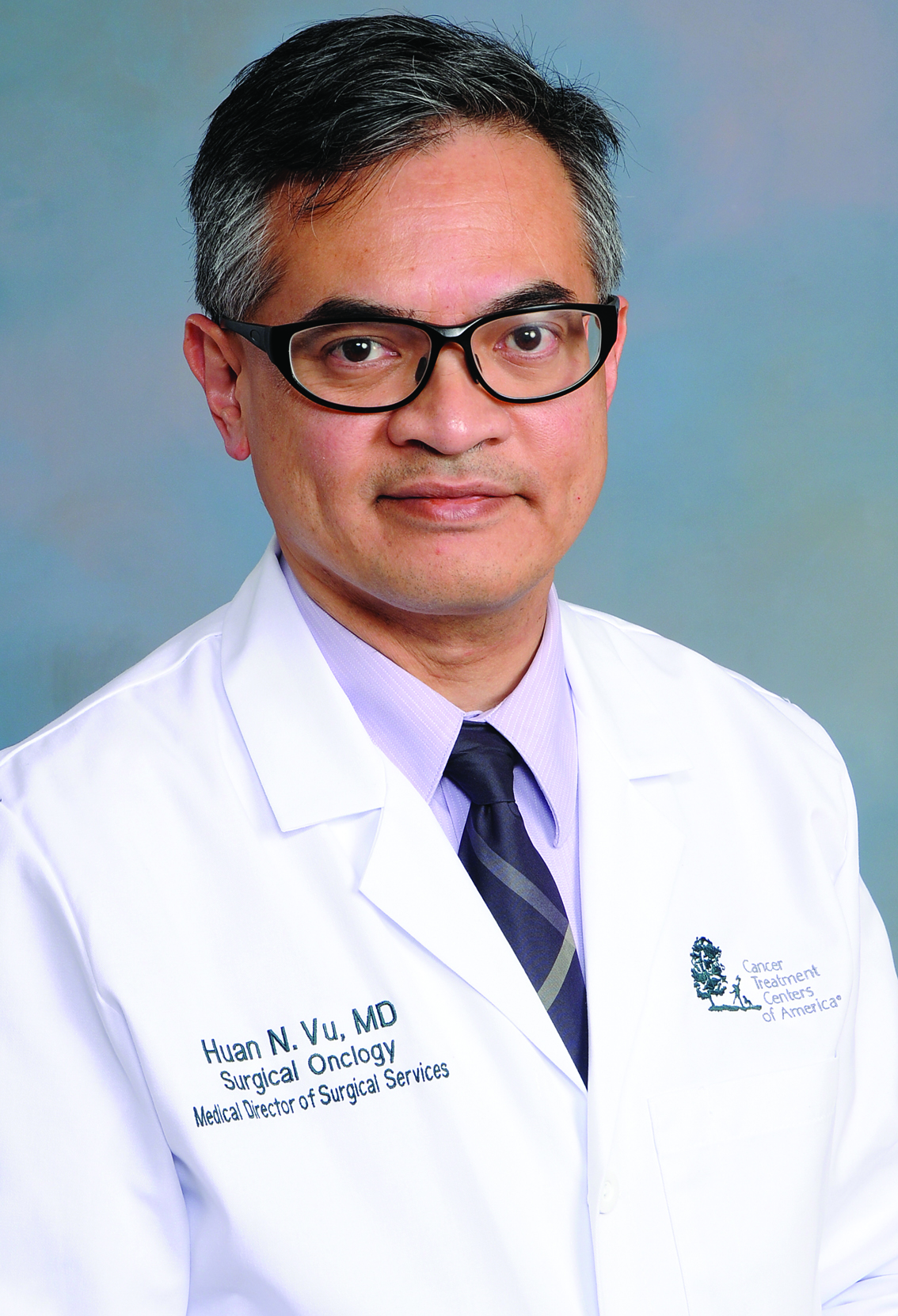 Cancer Treatment Centers of America® at Southwestern Regional Medical Center in Tulsa (CTCA) announces the addition of two new surgical oncologists – Pragatheeshwar Thirunavukarasu, M.D. (known as Dr. Prag) and Huan Nguyen Vu, M.D. In addition, Dr. Vu also serves as Medical Director of Surgical Services.
In his new role at CTCA®, Dr. Prag focuses on tumors of the gastrointestinal tract, liver and pancreas and peritoneal surface malignancies. He employs advanced techniques and practices to treating a range of cancers, with a particular focus on advanced and metastatic disease.
While most of Dr. Vu's focus will be on breast cancer surgery, he also provides surgical care for patients with colorectal, gastric, thyroid, melanoma, liver and pancreatic cancers.
Dr. Prag studied medicine at one of the leading medical colleges in India, completing a bachelor of medicine/bachelor of surgery (MD) degree in 2005. He then came to the United States for extensive postgraduate training. He completed a surgical internship and general surgery residency at the University of Pennsylvania and then at the University of Pittsburgh, respectively. With a research scholarship from the American College of Surgeons during his residency, he undertook a two-year fellowship at the Hillman Cancer Center, part of the University of Pittsburgh Cancer Institute, where his research focused on developing oncolytic viral gene therapies (for example, using genetically modified viruses to infect and kill cancer cells).
Dr. Prag also completed two clinical fellowships, first at Roswell Park Cancer Institute in complex general surgical oncology and then at the University of Texas M.D. Anderson Cancer Center, where he trained specifically in hepatopancreaticobiliary surgery.
Dr. Prag is board certified in general surgery by the American Board of Surgery. He has made many presentations at the American College of Surgeons, the Society of Surgical Oncology and the Americas Hepato-Pancreato-Biliary Association, has published multiple articles in peer-reviewed journals such as the
Annals of Surgery, JAMA Surgery, and the Journal of the National Cancer Institute, and has served as an editor of a surgical oncology textbook.
Dr. Vu holds a doctor of medicine degree from Texas Tech University School of Medicine. His postgraduate medical training spanned more than 10 years. After completing a residency in general surgery at the University of South Alabama, he was a surgical oncology fellow at the University of Pittsburgh. He then spent three years as a senior research fellow focused on cancer angiogenesis at the National Cancer Institute.
During and following his training, Dr. Vu also held several teaching positions in surgical oncology at Texas Tech University and later was named Associate professor in surgical oncology at two large hospitals affiliated with Virginia Commonwealth University, including the NCI-designated Massey Cancer Center. He has received numerous teaching awards throughout his career and has led several specialty courses for advanced medical training. He has also served as both a mentor and an advisor to medical students and surgical residents.
Dr. Vu is board certified in general surgery by the American Board of Surgery. He is certified in robotic surgery through Hunter-McGuire Veterans Administration Hospital.
Dr. Vu is a member of the American College of Surgeons, the American Society of Breast Surgeons, the Society of Surgical Oncology, the Society of Surgery of the Alimentary Tract and several other professional organizations. He participated in laboratory research and also contributed to the latest edition of Oncology for the Primary Care Provider, a seminal reference book.
"We are excited to have Drs. Prag and Vu join our team and look forward to the capabilities they bring while helping to expand the surgical services we offer patients," said Dr. Daniel Nader, chief of staff at the Tulsa hospital.