by Vickie Jenkins
Meeting one of the friendliest, happiest nurses that I have ever interviewed is T.J. Jones, RN, and Case Manager at Brookdale Home Health. It's easy to understand why she loves her job and why her patients love her.
Growing up in Denver, CO, T.J. moved to Oklahoma City, OK with her parents in 2007. "My parents had to relocate at that time so I came with them," she said. "I still go back to Denver quite often. It's always nice to go back, visiting my home town, seeing family and friends," she added.
Asking T.J. what qualities make a good nurse, she replied, "I think nursing is a talent; people have talent in their eyes when they see art, creative hands, making sculptures, vocally when they sing, and a nurse having a desire to care for others, putting the other person's feelings first. It's a gift of seeking growth within you, admiring and inspiring for that growth. Being a nurse is a talent."
What did you want to be when you were a little girl? "I didn't even think about a nurse at that time. I just knew that I would be a model," she laughed. "When I was in middle school, my grandmother moved in with my family. As I watched my grandmother's health fail, I noticed how much my parents struggled to take care of her. I saw how they searched for a place for her to stay when they could no longer care for her. After she died, it had a big effect on me. I decided that I would be a nurse and take care of others the best I could. I am glad I made that decision because I can't imagine doing anything else with my life," she replied.
A big part of T.J.'s life was when she went to nursing school. Her mentors at that time? "My parents were always my biggest supporters and I don't know what I would have done if they hadn't been there for me. Also, I had a very special friend in nursing school; her name was Cheryta Lane. She was always there for me in the ups and downs. She helped me in so many ways. It's important to have someone you can count on," T.J. replied.
T.J.s favorite part of her job is caring for the patients and getting to know each of them in their own way. Her biggest challenge? Being an introvert. "I try to be more open with people but sometimes, communicating with them can get in my way. I guess you could say that I am working on being an extravert," T.J. commented.
What advice would you give to someone going into the medical field? "I would tell them to be certain, absolutely sure that this is their true desire. They would need to know that being a nurse is a gift. To be a nurse, they would need to listen to their patients and their peers. If they go into home health, know that there is a lot of traveling going to and from the other facilities and the patient's homes. They need to realize they will be dealing with all types of people and environments. Make sure you are comfortable with the patient," T.J. replied.
On a personal note, when not working, T.J. enjoys spending time with her two daughters, A.J., eight years old and Khylynn, five years old, along with her third daughter, Jasmine, their four-legged Pit Bull.
T.J.'s hobbies include shopping, spending time making You Tube videos with her daughters, reviewing toys, playing dress-up, along with all of the play make-up added for that glamorous look.
In school, T.J. ran track, going to Nationals twice in long-jump. "I really miss those days," T.J. said. "I really enjoyed it. I'm not sure I could do it now though. I still like to participate in all of the different walks for good causes and you know, Oklahoma has quite a few," she added.
I asked T.J. to describe herself. "Well, she said, "I am a very compassionate person. I am a loving and kind person and I consider myself a good leader. I know it sounds cliche but its true, in order to be a great leader, you need to be a follower first. That is how you learn. Last but not least, I enjoy just having a good ole fun."
Summing up T.J.'s life in one word, that would be, "UNPREDICTABLE," T.J. answered with a smile.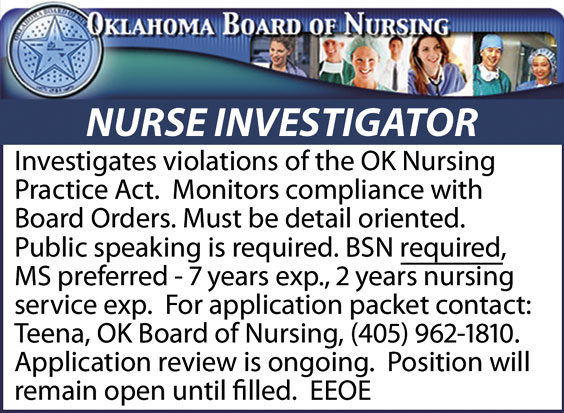 NURSE INVESTIGATOR
Investigates violations of the OK Nursing Practice Act. Monitors compliance with Board Orders. Must be detail oriented.
Public speaking is required. BSN required, MS preferred – 7 years exp., 2 years nursing service exp.
For application packet contact: Teena, OK Board of Nursing, (405) 962-1810. Application review is ongoing.
Position will remain open until filled. EEOE