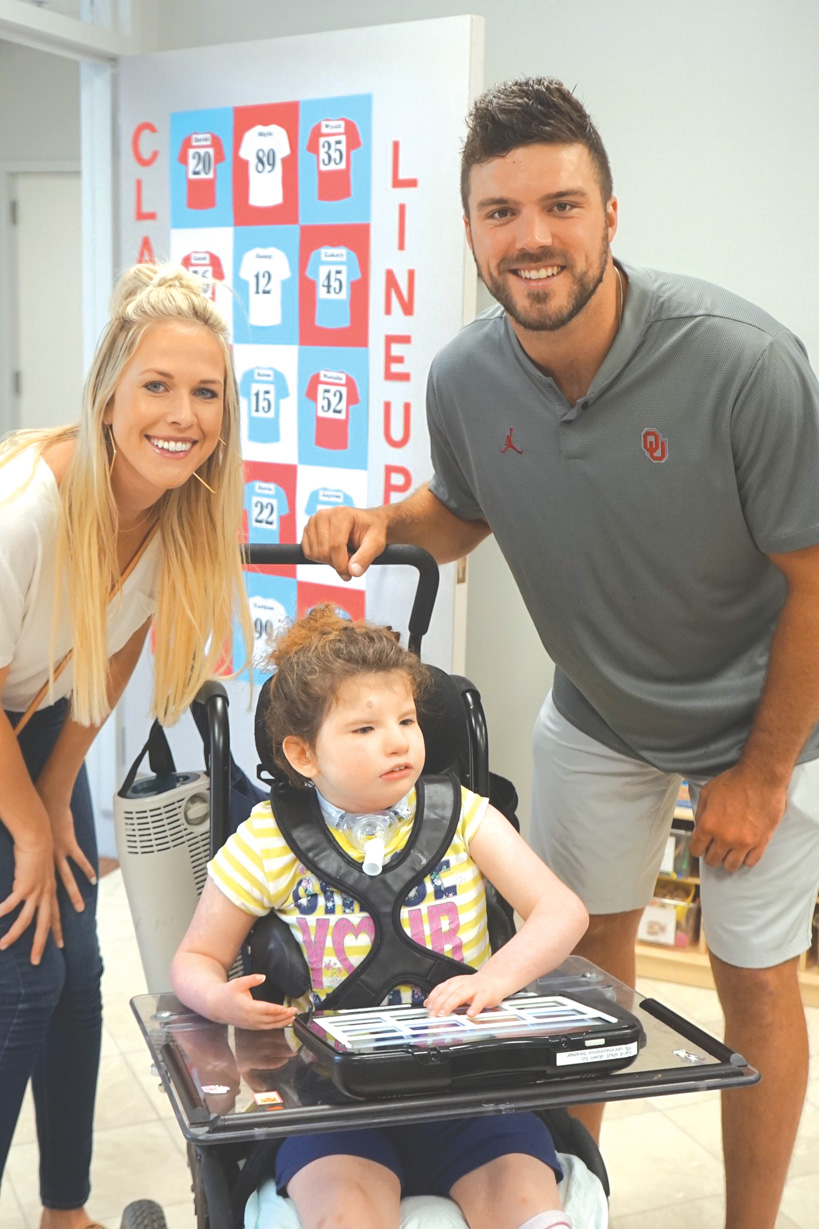 The Children's Center Rehabilitation Hospital, a nonprofit pediatric hospital, announced today that Blake Bell, tight end for the Kansas City Chiefs, will serve as a member of the Hospital's Honorary Board. Bell will be part of a public relations and marketing campaign for the hospital, including public service announcements, speaking engagements, and social media outreach.
Bell played college football at the University of Oklahoma, where he received the nickname Belldozer. On April 2nd, Bell signed with the Kansas City Chiefs. He became familiar with the Hospital after receiving an invitation to take a tour with a family friend.
"I really enjoyed my visit at The Children's Center Rehabilitation Hospital," said Bell. "It was eye opening to see how amazing the hospital is and all the resources they have for the patients and their families. I look forward to many more visits in the future and excited to be an honorary board member."
Other honorary board members include: Kelli O'Hara, Tony Award winning Broadway actress; Lincoln Riley, University of Oklahoma Football Head Coach, Michael Fulmer, pitcher for the Detroit Tigers and the 2016 American League Rookie of the Year, J.T. Realmuto, catcher for the Philadelphia Phillies and two-time All-Star, Jordy Mercer, short stop for the Detroit Tigers, Ogbo Okoronkwo, defensive player for the Los Angeles Rams and Darci Lynne, winner of America's Got Talent Season 13.
The honorary board members serve as ambassadors for The Children's Center Rehabilitation Hospital, as well as support the Hospital's fundraising efforts through personal and community influence.
The Children's Center Rehabilitation Hospital is an innovative leader in offering medical services that can only be found in the region while also providing a promising pathway from hospital to home. The Children's Center Rehabilitation Hospital is more than a place where children come to heal. They come to learn and grow in a supportive, caring environment.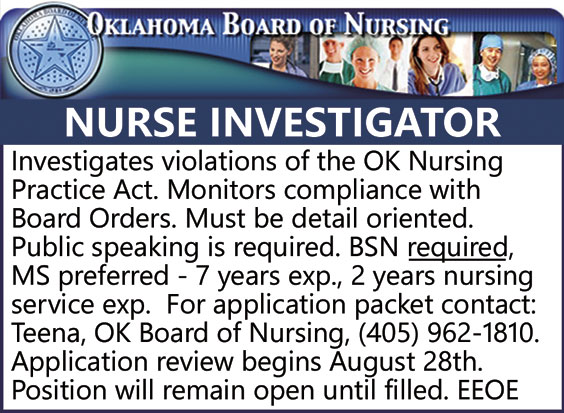 NURSE INVESTIGATOR
Investigates violations of the OK Nursing Practice Act. Monitors compliance with Board Orders. Must be detail oriented. Public speaking is required. BSN required, MS preferred – 7 years exp., 2 years nursing service exp. For application packet contact: Teena, OK Board of Nursing, (405) 962-1810. Application review begins August 28th. Position will remain open until filled. EEOE