by Vickie Jenkins – Writer/Photographer
Founded in 1954, Bellevue, located in Oklahoma City, OK continues to grow. Today, Bellevue Health and Rehabilitation Center offers a full continuum of care, from temporary respite stays, to short-term rehabilitation, to long-term skilled nursing care.
Meet Mary Yellow Wolf, LPN, and one of the unit managers at Bellevue. Ever since Mary was a little girl, she knew that she wanted to go into healthcare. "At first, I wanted to be a doctor but decided on being a nurse," she said. "I have been a nurse for eleven years and have been here at Bellevue for almost four years. I love caring for others," she added.
Growing up in Dallas, TX and then moving to another state, Mary attended nursing school in Kansas. "My first job as a nurse was in a rural hospital. There were only eight beds," she laughed. "Even though it was small, I worked with some wonderful doctors and nurses and I feel like I got plenty of medical experience there. We pretty much knew everyone that came in to see us; we were the only hospital around for miles. It was actually kind of fun working in a small hospital like that," Mary commented.
What qualities make a good nurse? "I think the number one quality is they need to have critical thinking. They need to be driven and a hard worker; their patients are depending on them. They need to be caring and keep their attention focused on the patient," Mary replied.
Mary's favorite part of her job is the reward she gets from helping others. "It is so rewarding when I see the patients get stronger and they get to go home. That makes me feel so good knowing that I helped in their recovery," Mary said. "On the other hand, the biggest challenge here at work is the shortage of nurses. When there is a shortage of staffing and nurses in one of the hallways, it just makes the other nurses take care of more patients. I think a lot of hospitals and health care facilities deal with the same problem," Mary added.
When I asked Mary to describe herself, she paused for a moment and told me that she was definitely a pretty bubbly person. "I love to meet people; I'm a real people person. I'm a very caring person and I will give my heart to the patient if that's what it takes. I definitely fall in love with all of my patients and I will do anything for them. I am very energetic and friendly and get along with others," she said with a smile.
Asking Mary what her biggest contribution to her work at Bellevue, she replied, "I think it is the fact that I am driven to further myself, no matter what it is. I like to learn and feel like my knowledge is the biggest asset that I have to offer. I have worked in several hospitals and worked for several home health agencies so I feel like I have some experience in different areas behind me. I am very straightforward and I tend to delegate and work efficiently with ease. I always try to be positive and encouraging to everyone," she added.
What advice would you give to someone going into the medical field? "I know when I was a new nurse, I was overwhelmed; there was so much to learn, and I was afraid I would make a mistake. Everything you learn in school is straight from the book. It took a lot of hands-on to get the experience. I was so afraid that I would make a mistake but soon realized there was always someone to help me through the tough times, answering any questions that I had. You need to believe in yourself and absorb everything you can. Perhaps that is why I tell all of the new nurses that I will be there for them, no matter what. I have been in their shoes and I know how they feel. I will never forget one special nurse that helped me along the way; her name is Dana Lloyd, RN working in Kansas," Mary replied
Mary is a go-getter. She plans to further her education to become an RN. "Who knows where I will go from there?" she said. I have a feeling Mary will succeed in anything she sets out to do. Summing up Mary's life in one word, "WONDERFUL," she said.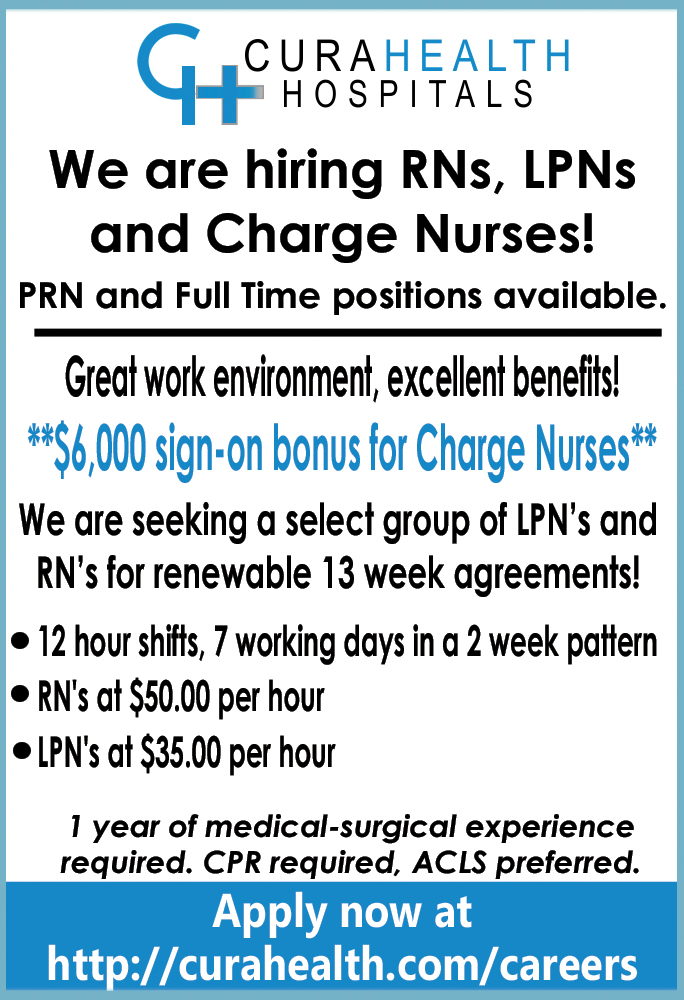 We are hiring RNs, LPNs and Charge Nurses!
PRN and Full Time positions available.
Great work environment, excellent benefits!
**$6,000 sign-on bonus for Charge Nurses**
We are seeking a select group of LPN's and RN's for renewable 13 week agreements!
12 hour shifts, 7 working days in a 2 week pattern
RN's at $50.00 per hour
LPN's at $35.00 per hour
1 year of medical-surgical experience required. CPR required, ACLS preferred.
Apply now at
http://curahealth.com/careers