Newborn Sweepstakes encourages families to save early
A Blanchard family has an excellent start toward saving for college after being named the winner of the Oklahoma 529 College Savings Plan's (OCSP) annual Newborn Sweepstakes. Patrick and Melissa Mayfield's son, Zane, was randomly selected from more than 1,200 entrants to receive a $5,529 OCSP account. SSM Health St. Anthony Hospital in Oklahoma City, where Zane was born, also received a donation of $1,529.
State Treasurer Randy McDaniel and OCSP officials presented the Mayfield family and St. Anthony officials with their checks at a presentation today. In a surprising turn of events, the hospital chose to donate its $1,529 to the Mayfields' new OCSP account, meaning Zane now has a college savings of more than $7,000.
Zane's father said the contribution is extremely important for his son's future.
"You don't have to go to college to get a good job, but having a degree opens up an exponential amount of opportunities and can also help to develop you into a more rounded person," said Patrick Mayfield. "With the rising costs of college, increase in inflation, and the seeming unwillingness of governments to properly fund education, it has become much more difficult to obtain a degree without also obtaining a mountain of debt. So, with this gift and continually saving, we will be in a better position for the future."
According to College Tuition Compare, the 2019 average cost of attending an Oklahoma college or university, including tuition, supplies, room and board, and other fees, was $18,821 for in-state residents. McDaniel, board chair for OCSP, said the Newborn Sweepstakes is designed to encourage families to start saving while children are infants. The more time accounts have to grow, the less of a burden the cost of higher education will eventually be on Oklahoma families.
"As a parent, I understand the early years are busy with doctor appointments and diaper changing. However, I strongly encourage families to take a brief amount of time to set up an Oklahoma 529 College Savings Plan and start preparing for their children's futures," said McDaniel. "Our goal is for as many Oklahomans as possible to have financial freedom after graduating college to relieve the stresses of student loan debt. Contributing to college savings account in the early years will ease that burden for children later in life."
The Mayfields are firm believers in higher education and already have an OCSP account for Zane's older sister. The family wants to encourage Zane to create positive change and help society improve no matter what line of work he goes into. Higher education will play a definite role in establishing that mentality.
"We hope he develops an inquisitive mind that seeks knowledge and never ceases to stop asking questions," said Mayfield
The Mayfields are the ninth family to win the annual statewide Newborn Sweepstakes, which launched in 2010. Since its inception, OCSP has awarded more than $44,000 to Oklahoma families through the sweepstakes, and OCSP has donated more than $12,000 to Oklahoma hospitals through the promotion.
The Newborn Sweepstakes continues this year, with entries now being accepted via the OCSP website. Parents or grandparents of a child born in 2019 will have until April 14, 2020, to enter. No purchase is necessary. Void where prohibited. Sponsored by OCSP. Funding for prizes comes from the OCSP marketing budget. No state funds are used.
Introduced in April 2000, the Oklahoma 529 College Saving Plan (OCSP) is Oklahoma's direct-sold 529 college savings plan. It is designed for families who want to direct their own 529 college savings accounts. The plan is managed by TIAA-CREF Tuition Financing, Inc. Introduced in March 2009, OklahomaDream 529 Plan is offered through financial advisors and is managed by Allianz Global Investors. As of June 30, 2019, combined assets in both plans exceeded $1 billion.
Oklahoma taxpayers may deduct, from their Oklahoma adjusted gross income, up to $10,000 in contributions to the Oklahoma 529 College Savings Plan for individual taxpayers and up to $20,000 for taxpayers filing a joint return with a five-year carryforward. Read the Disclosure Booklet carefully. Limitations may apply.*
To learn more about the Oklahoma 529 College Savings Plan, its investment objectives, tax benefits, risks and costs, please see the Disclosure Booklet at ok4saving.org. Read it carefully.
Investments in the Plan are neither insured nor guaranteed and there is the risk of investment loss.
Consult your legal or tax professional for tax advice, including the impact of the new federal tax changes. If the funds aren't used for qualified higher education expenses, a 10% penalty tax on earnings (as well as federal and state income taxes) may apply.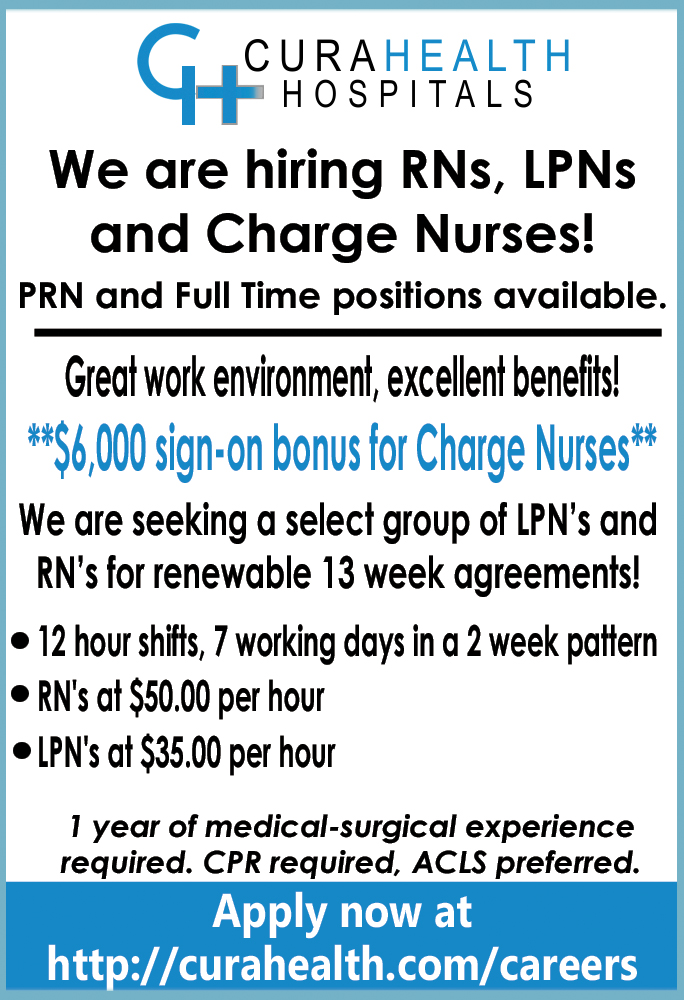 We are hiring RNs, LPNs and Charge Nurses!
PRN and Full Time positions available.
Great work environment, excellent benefits!
**$6,000 sign-on bonus for Charge Nurses**
We are seeking a select group of LPN's and RN's for renewable 13 week agreements!
12 hour shifts, 7 working days in a 2 week pattern
RN's at $50.00 per hour
LPN's at $35.00 per hour
1 year of medical-surgical experience required. CPR required, ACLS preferred.
Apply now at
http://curahealth.com/careers