by Vickie Jenkins – Writer/Photographer
SSM Health in El Reno is small in size and small in staff but it speaks volumes where excellent care is concerned. Staff members include registration, lab, radiology, doctors and nurses. It's the same as a free standing ER in a rural area.
Meet Jillian Taylor, RN and charge nurse at SSM Health in El Reno, OK. Growing up in El Reno, Jillian felt right at home when she began working at SSM Health. Being the charge nurse comes with a lot of responsibilities. "I do a little bit of everything," Jillian stated. "Of course, we have excellent team members and we all get along so well together," Jillian added.
"Even when I was a little girl, about four years old, I knew that I wanted to grow up and be a nurse," Jillian said. "I remember going to the hospital quite a bit when I was little. My mother and I would always stop and look at the babies through the big glass window. I remember my face pushed up against the window to take a closer look at a baby. I knew that I wanted to do the same thing those nurses were doing as they took care of those babies. The nurses seemed so caring I knew that I wanted to be just like them," she said.
Jillian has been a nurse for ten years. She attended Oklahoma City University, receiving a degree in biology. She went to OCCC, receiving her nursing degree in 2011. "At first, I started out as a tech in Kingfisher, then, came to SSM Health where I applied for an RN position and became the charge nurse," Jillian said.
Asking Jillian why she is a nurse at SSM Health, she replied, "I feel like in the medical field, nursing is a good avenue to express my own feelings, taking care of others. I have a job which can be mentally and challenging. I work as few or as many hours as I like, work in different areas and it allows me to be a genuine team player and work with others," she replied.
"I like working here at SSM Health. Personally, I like working in a small health facility in a rural area over a large hospital. The amount of patients here varies; sometimes, we have very few patients on one day, and other times, we get slammed with patients, all at the same time. We may not see a large volume of patients but we see the people in our community; like one big happy family. Everyone seems to know each other and we trust each other. We have great team work and good communication," Jillian said.
In your opinion, what qualities make a good nurse? "I think a good nurse needs to think outside the box, watch the patient's body language, read between the lines, be able to communicate well and always do the right thing!" Jillian replied.
Asking Jillian what the favorite part of her job was and she replied, "The favorite part of my job is caring for the patients. I am definitely always asking myself what or why. What is the root of the problem? I just want to make sure I care for the patient in the best way I know how and make sure the patient is taken care of," she replied.
When asking Jillian to describe herself. "Well, that is kind of hard to do," Jillian said with a smile. "I am very versatile, positive, and easy going. I am strong, knowledgeable, or so people say. They say I am a good person to come to for resources, she said. "I believe that a nurse needs to put everything that she has into her job including time, dedication and compassion. I like to enjoy the little things in life."
On a personal note, when Jillian is not working, she likes to spend time with her family; her husband, her daughter, Madeline, twelve years old and son, Reed, six years old. Jillian's hobbies include traveling, reading, going to gym but mostly, hanging out with family and friends. Not to forget her pets, Roscoe, a standard poodle and a cat that is nameless. "The cat doesn't really have a name, Jillian laughed. "We just say here kitty, kitty or I have been known to call it cat."
Asking Jillian to sum up her life in one word, she said, "ADVENTUROUS".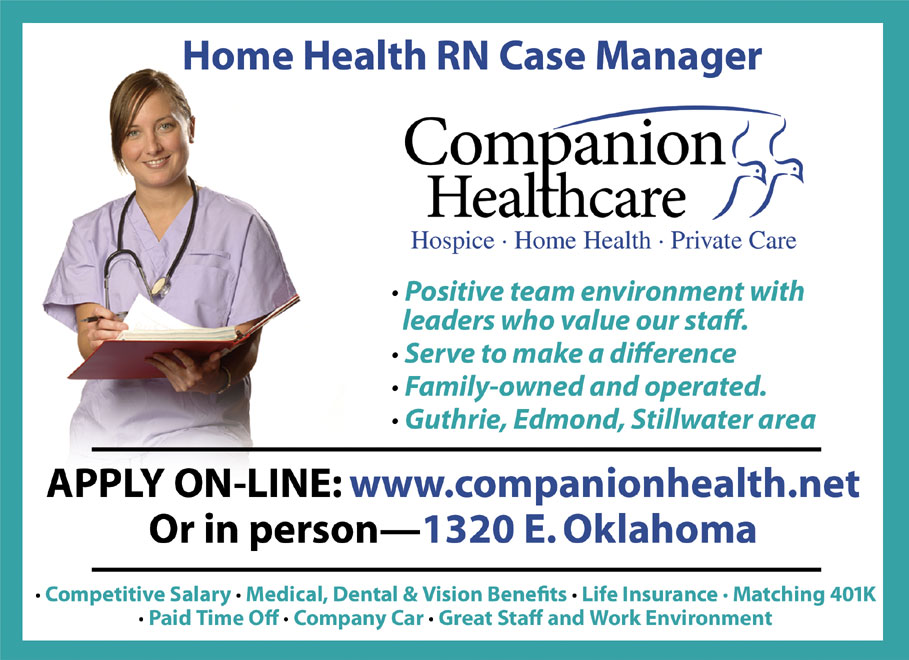 Companion Healthcare Hiring Home Health RN Case Manager
· Positive team environment with leaders who value our staff. · Serve to make a difference · Family-owned and operated. · Guthrie, Edmond, Stillwater area
APPLY ONLINE: www.companionhealth.net
Or in person—1320 E. Oklahoma
· Competitive Salary · Medical, Dental & Vision Benefits · Life Insurance · Matching 401K · Paid Time Off · Company Car · Great Staff and Work Environment