by Vickie Jenkins – Writer/Photographer
Meet Molly Delaney, RN and Surgical Oncology Clinical Nurse Manager at OU Medicine. Molly has been a nurse for twenty-three years and has been at her current job for two years. "My first job as a nurse was as an LPN/RN in Shawn Manor Nursing Home in Ponca City, OK. I had been working there as a nurse's aide for ten years before starting nursing school. So, for me, my logical spot was to stay at the nursing home. That was so long ago," she said. "I was at OUMC in 1996. I was a travel nurse for about three years and because of that, I worked at many hospitals. It was two years ago that I came back to OU Medicine. I am the Surgical/Oncology (Gynecology/Oncology) unit manager. I feel like this is the right place for me." Molly said.
Born in San Antonio, Texas, Molly's dad was in the Air Force. "Yes, I was considered one of those Air Force brats," she said with a smile. "I lived in Ponca City, OK for forty plus years but we traveled all over."
Molly went to school in the small town of Tonkawa, OK for her nursing degree. "I wanted to be a baby doctor until I realized that I would have to give the shots to babies. That is when I decided that I would be a nurse. It didn't take me long to realize WHO actually gave the shots," she laughed. I became interested in Oncology when my mother was diagnosed with lung cancer but now, my true love is Gynecology/Oncology." Molly doesn't plan on being a travel nurse anywhere or furthering her education. "I'm planning my retirement now and I am looking forward to that," Molly added.
Molly had several mentors in school. "One of my professors, Mrs. Emmons, was wonderful. She wasn't afraid to relate stories of her goof-ups while being a nurse. I know now, that was to ease her nerves. I remember during my L&D clinicals, she would say, 'poker face Molly.' To this day, I hear myself asking, what would Mrs. Emmons do?"
Asking Molly what qualities make a good nurse, she replied, "I feel like a good nurse needs to have compassion for her profession and empathy for her patients. I feel a good/safe nurse needs to realize she is human and can make mistakes from which she needs to learn."
What is your biggest reward as a nurse? "Just going home in the morning after a long, hard shift, feeling good that I touched a patient's life. As a new resident coach it was very rewarding to me when I see my new baby nurses accomplish things she/he has never thought they could. As a manager, what has been the most rewarding to me is when my youngest tech, an eighteen year old young man ends his conversations with an 'I love you'. That is when I know that I am doing a good job," Molly replied.
On the other hand, my biggest challenge is dealing with families when they are trying to cope with the impending death of a loved one. Sometimes, this can be very challenging when they aren't ready to accept it," Molly explained.
Molly lives by the daily words, "Treat others as you want to be treated. In nursing, I have always told my nurses to ask yourself, 'is this how I would want my mother to be treated'? If your answer to yourself is no, then you shouldn't be treating your patients that way, no matter what."
What advice would you give to someone going into the medical field? "I would tell them to be sure to find out what you want to do with your life. Once you begin, there is no turning back. You get hooked on it. You will be glad you stuck with it," Molly said.
Spending time with her family is one of Molly's favorite things to do. It's no surprise… considering Molly is married to her soulmate for forty plus years. They have two daughters, five sons, and twenty-six grandchildren, yes, twenty-six grandchildren, one great granddaughter with a baby brother on the way. She loves being with her family and enjoys cooking out, swimming, sewing and cooking with the grandkids. Of course, adding to that are her three little kittens, Sophie Jean, the old lady, Callie Mae and the shy one and the baby, Teddy. It's no wonder that Molly describes herself as a happy person.
Summing up her life in one word, "Blessed."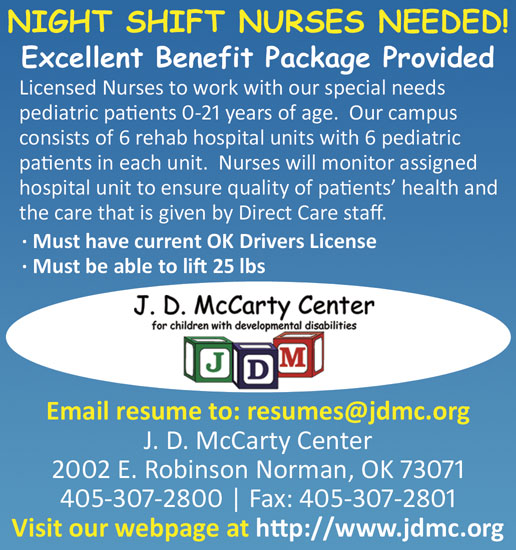 NIGHT SHIFT NURSES NEEDED!
Excellent Benefit Package Provided
Licensed Nurses to work with our special needs pediatric patients 0-21 years of age. Our campus consists of 6 rehab hospital units with 6 pediatric patients in each unit. Nurses will monitor assigned hospital unit to ensure quality of patients' health and the care that is given by Direct Care staff.
· Must have current OK Drivers License
· Must be able to lift 25 lbs
Email resume to: resumes@jdmc.org
J. D. McCarty Center
2002 E. Robinson Norman, OK 73071
405-307-2800 | Fax: 405-307-2801
Visit our webpage at http://www.jdmc.org/