The Children's Hospital at OU Medicine has launched a year-long artist-in-residence program, which will empower critically ill children to engage in creative expression as part of the healing process.
Artist Ginna Dowling, a contemporary printmaker whose work spans mediums including monotype, woodcut and relief, serigraphy, etching and storytelling, is facilitating the program using simple creative processes. The culmination of the project will be seen in the installation of a collaborative work of art. This project is generously funded by Mid-America Arts Alliance, the National Endowment for the Arts, the state arts agencies of Arkansas, Kansas, Missouri, Nebraska, Oklahoma and Texas, the Kirkpatrick Family Fund and The Children's Hospital Volunteers charity.
The Children's Hospital young patients and visitors will be introduced to a variety of mediums, techniques and concepts, with emphasis on intuitive experimentation. Hospital leaders say the impact of the creative process serves to strengthen self-worth and courage, and may improve a child's perspective on life and the ability to conquer disease.
"We present opportunities to play, quite literally, with colors, shapes and forms of expression with an approach that is spontaneous and non-judgmental," said Dowling.
Each child will create individual works of self-identity that are added into a story-like pop-up installation representing the hospital community. This collaborative effort includes sharing the meaning and significance of each individual's symbol. The project reinforces positive bonds between patients and their medical caregivers.
"The larger installations will be comprised of what I call environmental serigraphs on windows, walls, floor, ceilings and substrates," Dowling explained. "Vinyl, the primary material used in the body of work, was chosen because it is a modern product, prevalent in contemporary society and prominent in communications and images."
The installation will occur in three "tiers." The first tier includes installations onsite, viewed by patients, families, hospital staff and any number of visitors to the hospital. The second and third tiers will include a premier and public reception for viewing the final project installation, and finally, a touring exhibition presented at regional, perhaps national, artistic venues and ultimately, expanding the portfolio or American Art.
"Art is not just visual – it engages the whole person and engenders hope," said Sara Jacobson, director, Child Life and Volunteers with The Children's Hospital. "There is great healing power in this combination of creative expression, collaboration and community."
Dowling's work has received international acclaim and she has held previous artist-in-residence positions in France and Ireland. In Oklahoma, her work is part of a permanent collection at the Oklahoma City Museum of Art. Other exhibitions include Oklahoma Contemporary, Fred Jones Jr. Museum of Art, and the Thomas K. McKeon Center for Creativity, among others, in addition to regional exhibitions in New Mexico, Texas, Kansas and Arkansas. Her current work includes an on-going installation project influenced by hundreds of community participants across the globe, representing broad diversity – racial, cultural and socioeconomic – within multiple populations.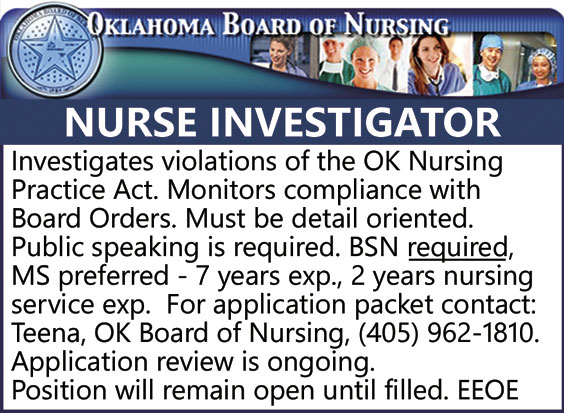 NURSE INVESTIGATOR
Investigates violations of the OK Nursing Practice Act. Monitors compliance with Board Orders. Must be detail oriented. Public speaking is required. BSN required, MS preferred – 7 years exp., 2 years nursing service exp. For application packet contact: Teena, OK Board of Nursing, (405) 962-1810. Application review is ongoing. Position will remain open until filled. EEOE