by Vickie Jenkins, Staff Writer
SSM Health St. Anthony wound care team can help manage complicated wound problems while maximizing your body's natural ability to mend itself. Their team of experienced wound care specialists will work with you and your physician to assess your symptoms, determine the cause of your non-healing wound and customize the most effective treatment plan to stimulate healing.
For millions of Americans, a chronic or non-healing wound is more than a bother. It carries serious complications and risks, from pain and infection to disability and amputation. The SSM Health wound care team can help manage complicated wound problems while maximizing your body's natural ability to mend itself. Our wound centers follow national guidelines based on clinical evidence when treating and managing wounds. –SSM Health St. Anthony-
SSM Health St. Anthony is proud to recognize five of their RNs who have recently achieved wound care certifications from the National Alliance of Would Care (NAWCO) Three of the nurses have further achieved the status of ostomy management specialist. These certifications require a minimum of two years wound care experience with successful completion of a wound management course that is accredited by the approving organization, along with strenuous exams, preceptor hours and certification requirements.
Kristi Williamson, RN, BSN, CWON is the Director of Wound Care at SSM Health St. Anthony Hospital. "I have been in wound care for twenty-three years, working here for eleven of those years," Kristi said.
"Here at SSM Health St. Anthony Hospital, we have uniqueness in wound care. We have full time inpatient and a full time outpatient team that work together to optimize patients' continuity of care. We are one of the few hospitals that have eight nurses that are certified in WCC, CWON and/or OMS." Kristi commented. "I am thankful for the administration being behind us 100%. Wound care is not a specialty usually taught in nursing school; it doesn't fit into surgery and the usual procedures but it is a great accomplishment of the administrators thinking forward enough to value the need of expertise, which is completely benefitting the patients. We are very fortunate," she added.
Asking Kristi why she chose to work in wound care, she replied, "I have always had a certain passion about it. Through my twenty-three years of experience, I learned that the patients received better outcomes when the patient is treated by a wound care team. A wound is a symptom of a disease, not a diagnosis. When you see that patient leave the clinic with their wound all healed, there is nothing quite like it; it is the most gratifying thing about my job. If there is a nurse with a passion for wound care, that nurse needs to grow, be utilized and supported."
While talking to Kristi, I was fortunate enough to have two nurses on the wound care team come in and tell about themselves.
Cheryl Greer, RN, WCC, OMS has been a nurse for 23 years. "I first started out as a nurse working in long term care. From there, I worked with Hospice. Later, I was relocated to Oklahoma City from Southeast Kansas. I began working here and enjoy working in wound care," she said. "I like seeing the wound from beginning to end; as though each one is a masterpiece," she said with a smile. Cheryl is an excellent nurse and constantly stays busy working as a nurse in a job that she loves.
The next nurse that I had the pleasure of speaking with was Cornell Washington, RN, WCC, OMS. (C.J. for short) C.J. commented, "I have been a nurse for thirteen years. I have been doing wound care for six years now," he said. "I worked in nursing homes at the beginning and then, I became interested in wound care. It started out as a week-end job for me but it didn't take long until I was full time. It makes me feel good to help the patients and know that I have a part in them getting better and they no longer have a wound."
Kristi commented, "Again, we believe that we have a unique offering; Wound Care at SSM Health St. Anthony is able to bring patients full-time inpatient and outpatient wound care specialists, with eight total members of the Wound Care team holding theses prestigious certifications. Sometimes, it feels like we are giving a piece of the patient's life back to them…perhaps, we are."
Congratulations to the five nurses who recently received their wound care certifications!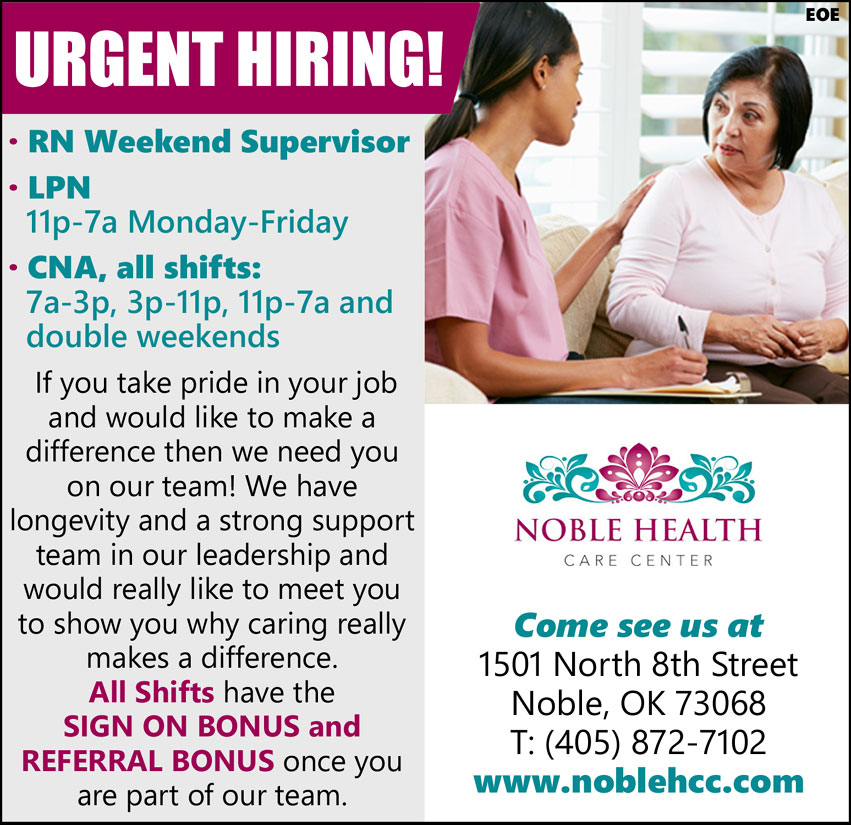 URGENT HIRING!
· RN Weekend Supervisor
· LPN 11p-7a Monday-Friday
· CNA, all shifts: 7a-3p, 3p-11p, 11p-7a and double weekends
If you take pride in your job and would like to make a difference then we need you on our team!
We have longevity and a strong support team in our leadership and would really like to meet you to show you why caring really makes a difference.
All Shifts have the SIGN ON BONUS and REFERRAL BONUS once you are part of our team.
Noble Health Care Center
Come see us at
1501 North 8th Street
Noble, OK 73068
T: (405) 872-7102
www.noblehcc.com