by Vickie Jenkins – Writer/Photographer
Oklahoma City Indian Clinic was established in 1974 to meet the health needs of Native Americans living in the Oklahoma City urban area. The clinic was originally located downtown, where it operated for over 20 years. In fact, during the aftermath of the Oklahoma City Bombing on April 19, 1995, the Indian clinic staffers were some of the first responders who gave aid to injured victims. In 1995 the clinic moved to its current location 4913 West Reno. At that time, the clinic operated with a staff of less than 40, and a budget of less than three million. Since then, the clinic has grown to include a staff of more than 130 health care professionals who serve more than 50,000 outpatient visitors each year and contributes over 14 million to the Oklahoma City and state economics.
Kelly Acosta, LPN has been a nurse for two years and has been with Oklahoma City Indian Clinic for almost a year. Kelly works for Natalie Knight, P.A. Family Practice. "I love working here. The doctors, nurses and staff are always so nice. They will help someone out every chance they get," Kelly commented.
Kelly grew up in Apache, Oklahoma. She remembers when she was six years old, helping take care of her grandfather. "That is when I knew that someday I would be a nurse. I actually came from a family of nurses. My grandmother was a nurse; I have three aunts that are nurses and a niece that is a Physical Therapist. They all live in Oklahoma City. My grandmother always told me, 'Go to school, learn a trade, get a job, and succeed in life and never give up. I guess I thought about being a nurse ever since then. I feel like my grandmother had such an influence on me and that means so much," she said.
What qualities make a good nurse? "I think a nurse needs to have plenty of patience, be caring, and have the ability to feel empathy and to be able to interrelate with people."
Kelly's favorite part of her job is working with her people, the Native Americans. "I am Native American and ever since I became a nurse, I knew that I wanted to work here at the Oklahoma City Indian Clinic. I love the fact that I can relate to the patients and they know that I am going to do my best for them," Kelly said. "My biggest challenge with my job is time management. Sometimes, it seems like I run out of time with too many project going on, but I always seem to manage."
What advice would you give to someone going into the medical field? "I would tell them that being a nurse is a wonderful opportunity. There are many fields that a nurse can choose from and it seems like no matter where you go, there is always a job available for a nurse. Some more advice that I would give them is to tell them to go for it! Go to college, study hard and you will succeed. Also, become a nurse when you are young, if you are able to," Kelly replied.
Kelly's hobbies include working in her vegetable garden, sewing, and anything she can do outside. "I love the outdoors. Plus it keeps me busy with my two dogs, Dee, my Chihuahua, and Penny, my Miniature Pincher."
Asking Kelly to describe herself, she said, "Well, people tell me that I am a really nice person. I am caring to others and always treat them with respect. I am a fun-loving person with a positive attitude. I do not like to dwell on the negative side of things. I think it is very import to stay positive and get along with others, keeping the peace."
If you were not a nurse, and had another job profession, what would it be? "I worked as a pharmacy technician at Walmart so I would have to say, a Pharmacy Tech," she said with a laugh.
A big recognition for Kelly is when Francis Tuttle Technology Center presented her with the award, Nurse with The Most Caring Attitude. Your genuine love and positive attitude is obvious! Congratulations Kelly!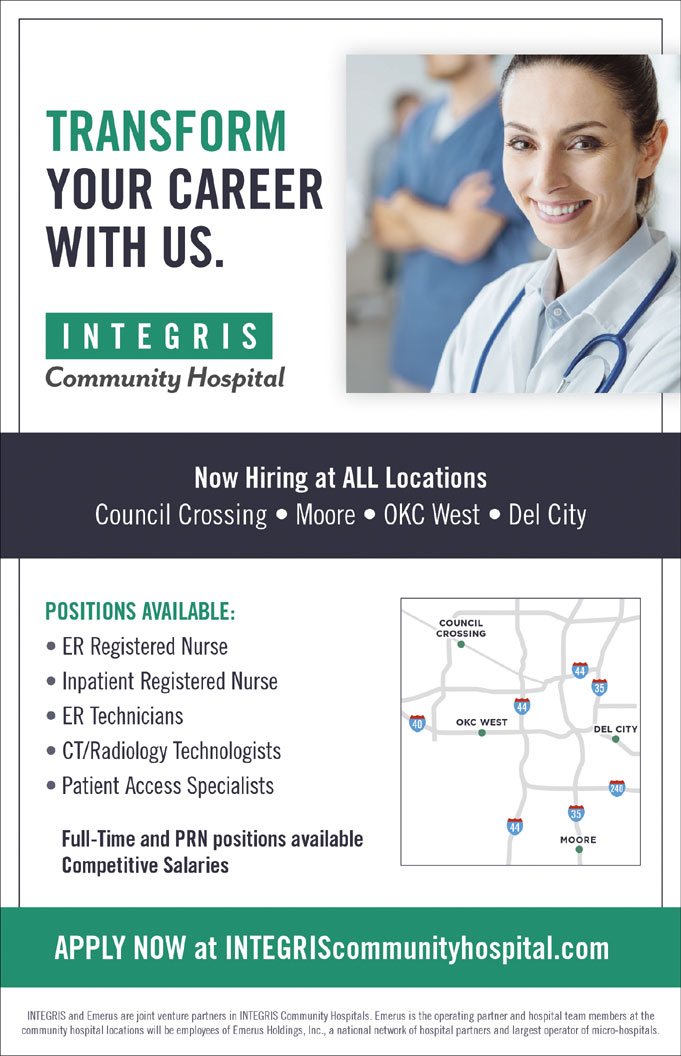 TRANSFORM YOUR CAREER WITH US.
INTEGRIS Community Hospitals
Now Hiring at ALL Locations
Council Crossing • Moore • OKC West • Del City
POSITIONS AVAILABLE:
• ER Registered Nurse
• Inpatient Registered Nurse
• ER Technicians
• CT/Radiology Technologists
• Patient Access Specialists
Full-Time and PRN positions available
Competitive Salaries
APPLY NOW at INTEGRIScommunityhospital.com
INTEGRIS and Emerus are joint venture partners in INTEGRIS Community Hospitals. Emerus is the operating partner and hospital team members at the community hospital locations will be employees of Emerus Holdings, Inc., a national network of hospital partners and largest operator of micro-hospitals.