by Jane Nelson, Executive Director of Oklahoma Nurses Association
Most Oklahomans are aware that registered nurses are in high workforce demand in Oklahoma and the nation. RNs are at the top of the list of the state's "critical occupations" according to Oklahoma Works. What isn't as well known is while there is high demand for all RNs, increasingly hospitals, clinics and other health organizations have acute shortages of baccalaureate-trained nurses. The Oklahoma Nurses Association has long been a supporter of registered nurses with a bachelor of science in nursing (BSN). Only 44 percent of the RN workforce holds a BSN.
A report on the nursing shortage by the Governor's Workforce Council provides strong evidence that new graduates holding a BSN are being highly sought by employers. The state's acute care hospitals are especially focused on hiring BSN-prepared registered nurses.
Research shows patient outcomes are improved and patient deaths reduced when the nursing staff holds a BSN. Our increasing complexity of technology, medications and treatments, and chronic health conditions underscores the need for nurses to continue their education. Coupled with the shift toward providing care in home-based settings instead of institutions, BSNs will be better equipped to meet this population's needs.
Advanced education and experience are required for nurses to serve as faculty in nursing education settings, which means that they have a BSN before pursing a master's or doctoral degree. Lack of faculty prevents significant numbers of potential students from being admitted to nursing programs.
The Governor's Workforce Council has been exploring ways to not only increase the number of RNs but also increase the number of BSN registered nurses. This includes building more efficient academic and career pathways for associate degree nurses to advance to the BSN.
Fifty percent of the 2,375 RN graduates reported in the FY 2017 Oklahoma Board of Nursing Report are BSN graduates. Losing this group of new graduates would cause a huge strain on the nursing workforce in our state. Oklahoma is ranked 46th in the number of registered nurses per 100,000 people. Our nursing education programs already are stretched. There are 15 BSN programs delivered on 25 campuses and 17 associate degree nursing programs delivered on 29 campuses.
A number of national groups, including the U.S. Department of Health and Human Services, the National Advisory Council on Nurse Education and Practice, and the Institute of Medicine endorse increasing the number of BSN nurses to 80 percent. The Oklahoma Nurses Association supports these findings and supports a strategy to move associate degree nurses to BSNs.
Associate degree-prepared RNs are important in Oklahoma, but let's not get rid of our baccalaureate nurse programs just yet. Our state would be in dire straits with the elimination of these important education programs.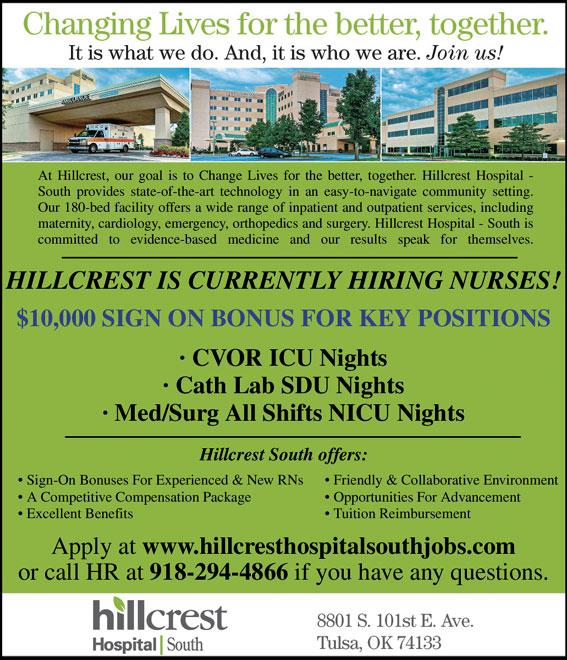 Changing Lives for the better, together.
It is what we do. And, it is who we are. Join us!
At Hillcrest, our goal is to Change Lives for the better, together. Hillcrest Hospital – South provides state-of-the-art technology in an easy-to-navigate community setting.
Our 180-bed facility offers a wide range of inpatient and outpatient services, including maternity, cardiology, emergency, orthopedics and surgery.
Hillcrest Hospital – South is committed to evidence-based medicine and our results speak for themselves.
HILLCREST IS CURRENTLY HIRING NURSES!
$10,000 SIGN ON BONUS FOR KEY POSITIONS
· CVOR ICU Nights
· Cath Lab SDU Nights
· Med/Surg All Shifts NICU Nights
Hillcrest South offers:
• Sign-On Bonuses For Experienced & New RNs
• A Competitive Compensation Package
• Excellent Benefits
• Friendly & Collaborative Environment
• Opportunities For Advancement
• Tuition Reimbursement
Apply at www.hillcresthospitalsouthjobs.com
or call HR at 918-294-4866 if you have any questions.
Hillcrest Hospital South
8801 S. 101st East Ave.
Tulsa, OK 74133