by Vickie Jenkins – Writer/Photographer
Students at SNU are prepared to enter the profession as a generalist nurse. During the educational experience, clinical hours are spent in various specialty areas such as pediatrics, maternal health, medical-surgical, geriatrics, community health and intensive care. These experiences can help students determine what direction they might go after graduation. A leadership experience is arranged during the final semester to allow the student to begin to more fully engage in the role of the Registered Nurse. SNU School of Nursing promotes Christian values in patient interactions. All nursing care is based on the sanctity and dignity of every human being. The SNU BSN program is approved by the Oklahoma Board of Nursing.
Meet Mary Hibbert, PH.D., RN. She grew up in S.E. Kansas and has been a nurse for thirty-two years. In that time, she has earned many titles and has held many distinguished nursing positions in several states; Oklahoma, Missouri and Kansas. She moved to Oklahoma City, OK in 1995 to teach at Southern Nazarene University and continues to teach in the nursing program. She is just one of the many outstanding professors at SNU. She received her Bachelor's degree from Pittsburg State in Pittsburg, Kansas, her masters from the University of Kansas and her Ph.D. from Texas Women's University. Dr. Hibbert was encouraged by several instructors while attending universities but wants to give a special thanks to two very special instructors; Ruth Ellen Hinton and Dr. Donna Saul.
Asking Dr. Hibbert what she wanted to be when she was little, she couldn't quite remember. "I always knew that I wanted to go into the medical field when I was in junior high. I wasn't real clear on exactly what I wanted to do, but I did know that I wanted to help others, perhaps become a nurse. It wasn't much later, that I realized that I wanted to make a career in the medical field. I also like the fact that the medical field was always changing and I would have a choice of many areas if I wanted to switch. I love teaching my students about nursing because suddenly, I see all of the light bulbs come on with the students and they say, 'Oh, I get it!' especially when I see the student struggling or they have trouble understanding pathophysiology, and then it all clicks and they actually understand it," she said. "I like watching a student transform into a completely different person from the beginning of a program to the end. It's amazing when their light bulbs come on," she said with a smile.
Dr. Hibbert is a positive person; encouraging others along the way. She is inspired by her faith and according to her, always has been. "I always try to encourage others, such as my students, no matter what. I tell them to 'keep on going' and 'don't give up!' I help them see their progress by identifying areas that best suits them. From here, they can learn, finding their strength in that area. This helps them get over the bumps and hurdles that they might be experiencing. I challenge them by letting them know that nursing is more than a task and it is actually an intellectual process that involves critical thinking, leadership and good decision making," she said. "In the long run, it is one of the greatest rewards around." It's no surprise as to what Dr. Hibbert's favorite thing about her job is; "It's watching my students succeed," she said.
Asking Dr. Hibbert what qualities make a good nurse. "First and foremost, a nurse needs to be compassionate. They need to be able to think critically and they have to be an advocate for the patient and the families," she replied. "I think there is something very special that a nurse feels deep inside, a feeling from the heart that they want to help others," she added.
Asking Dr. Hibbert how many students she would have this semester when school starts, she replied, "We will have about ninety students for the upper division nurse classes; that is the number of students that the nursing class will have with all of nursing classes combined."
On a personal note, Dr. Hibbert is married and has three sons, 18, 17 and 13. Her hobbies include cross-stitching, quilting, reading and spending time with her family. She has three pets; one dog and two cats.
Asking Dr. Hibbert to sum up her life in one word, she replied,
"That word would be "PERSISTENT".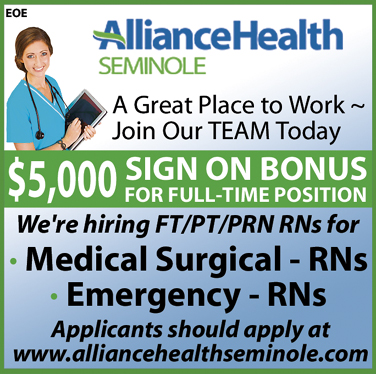 A Great Place to Work ~ Join Our TEAM Today
$5,000 SIGN ON BONUS FOR FULL-TIME POSITION
We are hiring RNs for
Medical-Surgical – RNs
Emergency – RNs
Applicants should apply at
www.alliancehealthseminole.com