Jennifer Schmitt, a Certified Registered Nurse Anesthetist (CRNA) from Edmond, Okla. Will receive the 2019 Ira P. Gunn Award for Outstanding Professional Advocacy during the American Association of Nurse Anesthetists (AANA)Annual Congress in Chicago, Ill.
The Ira P. Gunn Award was established in 2000 to recognize the accomplishments of CRNAs or non-CRNAs who are involved in overcoming legislative, legal, and regulatory challenges to nurse anesthesia practice rights. The recipient of the award receives recognition by peers as a person who has made an important contribution to the advancement of nurse anesthesia practice rights.
Schmitt is in her 4th year on the Oklahoma Association of Nurse Anesthetists (OANA) Board of Directors. In addition, she has served as President of OANA over the past year and her term will come to an end this September. She is also the chair of the government and public relations committees.
Her contagious passion for advocacy and leadership during the 2018-2020 election cycle led to a successful advocacy campaign that resulted in two senate bills moving successfully through the senate and house health committees. Both bills are active and eligible for a floor hearing in the Spring of 2020.
"It is such an honor to be recognized by the AANA and placed alongside the CRNA leaders who came before me," expressed Schmitt. "I would not have accomplished so much if I did not have the amazing team of CRNAs and OANA legislative champions around me. This team truly believes in placing Oklahoma patients first. Our mission to improve healthcare access in Oklahoma by removing supervision from CRNA practice is a cause worth fighting for."
Schmitt was appointed by the Oklahoma Attorney General to serve on the Oklahoma Commission on Opioid Abuse as well.
Schmitt is responsible for designing and publishing OANA's first election guide for pro-CRNA candidates for the 2018 cycle and created public relations booklets for use when speaking to members of the Senate health committee and other legislators. As a resident of the 5th Oklahoma Congressional District, she's also serves on the Oklahoma County GOP Executive Committee representing the 5th Congressional District.
A CRNA for more than 5 years, Schmitt earned her Master of Science degree from the University of Wisconsin La Crosse/Mayo Clinic Health System, Franciscan Skemp School of Nurse Anesthesia in La Crosse, Wis., and her bachelor's in nursing from the University of Central Oklahoma in Edmond, Okla. In addition, she received a bachelor's in science from Oklahoma State University in Stillwater, Oklahoma.
Founded in 1931 and located in Park Ridge, Ill., and Washington, D.C., the American Association of Nurse
Anesthetists (AANA) is the professional organization representing nearly 53,000 Certified Registered
Nurse Anesthetists (CRNAs) and student registered nurse anesthetists across the United States. As advanced practice registered nurses and anesthesia specialists, CRNAs administer approximately 45 million anesthetics to patients in the United States each year and are the primary providers of anesthesia care in rural America. In some states, CRNAs are the sole anesthesia professionals in nearly 100 percent of rural hospitals. For more information, visit www.aana.com and anesthesia-caretoday.com and follow @aanawebupdates on Twitter.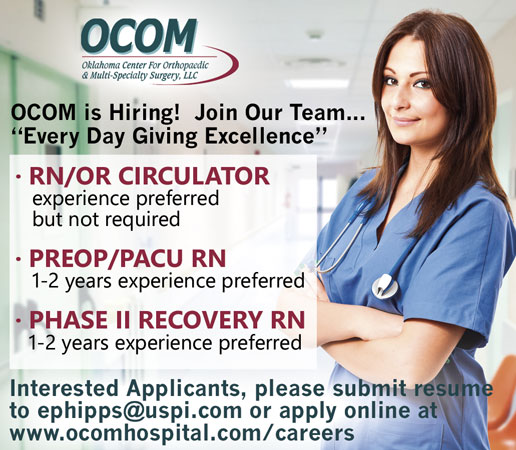 OCOM is Hiring! Join Our Team…. "Every Day Giving Excellence"
· RN/OR CIRCULATOR experience preferred but not required
· PREOP/PACU RN 1-2 years experience preferred
· PHASE II RECOVERY RN 1-2 years experience preferred
Interested Applicants, please submit resume to ephipps@uspi.com or apply online at www.ocomhospital.com/careers