by Vickie Jenkins, Staff Writer
It takes a special kind of person to be a nurse. It also takes a special kind of person to be a nurse for forty-three years and that is the case for Barbara Aldridge, RN who works at Mercy Rehabilitation Hospital.
"I grew up in Holdenville, OK; a very small town where everyone knows everyone. As a little girl, I didn't realize that my dad, Royce C. McDougal was one of the few doctors in town. He carried a big black doctor's bag as he made house calls; from delivering babies to removing gallbladders to whatever was ailin' the patient, he took care of them. He was known as Dr. Mac."
"The strange thing is that I was oblivious to what my dad actually did when he left the house. In the seventies, I attended OSU. I went home one weekend and he was the doc-on-call. I asked if I could go with him. I ended up spending the next thirteen hours actually seeing what this man did for a living! I was in AWE! I went right back to OSU, changed my major from math to pre-nursing. There were four hundred applicants and I just happened to be one of the twenty-five that got accepted. The rest is history and I have never regretted it," Barbara explained. "I was definitely influenced to be a nurse by my dad."
Barbara loves her job as a nurse. "I attended OSU for my LPN and thirty years later, went to OSU/OKC for RN school. I graduated in December, 2008 and passed my boards in January 2009. "All of my instructors were wonderful," Barbara said. "I can't thank them enough for being there for me," she added.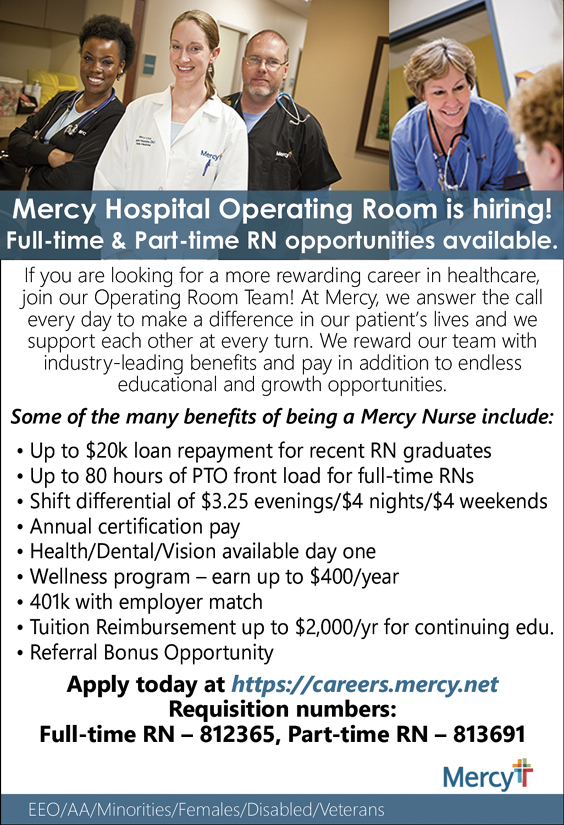 "I worked in many hospitals and I enjoyed working in each one but I have to say, here at Mercy Rehab is where I am meant to be," Barbara said. "There are patients that come in here from having a stroke and some of them can't eat or talk or walk and they can't do anything on their own. When they are here and they go through therapy, it is such a wonderful feeling knowing that we have helped them to a point of they can do things on their own again. This is the most rewarding job anyone can ever find," Barbara commented. "The time a patient stays here varies but on the average, I would say that someone might be here for two to three weeks."
"My favorite part of working here is getting to care for the patients. Not only do we get to know the patients, but we get to know their families. It's like one big family. I don't have any children of my own so I feel like my patients are my children," Barbara stated.
Asking Barbara what qualities she thought make a good nurse, she replied, "I think a nurse needs to be punctual, organized, caring and honest. That pretty much describes the nurses around here. This is a wonderful place to work and teamwork is very important here. Like I said before, it's like we are one big family."
When asking Barbara if she was married, she had a very interesting story. "I am married to my first boyfriend, (I was twelve and he was sixteen) we just happened to run into each other at a restaurant fifty years later. It was definitely a God thing," she said. "I saw him sitting across the room and I went over and said hi and things took off after that. We were both single at the time and we dated for a few years and then got married in 2017. I still have the drop that he gave me over fifty years ago," she explained, as she showed me a picture of the two of them; fifty years ago and a current picture. "I always carry the picture with me and when I share my story with the patients, it makes them smile."
Barbara's hobbies include working out at least three times a week. "I usually work out early in the morning," she said. "It keeps me feeling good."
"A big thank you to my dad, Royce C. McDougal, MD. He retired at age seventy-five and has passed on since, but I know he loved being a doctor and likewise, I love being a nurse," Barbara said.
If you could sum up your life in one word, what would it be? "Happiness."
Mercy Hospital Operating Room is hiring!
Full-time & Part-time RN opportunities available.
If you are looking for a more rewarding career in healthcare, join our Operating Room Team! At Mercy, we answer the call every day to make a difference in our patient's lives and we support each other at every turn. We reward our team with industry-leading benefits and pay in addition to endless educational and growth opportunities.
Some of the many benefits of being a Mercy Nurse include:
• Up to $20k loan repayment for recent RN graduates • Up to 80 hours of PTO front load for full-time RNs • Shift differential of $3.25 evenings/$4 nights/$4 weekends • Annual certification pay • Health/Dental/Vision available day one • Wellness program – earn up to $400/year • 401k with employer match • Tuition Reimbursement up to $2,000/yr for continuing edu. • Referral Bonus Opportunity
Apply today at https://careers.mercy.net
Requisition numbers: Full-time RN – 812365, Part-time RN – 813691
MERCY
EEO/AA/Minorities/Females/Disabled/Veterans