by Vickie Jenkins – Writer/Photographer
Dr. Holly Goracke is a family medicine specialist in Oklahoma City, Oklahoma. She graduated with honors from University Of Oklahoma College Of Medicine in 2010. Holly Goracke, M.D. has worked in Duncan, OK and is currently at Gilbert Medical Center in Bethany, OK.
Starting off the New Year with Dr. Goracke is Victoria Beville, RMA. Victoria was with Dr. Ferguson, OB/GYN for sixteen years until recently when Dr. Ferguson passed away. Victoria also worked with Russell-Murray Hospice in El Reno, OK. She came highly recommended for this job.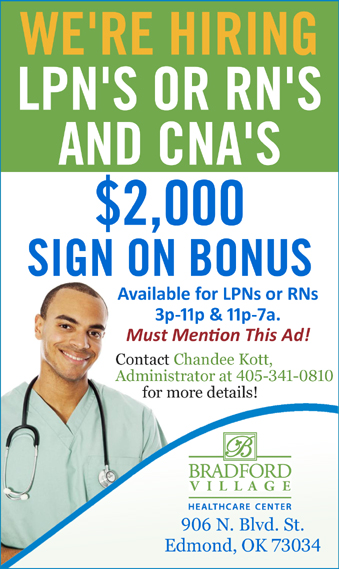 Victoria has a real calling for helping others. "With Dr. Goracke starting here in Bethany, I felt like it could be a new beginning for me too. I've only been here a short time but I am adapting very well," she added.
Victoria attended Platt College, getting her RMA, and has been deeply involved in the medical field. "I feel like by working here, I am helping to make a difference in the patient's lives. Everyone here at Gilbert Medical Center is so nice and everyone is very supportive," she said with a smile. "The patients are nice and I truly feel like I am a big encouragement to them when we get to talking," she said. "There is one thing for sure; I get to know the patients. It is such a wonderful feeling to wake up every morning, wanting to go to work. How many people can say that?"
"Here at Dr. Goracke's office, we are open Monday through Friday, 8-5 and closed on weekends. Dr. Goracke sees all different ages; young and old alike. This office is so positive and encouraging. I think I am partial to this office for several reasons; my mother and grandmother came here when they were little girls. It makes me feel good to know that I am actually walking on the same concrete that they walked on. Working here at a doctor's office makes me feel like I am carrying little bits and pieces of my mother and grandmother's traditions on with me. Yes, I am very sentimental like that," Victoria explained. "It means a lot to me to carry on the tradition."
Victoria's advice to someone going into the medical field would be to work hard and do the best job you can possible do, don't be afraid to ask questions and learn something new every day. "There is so much to learn and try to absorb each little thing. It will all come in handy in the long run," Victoria said.
"When I was growing up, I helped take care of my grandmother. In my family, one of my daughters was diagnosed with juvenile diabetes. I also have a granddaughter that spent some time at the Children's Center. I have taken care of feeding tubes, shots, wounds, dealing with blood sugar levels six to twelve times a day, emotional support and everything else a mother and grandmother feels like needs to be done. I feel like I have done it all and I want to continue to be there for anyone that needs me," Victoria said. "In a way, l was pulled into nursing because of the happenings of the past and as if preparing for the events of things to come. Having medical skills and being an encourager is a real plus. Working with Dr. Ferguson for so long, I feel like he was a great mentor to me and I won't forget that. I can stay calm in emergency situations and keep it all together. I have a caring, nurturing feeling that I can't seem to lose. It was definitely my mother and my grandmother that influenced me to be a nurse and I am thankful for that," she said.
On a personal note, Victoria wanted to be a singer when she was a little girl. "I still sing karaoke sometimes," she said with a smile. "My husband, Joe, is in a band, Blind Fate and I sing with him a little too. I love spending time with my four daughters, and my eight grandchildren who are all under the age of ten. Quite the crew when we all get together," she said. "I like making crafts, all kinds of dancing and cake decorating."
Summing up your life in one word, what would it be? "That is a hard question to answer," Victoria said, "but I guess I would choose the word, family. With family, I have everything."