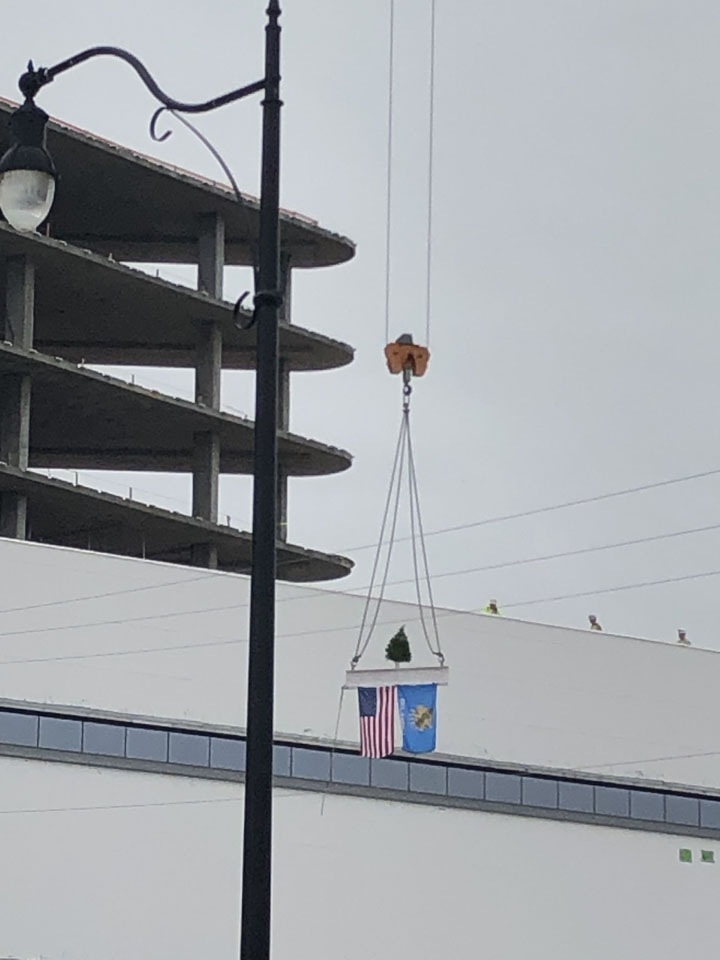 The largest hospital expansion project in Oklahoma history achieved a major construction milestone, Wednesday, November 6, as the OU Medicine patient tower reached its highest structural point.
Under construction on the OU Medicine health campus and slated for opening late next year, the milestone was marked by celebration as the symbolic final beam was placed in the "Topping Out" ceremony.
OU Medicine leaders, state and local dignitaries, employees and other guests heard remarks delivered by Jerome Loughridge, Oklahoma's Secretary of Health and Mental Health, during the festivities. Loughridge, and other speakers, talked about the impact the new patient tower will make on Oklahoma's healthcare and economic scene.
"The tower represents not only state-of-the-art patient care, but is also creating new economic drive with statewide impact in this central Oklahoma hub of innovation, research, education and employment," explained Chuck Spicer, president and CEO of OU Medicine. "Since 2018, OU Medicine has added 600 employees; as 2020 begins, an estimated additional 100 full time positions will become available."
To coincide with this milestone, OU Medical Center will host a job fair from 5 to 7 p.m., Tuesday, November 12, on the first floor of the hospital, located at the southeast corner of N.E. 13th Street and Lincoln Blvd.
Designed by Perkins and Will, the new patient tower will span 450,000 square feet over nine floors (eight of those above ground), with room to grow. This marks the first ground-up hospital construction project for OU Medicine since 1975.
"Watching this project grow each day, we see the former footprint taking on greater depth and dimension. This expansion will have great impact on the state of healthcare in Oklahoma," said Casey Woods, chief operating officer, OU Medical Center, who oversees the project.
The current expansion will add 144 beds and 32 operating rooms to help support the needs of patients treated at Stephenson Cancer Center, those undergoing critical and complex surgical procedures, those with trauma-related injuries and more.
"Often, the people we care for are here during times of great crisis in their lives," explained Kris Gose, OU Medical Center president. "Family space is a critical design element that you'll see integrated in multiple ways. Patient rooms are bigger, with more space for visitors. Windows will offer views of the state capitol or the city's skyline. The space also will support efficiency of care with more room for doctors and nurses to function with ease."
OU Medicine is the only comprehensive academic health system in the state, offering the widest range of medical and surgical services in the region.
"OU Medicine has always been on the cutting edge of patient care," Gose said. "We remain committed to delivering care that restores health and hope. This expansion opens new avenues to provide the most advanced care for more patients, including broader application of robotic surgical techniques."
"Skill, expertise, experience and talent all contribute to successful outcomes in any field of endeavor," said Ian Dunn, M.D., chair, department of Neurosurgery, University of Oklahoma College of Medicine. "And in every field, the craftsman, artisan, or physician is capable of delivering a more satisfying product or experience when he or she has the best tools and the best equipped environment in which to work. That's what the new patient tower represents. Working as a team, we optimize our skills for the benefit of every patient who crosses the threshold of this center of health and healing."
The Topping Out ceremony can be traced to an ancient Scandinavian religious rite of placing a tree atop a new building to appease the tree-dwelling spirits displaced in its construction. As buildings became less timber framed and more steel, the ceremony morphed into a tree or leafy branch being placed on the topmost beam, often with a flag tied to it. Today, in true Oklahoma fashion, a tree, the American flag and the Oklahoma state flag were placed with the final beam. The beam had been signed by many OU Medicine employees and guests at the Topping Out ceremony.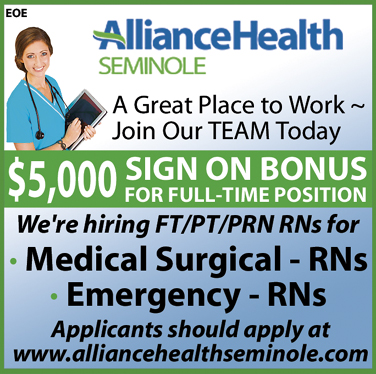 A Great Place to Work ~
Join Our TEAM Today
$5,000 SIGN ON BONUS FOR FULL-TIME POSITION
We are hiring RNs for
Medical-Surgical – RNs
Emergency – RNs
Applicants should apply at
www.alliancehealthseminole.com