by Vickie Jenkins, Staff Writer
Proton therapy and x-ray radiation therapy, (such as IMRT, TomoTherapy or Cyberknife) can both kill cancer cells, but unlike x-rays, protons go directly into the tumor and then stop. This allows protons to target the tumor while reducing damage to surrounding healthy tissue. The following tumors benefit the most from proton therapy; prostate, brain, breast, pediatric, lung, head and neck, gastrointestinal. -Oklahoma Proton Center-
Meet Shari Arceneaux, RN, BSN who can be found working at the Oklahoma Proton Center, in Radiation Oncology. Shari attended Texas Christian University and has been a nurse for thirty-three years. Not only does Shari work at the Oklahoma Proton Center, she is a clinical professor at Rose State, teaching nursing students three months out of the year. "I always had a certain drive to help people, and I still do. I knew from when I was ten years old that I wanted to be a nurse or a teacher. I guess you could say both of my dreams came through and I'm living the best of both worlds," she said with a smile.
"As a teenager, I volunteered as a candy striper in a hospital and from there, I became more interested in the medical field. Over the years, I worked in Pediatrics, Home Health, as a school nurse and now, radiation oncology," Shari said.
When asking Shari what made her job special and why she chose to work with cancer patients, she replied, "I love meeting people where they are on their health journey. Explaining their health issue eliminates some of their stress. When a patient comes in and they are not doing well, they don't know what to expect. It's all brand new to them. A lot of our patients receive daily treatments for six weeks or longer, some have to be treated for the rest of their life. There is not a person here that does not build a relationship with the patient. I make it a goal to always look a person in the eyes when I talk to them; making sure they understand everything. We stay busy, yet, we know that we are helping our patients in the biggest way. Teamwork is an important factor to us," Shari added.
Shari is motivated by wanting her patients to have a good experience while there, along with drawing on her faith of her Lord Jesus, to make her patients feel like their trip is just that; a good experience.
What qualities make a good nurse? "I think a nurse needs to have plenty of patience; being flexible! A nurse's schedule can change at the last moment. A nurse needs to be able to pay attention to details, be kind to everyone, and have very good assessment skills. If a nurse can handle all of this at one time, they will make a great nurse," she said. "For a nurse, every day is different and we never know what to expect. From the time a patient arrives, we need to know what is going on. Are they here as a new patient? Pain control? A follow-up visit for a treatment? Yes, some days are hard, but there is something special about the feeling of knowing that I have made a difference in someone's life; it is so rewarding," Shari commented.
Asking Shari to describe herself, she called to her friend, Vickie, who was in the next room. "How would you describe me?" Shari asked. "One thing for sure, Shari is a very compassionate, caring person. She is an awesome nurse and has a wonderful sense of humor. I don't know how to explain it, but Shari always meets the patient where they are. She can deal with anyone, no matter what they are here for. She is kind to everyone she meets and she is very personal, knowing exactly what a patient needs at that moment. She is good when consulting a patient, putting them at ease. When Shari enters the room, you can see a certain love and compassion about her. I think Shari stands above the crowd and she knows her field. Shari is very knowledgeable. With all of these qualities, she still manages to continue to smile throughout the day. Nursing is definitely her calling!"
On a personal note, Shari has two children, twenty-seven and twenty-five years old. Shari's hobbies include cooking, reading and working out. How would Shari sum up her life in one word? "That would be, JOURNEY," she said with a smile.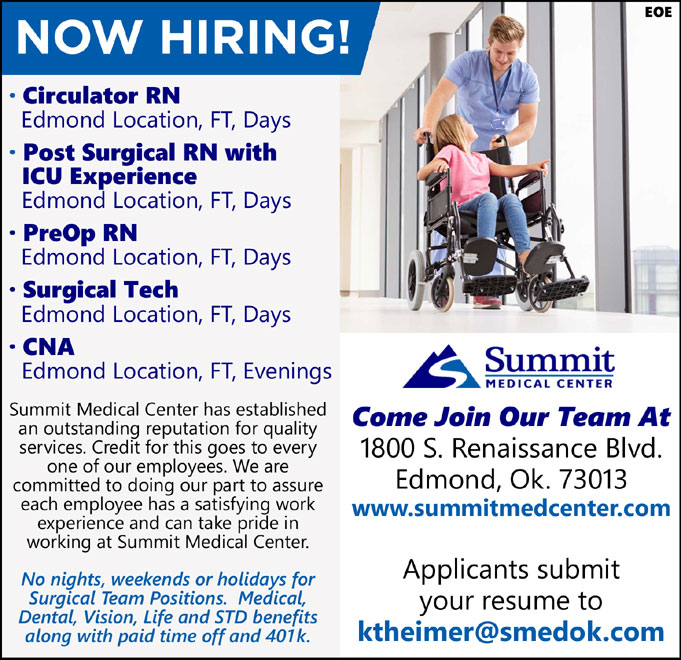 NOW HIRING!
· Circulator RN
Edmond Location, FT, Days
· Post Surgical RN with
ICU Experience
Edmond Location, FT, Days
· PreOp RN
Edmond Location, FT, Days
· Surgical Tech
Edmond Location, FT, Days
· CNA
Edmond Location, FT, Evenings
Summit Medical Center has established an outstanding reputation for quality services. Credit for this goes to every one of our employees.
We are committed to doing our part to assure each employee has a satisfying work experience and can take pride in working at Summit Medical Center.
No nights, weekends or holidays for Surgical Team Positions. Medical, Dental, Vision, Life and STD benefits along with paid time off and 401k.
Summit Medical Center
Come Join Our Team At
1800 S. Renaissance Blvd.
Edmond, OK 73013
www.summitmedcenter.com
Applicants submit
your resume to ktheimer@smedok.com