The National Multiple Sclerosis Society has named the OMRF Multiple Sclerosis Center of Excellence a Center for Comprehensive Care, the highest level within its Partners in MS Care Program.
The award-winning Multiple Sclerosis Center of Excellence at the Oklahoma Medical Research Foundation is directed by Gabriel Pardo, M.D., and is one of the preeminent MS research and treatment centers in the world.
In MS, immune cells attack the protective covering of nerves in the brain and spinal cord, causing vision problems, tremors, paralysis, painful spasms, imbalance and cognitive changes. It's often difficult to diagnose and treat, and the cause is unknown.
The MS Society's Partners in MS Care Program recognizes committed providers like Pardo whose practices support the Society's initiative of affordable access to high quality MS healthcare for everyone living with MS—regardless of geography, disease progression and other disparities.
"I am honored to receive this designation, and it serves as welcome recognition for the innovative approach our team has taken," said Pardo. "It will help us in our continued pursuit of providing this service for patients."
Opened in 2011, OMRF's MS Center utilizes a multidisciplinary, comprehensive approach to research and treatment of MS. The Center's team sees more than 3,000 patients suffering from the autoimmune disease.
"We are so proud to partner with OMRF and the Multiple Sclerosis Center of Excellence to enhance coordinated, comprehensive care for the people who live with MS in Oklahoma City," said Linda Bates, President of the National MS Society, South Central Chapter. "In earning this recognition, Dr. Pardo has demonstrated extraordinary leadership in MS care, making a tremendous impact on people affected by MS in our community."
Last year alone, the National MS Society invested more than $40 million in MS research with more than 360 active projects globally.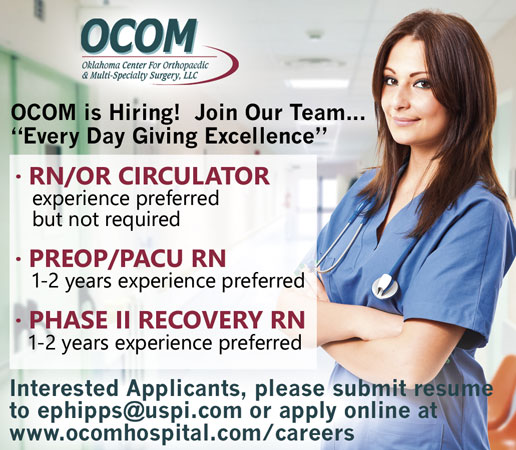 OCOM is Hiring! Join Our Team…. "Every Day Giving Excellence"
· RN/OR CIRCULATOR experience preferred but not required
· PREOP/PACU RN 1-2 years experience preferred
· PHASE II RECOVERY RN 1-2 years experience preferred
Interested Applicants, please submit resume to ephipps@uspi.com or apply online at www.ocomhospital.com/careers