by Vickie Jenkins, Staff Writer
At Grace Living Centers, we recognize that all people are endowed with the great dignity of having been made in the image and likeness of our Creator. Regardless of our age or abilities, we are each special. -Grace Living Center-
Grace Living Center, The Grand, is located in Bethany where, the residents are given plenty of tender, loving care. One particular nurse that gives an extra dose of TLC to all to those around her is Esther Mofor-Tawo, RN, BSN. Esther lives up to her nickname of Mama or Mother, because she is so nurturing and seems to care for others just like their own mother.
"The reason everyone calls me those nicknames is because I want to help people so much. I'm that nurse! I simply love to work and it makes me feel good to work here. I am thankful for this job and the many people that I have met along the way," Esther commented.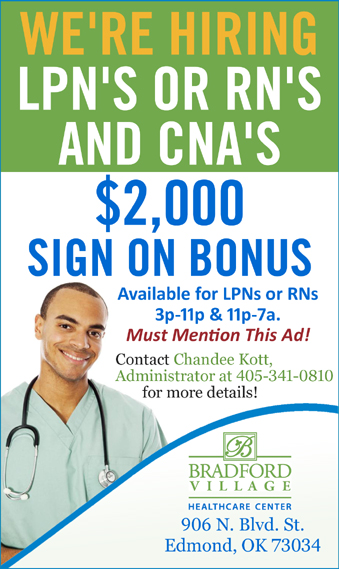 "It wasn't easy to get a job back in 2004. I was born and raised in Africa. I was a high school teacher while I lived there. I knew that when I came to the United States, I wanted to be a nurse. I went to Platt College for my RN and BSN. My first job was as an aide and I just kept going from there," she said with a laugh. "I am thankful to have this job as a nurse. Everyone here is so nice."
Asking Esther what advice she would give to someone going into the medical field, she replied: "I would tell them to study and not give up. When I came here from Africa, I knew that I wanted to be a nurse but, I had been a high school teacher. I was stressed to take my test but I did get through it and I was so happy. I continued to learn, going to school to be an RN. Now, I have been here longer than a lot of the other nurses; I am the one they come to for advice. I always tell them to do the job the right way and if they have any questions at all, it is not a problem for them to ask me. If they don't get it right, I feel like it is my fault for not teaching them the right way. I strive to do the best job that I can."
"My favorite part of the job is caring for others. I want to treat others with respect, letting them know that I care. But, most of all, I just love working," Esther said with a laugh. "It's that simple," she added.
Did anyone influence you to be a nurse? "When I came here, I worked with a nurse, Brenda. She was always helping me when I needed help. I could tell that God was in her life and I think the Lord gave me an opportunity to be a nurse too," Esther commented. "Brenda had a lot of respect for others and I knew that I wanted to be like that too. If I respect others, they will respect me."
Esther feels very special to have the job that she has. "I am the one that trains the new nurses or I am asked to show the new nurses what to do on the floor. I don't mind if anyone has questions. I am just glad that I can help. When I go down the hallways, someone is always calling, Mama, Mama. I know that someone is looking for me," she said with laugh.
Asking Esther what qualities make a good nurse, she replied, "A nurse needs to be very reliable, dependable, know their work and enjoy working with others. I believe in the Bible verse, 'Do unto others as you would have them do unto you.' and I live by the fear of the Lord."
As far as Esther's personal life, she is happily married to her husband, Thompson. They have six grown children and eight grandchildren. Esther's weekends are spent at a different Grace Living Center as supervisor. She considers working as one of her hobbies because she loves working so much. That is what you called dedication.
Summing up her life in one word, Esther said, "that word would be, blessed."