I'll say hippo and the reason is they're very chill but they'll kill you if you hurt their family.
Christina Eaton, MA
Great Pyrenees. They herd their family and make sure everyone's safe.
Ashley Seyer, LPN
A bear because I'm grumpy half the time.
Nathan Thompson, MA
Elephant. I think they're a very strong, family-oriented. animal.
Heather Decher, LPN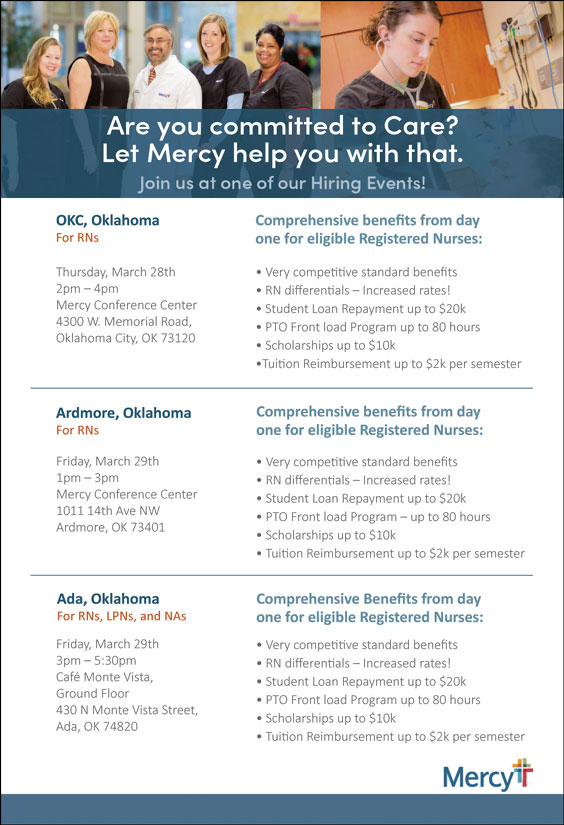 Are you committed to Care?
Let Mercy help you with that.
Join us at one of our Hiring Events!
OKC, Oklahoma
For RNs
Thursday, March 28th
2pm – 4pm
Mercy Conference Center
4300 W. Memorial Road,
Oklahoma City, OK 73120
Comprehensive benefits from day one for eligible Registered Nurses:
• Very competitive standard benefits
• RN differentials – Increased rates!
• Student Loan Repayment up to $20k
• PTO Front load Program up to 80 hours
• Scholarships up to $10k
•Tuition Reimbursement up to $2k per semester
Ardmore, Oklahoma
For RNs
Friday, March 29th
1pm – 3pm
Mercy Conference Center
1011 14th Ave NW
Ardmore, OK 73401
Comprehensive benefits from day one for eligible Registered Nurses:
• Very competitive standard benefits
• RN differentials – Increased rates!
• Student Loan Repayment up to $20k
• PTO Front load Program – up to 80 hours
• Scholarships up to $10k
• Tuition Reimbursement up to $2k per semester
Ada, Oklahoma
For RNs, LPNs, and NAs
Friday, March 29th
3pm – 5:30pm
Café Monte Vista,
Ground Floor
430 N Monte Vista Street,
Ada, OK 74820
Comprehensive Benefits from day one for eligible Registered Nurses:
• Very competitive standard benefits
• RN differentials – Increased rates!
• Student Loan Repayment up to $20k
• PTO Front load Program up to 80 hours
• Scholarships up to $10k
• Tuition Reimbursement up to $2k per semester
MERCY
https://careers-mercy.icims.com/jobs/787997/mercy-oklahoma-city%2c-ada%2c-and-ardmore-hiring-events%21/job?mode=view&mobile=false&width=940&height=500&bga=true&needsRedirect=false&jan1offset=-360&jun1offset=-300