Where's your home safe spot during severe weather? Integris Southwest Medical Center
Radiology Department
A closet in the garage with my dog.
Katee Hale, RT
We're supposed to be getting a shelter but it's the pantry right now.
Whitney Mallett, RN
It's in my closet.
Cathy Smith, RN
I have access to a shelter at my neighbor's house across the street.
Mark Obermiller, RN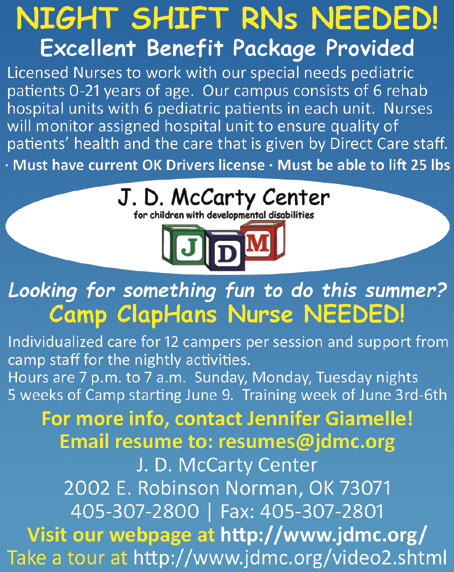 NIGHT SHIFT RNs NEEDED!
Excellent Benefit Package Provided
Licensed Nurses to work with our special needs pediatric patients 0-21 years of age. Our campus consists of 6 rehab hospital units with 6 pediatric patients in each unit. Nurses will monitor assigned hospital unit to ensure quality of patients' health and the care that is given by Direct Care staff.
· Must have current OK Drivers license · Must be able to lift 25 lbs
Looking for something fun to do this summer?
Camp ClapHans Nurse NEEDED!
Individualized care for 12 campers per session and support from camp staff for the nightly activities.
Hours are 7 p.m. to 7 a.m. Sunday, Monday, Tuesday nights
5 weeks of Camp starting June 9. Training week of June 3rd-6th
For more info, contact Jennifer Giamelle!
Email resume to: resumes@jdmc.org
J. D. McCarty Center
2002 E. Robinson Norman, OK 73071
405-307-2800 | Fax: 405-307-2801
Visit our webpage at http://www.jdmc.org/
Take a tour at http://www.jdmc.org/video2.shtml