by Vickie Jenkins, Staff Writer
Mercy Hospital Logan County is a 25-bed critical access hospital serving Guthrie and Logan County in central Oklahoma. Services include: Comprehensive laboratory, emergency department, imaging, impatient and outpatient rehabilitation, diabetes education, sleep center, wound care and respiratory care.
Meet Rachel Mock, RN, BSN, that works in the Med Surgical Unit of Mercy Hospital in Guthrie, OK. "Even though this is a small hospital, we have the best of care. We see patients from the surrounding areas; Crescent, Stillwater and Enid," she said.
Growing up in Enid, OK, Rachel knew that she wanted to do something in the medical field ever since she was little. "I actually had some medical problems back then and I was around a lot of nurses at the time. It was those nurses that I seemed to be drawn to as far as their job. They were always so nice to me and I looked up to them. When I was old enough, I went to school to be a nurse. I seem to want to take care of others like I was taken care of," she commented.
Rachel's favorite part of her job is seeing the results when the patient leaves the hospital after being cared for. "When the patient comes in, they are usually weak and fragile and not doing very well. When they leave, they are much better. It is such a nice feeling knowing that I have helped someone. Sometimes, it's not real quick and the patient has to stay in the hospital for several days but by the time they leave, they feel good about themselves," Rachel said.
What are the qualities of a good nurse? "Of course, I think the first thing a nurse needs is compassion. A nurse needs to take care of a patient like they are their own family member, no matter what the situation is. A nurse needs to care for the patient to the best of their ability. They also need to practice teamwork at all times. Teamwork is very important and I can say, that is what you will find here at this hospital," she replied.
Rachel lives on a farm, taking care of her animals. She has four horses that she loves to ride, fourteen Boer goats, that she raises and four dogs. "I started raising goats when I was thirteen and I was in FAA," she said. "In fact, at one point, I wanted to be a veterinarian but decided on a nurse. Raising animals is a great outlet and stress-reliever. I also like to do arts and crafts, along with fishing and spending time at the lake," she commented.
Asking Rachel what motivates her every day, she replied, "Well, for one thing, I am a first generation college student. My parents have always been so helpful to me and I have always wanted to make my parents proud. In fact, I want to become a Nurse Practitioner, hoping to further my education and help my parents. I know they are proud of me and I always want the best for them."
What advice would you give to someone going into the medical field? "I would tell the nurses, just coming out of medical school to listen to the older and experienced nurses. They are ready to teach you any and have the answer to everything you want to know. Pay close attention to what you are learning. You will have some tough days but it will be worth it. Do not give up! You can do it!" Rachel replied.
Asking Rachel to describe herself, she replied, "I am a pleasant individual, a hard worker and am goal driven. I am compassionate, caring and outgoing. I had three people that helped me along the way and those people are Candice Kite, who got me involved in the community, Professor Tilley and Dr. Ramona Bartlow, who were inspirational and pushed me on to further my education. I am so thankful they were there for me through the good times and the rough times. I love being a nurse and can't see myself doing anything else."
On my daily planner, it reads, chaos coordinator. My life has its ups and downs, so I can describe myself in one word that suites me best: Roller-coaster.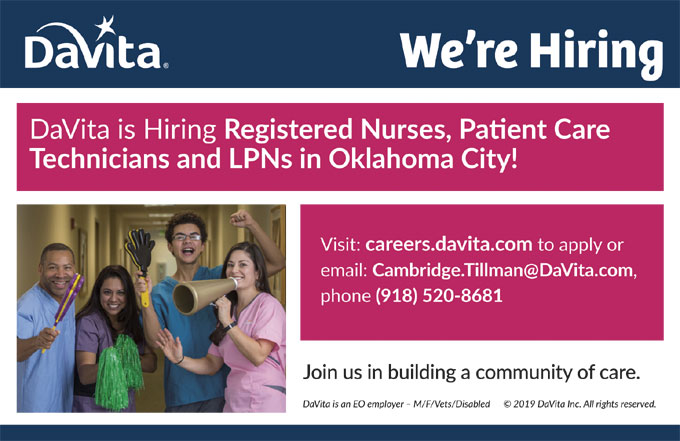 CLICK HERE TO VIEW MORE!
https://careers.davita.com/search-results?qcity=Oklahoma%20City&qstate=Oklahoma&qcountry=United%20States%20of%20America&utm_source=oknursingtimes&utm_medium=online&utm_campaign=apex&utm_term=oklahoma&utm_content=onlinepackage_okcity&source=APPLICANT_SOURCE-6-45
--
DaVita is Hiring Registered Nurses, Patient Care Technicians and LPNs in Oklahoma City!
Visit: careers.davita.com to apply or email: Cambridge.Tillman@DaVita.com, phone (918) 520-8681
Join us in building a community of care.
DaVita is an EO employer – M/F/Vets/Disabled © 2019 DaVita Inc. All rights reserved.