New service available for $25 to anyone, anywhere – regardless of insurance – via smartphone, tablet or computer
Demonstrating its commitment to ensuring everyone has access to high-quality affordable health care, SSM Health in Oklahoma has launched a new web-based diagnosis and treatment service.
The innovative service provides Oklahoma residents – whether or not they have health insurance or are existing SSM Health patients – with access to high-quality care from the convenience of their home, office or anywhere.
The service offers unparalleled convenience and accessibility, providing patients an easy way to receive care without having to visit one of our physical locations. Using this virtual service, patients can connect with trusted SSM Health providers via their smartphone, tablet or computer.
After logging into SSM Health's virtual visit platform (www.ssmhealth.com/onyourtime), patients complete a dynamic questionnaire that asks questions based on what a provider would ask during an in-person office visit. During normal operating hours, patients will receive a video visit or phone call from an SSM Health provider usually within 15 minutes – but always in less than 60 minutes – to discuss treatment. Normal hours of operation are 8 a.m. to 8 p.m., seven days a week. Patients can be treated virtually for common non-urgent health conditions including cold, flu, sinus infection, diaper rash, pink eye, bladder infections, heartburn and allergies, among others – all for a flat fee of $25 payable by credit, debit or health savings card.
If medications are needed, prescriptions will be sent to the patient's preferred pharmacy for pick-up. Patients who complete questionnaires after normal hours will receive a response within an hour of when operations begin the next business day.
"As a Mission-based organization, SSM Health has always been committed to offering care when, where and how patients want it," said Dr. Tabitha Danley, Regional Chief Medical Informatics Officer, SSM Health Oklahoma. "Our new virtual visit service is the latest validation of that commitment, making health care more convenient and affordable than ever before."
Anyone 18 years of age or older in Oklahoma can create an account and complete a virtual visit. Visits for minor children must be completed by a parent or legal guardian. This service is intended for patients from 2 to 75 years of age, because medical complexities exist for infants and toddlers, as well as seniors, that should be addressed by their pediatrician or primary care physician. If a patient's health concern cannot be addressed through an online visit, they will be directed to a physical SSM Health location. In these cases, patients will not be charged for their online visit.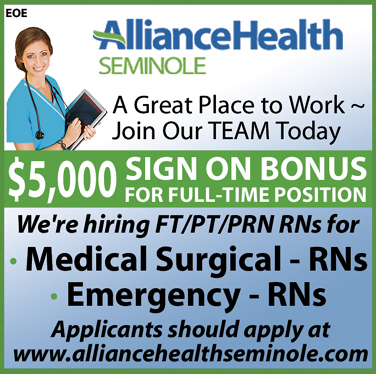 A Great Place to Work ~
Join Our TEAM Today
$5,000 SIGN ON BONUS FOR FULL-TIME POSITION
We are hiring RNs for
Medical-Surgical – RNs
Emergency – RNs
Applicants should apply at
www.alliancehealthseminole.com