by Bobby Anderson, RN, Staff Writer
Christy Olson, RD, LD, CDE, MS has been involved in the planning of the annual Harold Hamm Diabetes Care Summit for more than a decade now.
Emily Jones is working on her first summit.
Both University of Oklahoma College of Nursing faculty members are excited about the educational opportunity the Sept. 10 virtual event will provide to nurses and clinicians.
"I love this summit because it's an opportunity to really help translate … and help let clinicians walk away with something new they didn't know before they came," said Jones, PhD, RNC-OB, FAHA, FPCNA and PhD Nursing Program director.
"How diverse our audience is speaks a lot about the impact of the summit. Not everybody practices in the same type of setting. There may be dieticians who attend. There may be registered nurses and scientists who attend along with community health workers from diverse communities in Oklahoma. (story continues below)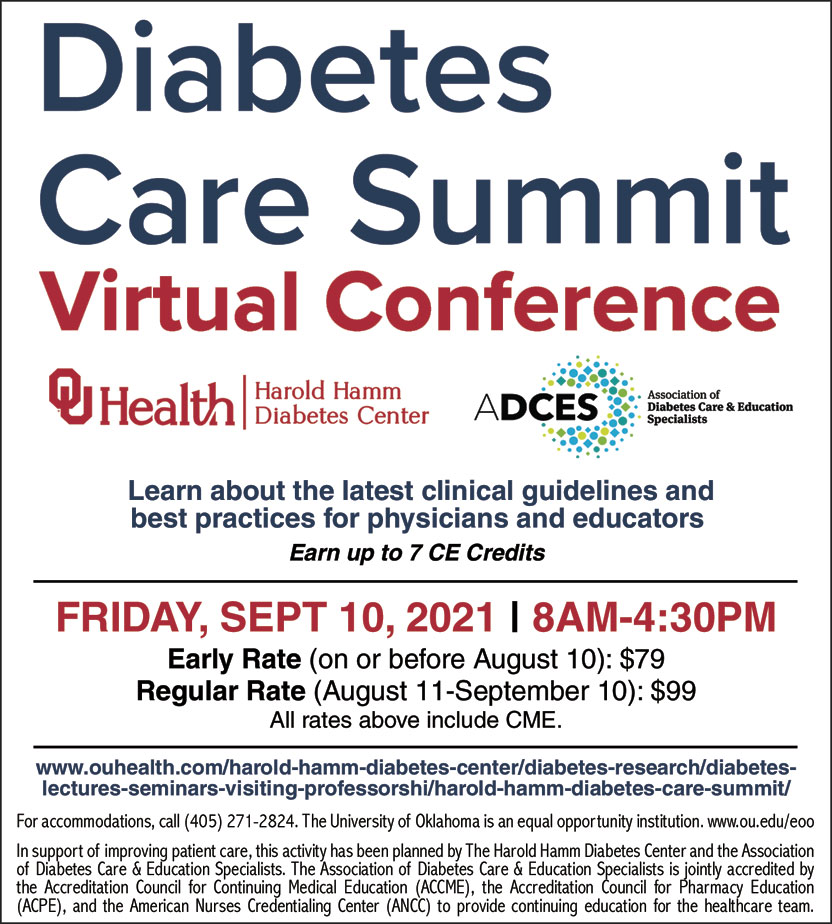 "I think just being part of the group for the day and seeing the broad range of the summit is probably what I'm looking forward to the most."
The Harold Hamm Diabetes Care Summit, co-sponsored by the Association of Diabetes Care & Education Specialists, is the region's premier, annual continuing-education conference for diabetes.
Online registration continues now through the beginning of the event, which will be held virtually this year after a one-year hiatus due to Covid. Olson said the event has been providing information for almost two decades now.
"Most of us – whether you're working in the hospital or in the outpatient setting, or in healthcare in general – deal with diabetes everyday," said Olson, MS, RDN, LD, CDCES. "We have some great, well-known speakers."
Expert presentations include updated clinical approaches for diabetes patient management and interprofessional strategies for diabetes self-care and education.
Participants can earn up to seven CE credits.
Keynote speakers will discuss several notable research topics.
Steven Kahn, M.B., Ch.B. is a Professor of Medicine, and director of the Diabetes Research Center at the University of Washington and VA Puget Sound Health Care System.
His research interests include the role of the B-cell in the pathogenesis and treatment of prediabetes and type 2 diabetes. He has performed physiological studies and actively participates in a number of large multicenter clinical trials to prevent and treat type 2 diabetes, which include the ongoing Restoring Insulin Secretion (RISE) Study that he chairs. Aside from his clinical studies, he has an extensive basic research program examining the loss of B-cells in type 2 diabetes.
Rochelle Naylor, M.D. is an Assistant Professor, Biological Sciences Division, Department of Pediatrics, University of Chicago Medicine
Dr. Naylor is a pediatric endocrinologist, specializing in the care of children and adolescents with diabetes and other endocrine disorders, including disorders of growth and puberty, thyroid disease and adrenal disease.
An active researcher, Dr. Naylor focuses on the diagnosis and treatment of monogenic diabetes — a rare form of diabetes caused by genetic mutations.
She studies a subset of monogenic diabetes known as maturity-onset diabetes of the young (MODY). She aims to determine the prevalence of MODY, and establish treatment protocols. As a part of this work, Dr. Naylor maintains the MODY section of the Kovler Monogenic Diabetes Registry, a nationwide database of individuals affected by this rare form of diabetes.
In her first year on the planning committee, Jones said she quickly found out the offerings are user-driven.
"What I could tell was this group really didn't want to do a repeat performance of summits done recently," Jones said. "That's another wonderful thing about the summit is it's always fresh. The speakers are always bringing something that hasn't been discussed recently and there's that opportunity for new knowledge development."
While the event will be virtual this year due to Covid, both planning committee members agreed the format offers more flexibility in terms of offerings.
Reduced travel costs and travel time allowed the committee to bring in speakers that otherwise might not have been able to attend. The online format also allows for participants from different settings such as rural communities to get the educational offerings as those closer to the larger metro hospitals.
"I think it does open up an entire new pathway to bringing knowledge to Oklahoma clinicians who work in diabetes," Jones said.
Registration may be completed online at www.ouhealth.com.