A surprise guest hopped into OU Children's Physicians to bring smiles to patients, just in time for the Easter holiday.
With the help of Oklahoma Highway Patrol troopers and the Cavett Kids Foundation, the Easter Bunny visited patients in the various clinics throughout the morning of April 16. Patients had the chance to take pictures with the Easter Bunny and troopers while receiving Easter eggs full of treats.
The Easter Bunny and troopers traveled from floor to floor in the clinics with carts full of colorful Easter eggs to hand out to patients waiting for their appointments. The Cavett Kids Foundation service dog, Finn, also made his way around the clinics.
The Oklahoma Highway Patrol's office has been visiting the Children's Physicians clinics for 14 years. The partnership was created through the Cavett Kids Foundation, a nonprofit organization providing camps, events and programs to children battling life-threatening and chronic illnesses. Its founder, Danny Cavett, has been a chaplain at the Children's Hospital since 1977.
"This tradition shows the Oklahoma Highway Patrol's compassion and commitment for the special children we serve at The Children's Hospital," Cavett said. "Not only do these troopers come out dressed as the Easter Bunny, but they also serve as counselors at the Cavett Kids camps we hold throughout the year for these kids."
At The Children's Hospital, pediatric staff blends years of training with education, research and technology to improve the lives of children throughout the region. The obstetric emergency room at The Children's Hospital is a regional referral center for the state, and the neonatal intensive care unit provides the highest level of newborn care in Oklahoma. Children's is also home to the only 24/7 pediatric emergency room in Oklahoma City. With a family-centered approach to healing, Children's offers resources from pet therapy to child life specialists who help families cope with hospitalization and illness. From advanced surgical services to general pediatrics, oncology care and more, The Children's Hospital provides cutting-edge research and treatments through hospital-based and outpatient services. To learn more, visit oumedicine.com/childrens.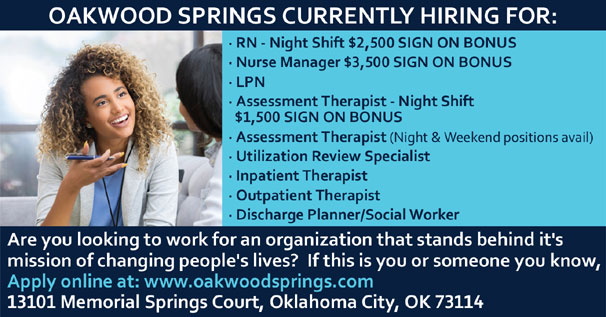 OAKWOOD SPRINGS CURRENTLY HIRING FOR:
· RN – Night Shift $2,500 SIGN ON BONUS
· Nurse Manager $3,500 SIGN ON BONUS
· LPN
· Assessment Therapist – Night Shift $1,500 SIGN ON BONUS
· Assessment Therapist (Night & Weekend positions avail)
· Utilization Review Specialist
· Inpatient Therapist
· Outpatient Therapist
· Discharge Planner/Social Worker
Are you looking to work for an organization that stands behind it's mission of changing people's lives? If this is you or someone you know,
Apply online at: www.oakwoodsprings.com
13101 Memorial Springs Court, Oklahoma City, OK 73114