by Vickie Jenkins, Staff Writer
Emergency- an unforeseen combination of circumstances or the resulting state that calls for immediate action.
I am sure we can all relate to an unexpected events happening to us and we find ourselves taking someone to the emergency room. Remember when your son climbed that tree, falling to the ground, breaking his arm? Oh no, I stepped on an old rusty nail while barefooted! When was my last tetanus shot? What about that sprained ankle?
It is a natural reaction to go to the ER room, right? Integris Community Hospital is the place where you will be taken care of with the utmost care as you see the doctor and nurses. They offer the dedicated emergency medical care that every patient deserves, and the convenience of being right in your neighborhood.
Integris Community Hospital, located at NW Expressway and Council has been opened for about a year. They are considered an emergency room with inpatient beds. Any patient that requires surgery will be sent to a regular hospital; there is no surgery done here. There are eight medical beds if a patient needs to stay overnight and cared for.
One particular nurse that you will meet is Gretchen Chafey, RN, BSN. Gretchen has been a nurse for fifteen years now, spending the last nine months here at Integris Community Hospital. "When I first became a nurse, I worked in the Midwest City area. Personally, I prefer a smaller place like this over a big hospital. Integris Community Hospital has four locations; here at NW Expressway and Council, Del City, Moore, and I-40 and Rockwell. I am a float nurse and I travel to each location, working where ever I am needed," Gretchen explained.
Gretchen grew up in Bethany, Oklahoma, attending Rose State College for her RN and Oklahoma City University for her BSN. "I like being a nurse for several reasons. I enjoy caring for those that need help and I like being a positive light in their time of sickness. I have a real desire to help others," she said. I also chose nursing as my career due to nursing allows many opportunities to reach out to. It also opens the door if I ever need to travel or move to another state. We have such a good team here and it feels like I work with family. Good teamwork is important in everything running smoothly," Gretchen explained.
"My favorite part of my job is assisting the individual patients that come in. We are the first people they see in their time of sickness and we always treat them with respect. Being in a small ER does have a few disadvantages also. Since there is no surgery done here, we can't always take care of all of the injuries that occur due to the patient needing surgery," Gretchen stated. "We are open 24/7 and even though the number of patients varies at each location, we see about forty to forty-five patients a day on an average," she added. "That is quite a few accidents."
Gretchen seems to possess the qualities of; compassion, awareness, quickness and patience all rolled into one equaling the qualities of a good ER nurse. "I like the fact that we all get support from each other here; working together, no matter what," she commented. "We are big on teamwork. When everyone works together, things just fall into place," Gretchen added.
When I asked Gretchen to describe herself, she said, "I am very aware of my surroundings, she emphasized. I am very laid back and can stay calm in an emergency situation; that is really good if you work in an ER," she said with a smile.
Gretchen's advice for someone going into the medical field is to keep on going. I always try to put myself in the patient's place, knowing how they must be feeling.
When not working, Gretchen stays busy with her husband, Brady and their three sons, Paytyn, twenty years old, Trapper, seven years old and Cub, five years old. They have three dogs, an English setter, a lab and a blue heeler, all of which are twelve years old. Gretchen likes spending time with her family. "In the winter, I like to play card games with the boys, while sitting by the fire and just hanging out. In the summertime, I like swimming and anything outdoors," she said.
Asking Gretchen what one word sums up her life, she said, "That would be blessed."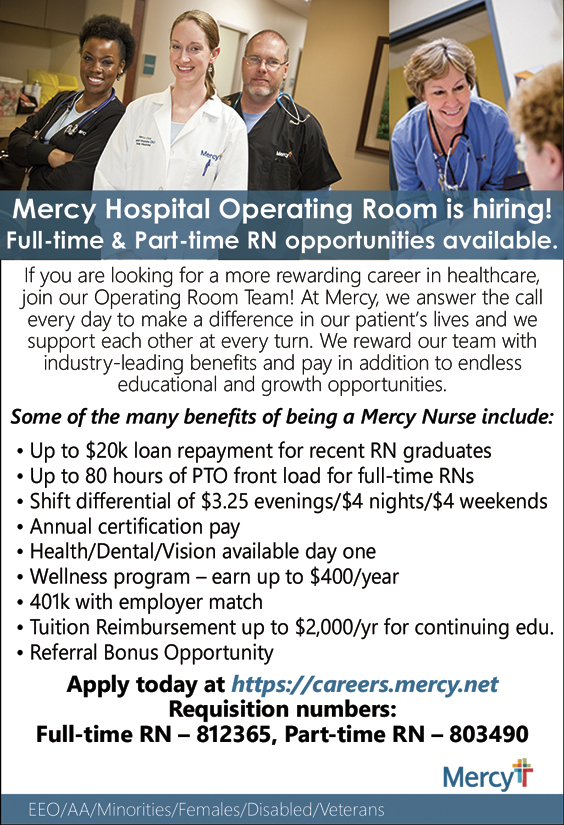 Mercy Hospital Operating Room is hiring!
Full-time & Part-time RN opportunities available.
If you are looking for a more rewarding career in healthcare, join our Operating Room Team! At Mercy, we answer the call every day to make a difference in our patient's lives and we support each other at every turn. We reward our team with industry-leading benefits and pay in addition to endless educational and growth opportunities.
Some of the many benefits of being a Mercy Nurse include:
• Up to $20k loan repayment for recent RN graduates • Up to 80 hours of PTO front load for full-time RNs • Shift differential of $3.25 evenings/$4 nights/$4 weekends • Annual certification pay • Health/Dental/Vision available day one • Wellness program – earn up to $400/year • 401k with employer match • Tuition Reimbursement up to $2,000/yr for continuing edu. • Referral Bonus Opportunity
Apply today at https://careers.mercy.net
Requisition numbers: Full-time RN – 812365, Part-time RN – 803490
MERCY
EEO/AA/Minorities/Females/Disabled/Veterans